About this Event
DOORS: 6:00 PM, SHOW: 7:00 PM
AGE RESTRICTIONS: ALL AGES
GENERAL ADMISSION, LIMITED SEATING
THIS SHOW HAS BEEN MOVED FROM HI-FI TO BLACK CIRCLE
Important Notice: All tickets are nonrefundable and nontransferable with the exception of event cancellation. Support acts are subject to change
----------------------------
About Soil:
Ryan McCombs (lead vocals)Tim King (bass)Adam Zadel (guitar)Formed in 1997, Chicago Heavy Rock band SOiL quickly took the scene by storm. The band has sold over 2 million albums worldwide and is best known for the hit singles "Halo", "Unreal", "Redefine", "The Lesser Man", and "Shine On".With the song "Halo" gaining major radio attention, a major label bidding war broke out in an attempt to sign SOiL.
The band would ultimately sign to J Records (BMG) by music industry legend Clive Davis. Clive, responsible for signing such acts as Pink Floydand Aerosmith, stated that "you're gonna be my only rock band for now. You're going to be a priority, and I want to break this band."SOiL experienced mainstream success with the major labeldebut "Scars"which was released in September 2001.This achievement was aided by the popular singles "Halo" and "Unreal" which gained the band exposure on MTV. The success resulted in the band winning Metal Edgemagazine's 2001 Readers' Choice Award for "Next Big Thing".
The band consistently toured in support of top name acts such as Ozzy Osbourne and Rob Zombie which propelled the group into arena sized venues and crowds.In 2004, the band released their second major label album "re.de.fine". The group toured for a year straight in support of the album and returned home to begin writing follow up material and finish various live dates.
The band released their next two albums "True Self" (2006) and "Picture Perfect" (2009)and proved that they were a mainstay in the Hard Rock world with non stop touring and by spawning yet another top charting hit single with "The Lesser Man" in 2010.SOiL released its sixth studio album, entitled "Whole", on August 20, 2013. The album was a "Return to form" for the band and has been hailed by fans and critics alike as the album that could have come directly after the "Scars" album.Some featured songs from "WHOLE" include the top 40 charting singles "Shine On" and "The Hate Song". Both meeting with strong rotation and charting at the Active Rock format.After celebrating their 20th anniversary in January of 2017, SOiL entered intothe studio to record new material to be included on "SCREAM: The essentials", a Greatest Hits collection featuring the songs that solidified SOiL as Hard Rock mainstays, as well as, alternate versions of popular tracks and unreleased material. The new studio track "Gimme Some Lovin" is a cover song originally featured in the 1980 smash hit cult classic movie "The Blues Brothers". "We felt it was a perfect song to add the album" states bassist
Tim King. "It tied in our Chicago roots and the 20th anniversary of the band perfectly".Other tracks included on "SCREAM..." include an acoustic version of "Can YouHeal Me" recorded at Dimebag Darrell's home studio and produced by Vinnie Paul. Also included is a special version of "Give It Up" featuring the late Wayne Static of Static-X contributing verse, chorus, and bridge vocal lines throughout the song, and a cover of Soundgarden's classic "Rusty Cage". SOiL continue to tour worldwide and stay active in the music industry.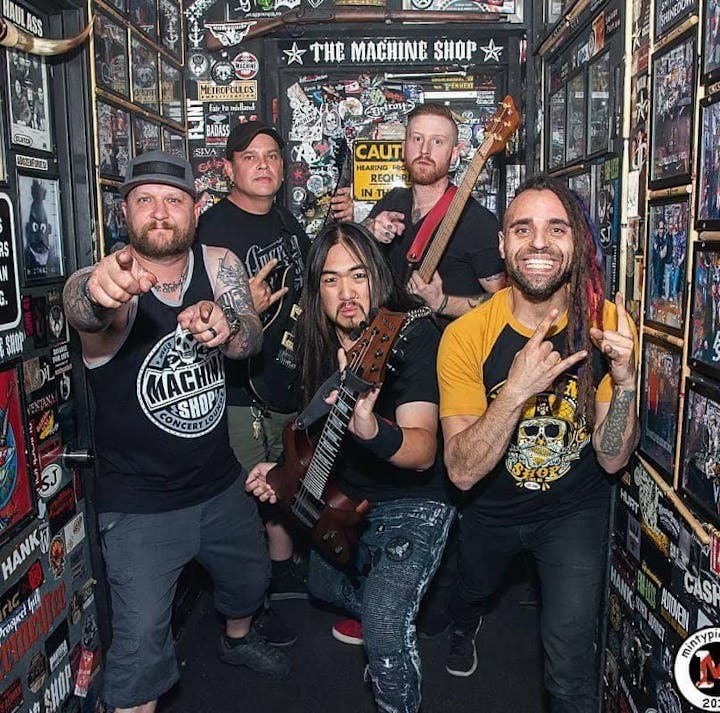 About Flaw:
Ask anyone who has ever been in a band, and they'll tell you. Being in a band is hard. Making it work for 20 years? That is really, really hard.
This has certainly been the case for Louisville, KY-based metal band FLAW. The band has seen multiple line-up changes over the years, however the core of Chris Volz's vocals has remained as the creative driving force and is poised to re-emerge on the strength of their finest set of recordings to date. The band has signed a deal with Pavement Entertainment, and is set to release Divided We Fall on August 19, 2016.
FLAW's story began with the independent release of home-grown albums American Arrogance (1996), Flaw (1998) and Drama (2000). It was the songs on these recordings that garnered the attention of Universal Republic Records, who signed the band and released the break-through Through The Eyes in 2001. The offering topped the Billboard "Heatseekers" chart, largely fueled by the singles "Payback" and "Whole." The band then followed-up with an album entitled Endangered Species via Republic in 2004, but soon thereafter the band went through personnel changes and ended their relationship with the label. The band's tumultuous relationship with themselves, and their label, were reflected in their songs. It was the life and energy captured in these songs that propelled the band forward. It was always FLAW fans' connection to their songs that carried the band on. "We would not be where we are today without our hardcore fans," says Volz. "The Flaw Family is the backbone of everything we do, and we cannot wait to get out and tour in support of this new record".
FLAW a band that is re-emerging on the strength of renewed focus and energy, and that energy is captured on the lead single from "Divided We Fall", a song called "Live and Breathe" that is a vessel of raw human experience and emotion. The band has waited 12 years to release a proper album, to rally and come together. They trust that together, FLAW can accomplish great things, and their fans are poised and ready to answer the call.
Performers
Date and Time
Location
Refund Policy