DAGS Fall Forum | Dementia Friendly is Texas Friendly, Y'All
2021 DAGS Fall Forum | Dementia Friendly is Age Friendly Y'All October 21, 2021 Moody Family YMCA | 6000 Preston Road, Dallas, TX 75205
About this event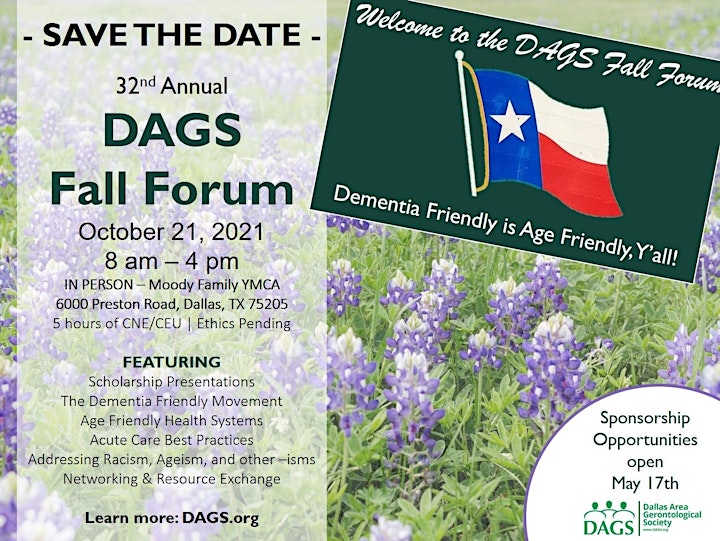 This year the DAGS Fall Forum will be held IN-PERSON at the Moody Family YMCA in Dallas, Texas. The full-day event will provide 5 hours of continuing education credit for nurses, social workers, administrators, care managers, and other professionals.
Our theme for the 2021 DAGS Fall Forum is
"Dementia Friendly is Age Friendly, Y'All".
Presentations will include:
The Dementia Friendly Movement
Age Friendly Health Systems
Acute Care Best Practices
Addressing Racism, Ageism, and other -isms
All proceeds from the DAGS Fall Forum are used to fund Scholarships for local students pursuing a degree or certificate in an aging related field. Typically over $15,000 in scholarships are awarded each year.
The DAGS Fall Forum will adhere to any and all applicable COVID-19 precautions in place at the time of the event. This means certain aspects of the event may change if needed to comply with local and national guidelines.
Organizer of DAGS Fall Forum | Dementia Friendly is Texas Friendly, Y'All