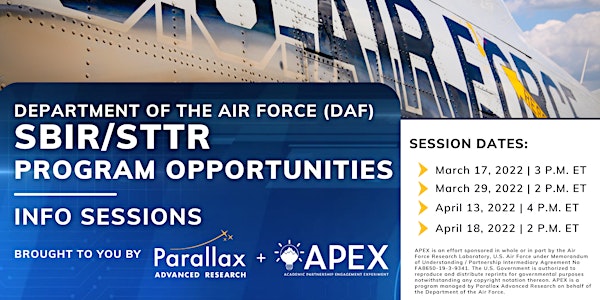 Multiple dates
DAF SBIR/STTR Program Opportunities Info Sessions
Attend a 1-hour webinar on the DAF SBIR/STTR program and its opportunities and expectations for technology entrepreneurs and researchers.
By Parallax Advanced Research
Date and time
March 17, 2022 · 12pm - April 18, 2022 · 12pm PDT
About this event
APEX is thrilled to bring back our third round of SBIR/STTR info sessions this Spring! If you joined our sessions this past year, these upcoming dates will cover a great deal of similar content, but will also cover some program changes and growth from the most recent DAF solicitation.
The DAF has changed the game in its Small Business Innovation Research (SBIR) and Small Business Technology Transfer (STTR) program, making it very venture capital-like, faster and applications-oriented.
The program presents a significant early-stage funding opportunity for technology entrepreneurs with products and services that can solve problems for the Air Force. The DAF participates in Department of Defense (DoD) solicitations three times per year. The next solicitation, 22.2B, is currently expected to have a mid-April pre-release with proposals due in June.
Topics to be covered:
The Open Topic: what's really different about the DAF SBIR/STTR program
Other opportunities in DAF solicitations, including new Specific Topics
The emergence of opportunities with Space Force through SpaceWERX
What you can do now to improve your chances for a solid proposal and selection
Customer Discovery: It's what matters. How to get started
APEX services to help you through and beyond your proposal
(there is no charge for these sessions or APEX support services)
About the organizer
Innovation requires multiple perspectives. Imagining a future composed of intelligent teams – composed of humans, artificial intelligence, autonomous systems, and other complex entities – means looking at them from every angle.
Envisioning what's possible means taking views in Parallax.
To advance thinking and to push research further, we must start in the center. Between where we are and where we're going. Between what's known and what's unknowable. And from the center of a network of world-class organizations and institutions whose work connects right here.
Because advances don't belong to one domain, they're the result of critical partnerships. Progress doesn't happen when you stand alone, but when we advance together.
Together with academia, we accelerate innovation that leads to new breakthroughs. Together with government, we tackle critical global challenges and deliver new solutions. Together with industry, we develop groundbreaking ideas and speed them to market.
This is where everything comes together.
This is why Parallax is here.
Here, in the center of the country, we can see beyond the limits of our borders. Here, at the confluence of research and requirements, we can see every step it takes to transition. By examining multiple viewpoints, we can see more and see further.
At Parallax, all we see is possibility.
PARALLAX ADVANCED RESEARCH