Event Information
Location
Projectivity
51 Broad St, Staten Island, NY 10304-2608
Staten Island, NY 10304
Description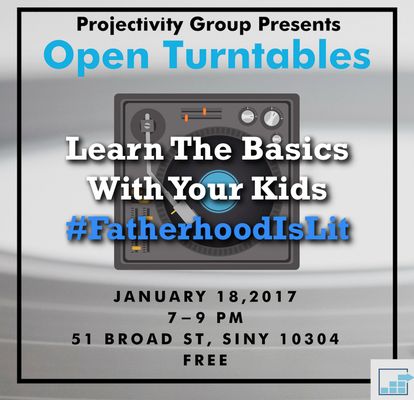 Did you ever want to learn how to DJ or better yet have your kids learn?
The team over at Projectivity and Stereotype Co are hooking people up Jan 18th with a free DJ workshop from 7-9pm!!!
To make it even better they are allowing a few parents to bring kids who are over 10 years old to learn with them!!!
How dope is that??
Not only will you learn what it takes to be a DJ at this free workshop, but you and your kid can put those lessons to use the same night!!!
You know if #FatherhodIsLit is in the building, dads will be taken care of!

If you love spending time with your kids and love music like we do, come through!!!!
If you are an artist looking to network and learn this is perfect for you, come through!
For more info check out the #FatherhoodIsLit site or Projectivity's FB Page!
Date and Time
Location
Projectivity
51 Broad St, Staten Island, NY 10304-2608
Staten Island, NY 10304