Description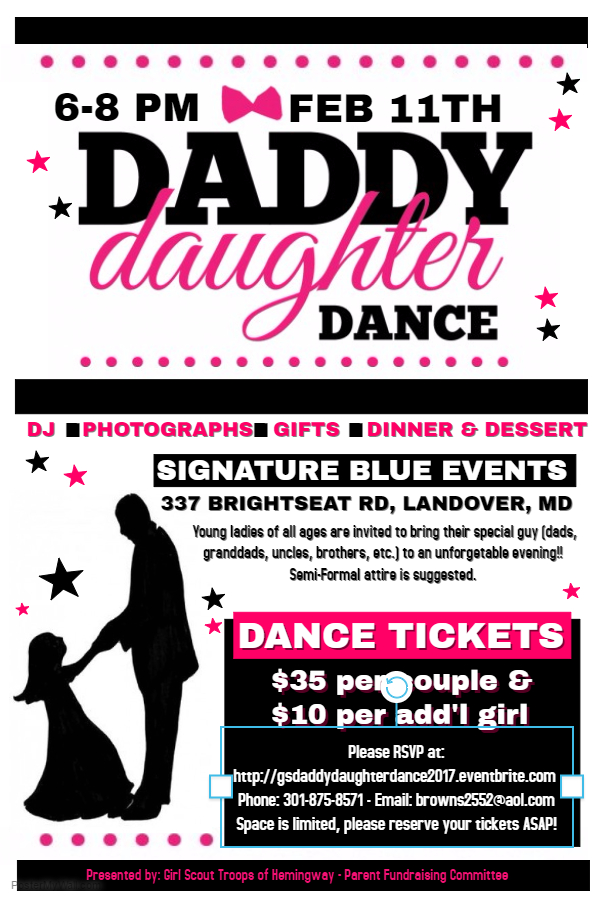 FAQ'S
Q. What is the cost?
A. Tickets are $35 per couple (father or father-figure and daughter), and $10 for each additional daughter.
Q. How do I get my tickets?
A. We highly recommend you purchase online via www.gsdaddydaughterdance2017.eventbrite.com and print your registration/ticket form. Your name will be on the list at the welcome table.

Q. How late can I purchase a ticket?
A. We recommend you purchase your tickets as early as possible; tickets will sell quickly and will not be available at the door. Ticket sales close on February 1, 2017 or when all seats have been filled.


Q. What time is the event?
A. Doors will open promptly at 6:00pm, on Saturday, February 11, 2017. Photographs will be taken starting at 6pm and will continue throughout the evening. Dinner will be served starting at 6:30pm.
Q. How old does the daughter have to be to attend the event?
A. We welcome daughters of all ages. However, the event may be enjoyed most by daughters age 2 and older. There are attendants available to assist your daughter as needed to the washroom. Let us know how we can help you!

Q. Can a young lady attend without her father?
A. Yes, young ladies may also be accompanied by Grandfathers, God-fathers, Favorite Uncles. Big Brothers or other Special MALE Role Models or Father Figures involved in their lives.

Q. What if I do not have a daughter? Can I bring my niece or another special young girl in my life?
A. The event is open to fathers and/or father figures and their "special" daughters. If you have a young lady in your life whom you have taken into your heart – then by all means, BRING her to the dancet. Regrettably, there are too many young ladies in our community, who for circumstances beyond her control, does not have a father/father-figure present in the home. She shouldn't be denied the opportunity to feel like a princess and be treated as the precious jewel that she is because of it – so YES, YES, YES, invite this precious young lady to be your special "date" for the night.


Q. Are Moms allowed to observe the event?
A. We appreciate your support but this event is for dads (father-figures) and daughters. We encourge Moms to capture special moments at home while dad and daughter prepare for the dance!

Q. What is the Attire?
A. This is a special occasion and an opportunity to wear your "Sunday Best." Daughters usually wear dresses … some come in gowns. Fathers often wear dress shirts and ties; suits are common attire (even a few tuxedos).


Q. Will food be served?
A. Yes, a dinner buffet and dessert will be served. Please contact us if food allergies are a concern.
Q. What kind of music will be played at the event?
A. Music is tasteful and fun! All music is approved to not contain violence, swearing or possible offensive language. All tunes are kid and adult friendly, so you'll recognize many familiar and old favorites.
Q. Will pictures be provided?
A. A professional photographer will be onsite to offer father-daughter portraits for a minimal charge. Pictures will begin when the doors open and continue throughout early evening. Additional pictures will be available on our website immediately following the event.
Q. What can we expect from the evening?

A. First and foremost you can expect to have a uniquely unforgettable evening with your daughter, filled with memories that she (and you) will treasure for a lifetime in a clean*, safe and wholesome environment.
Enjoy delightful companionship and comaraderie with like-minded fathers and daughters. Savor a delicious meal and enjoy inspirational music in an elegant, peaceful environment
As a "CLEAN" event the presence of alcohol, drugs, tobacco and/or the use of cigarettes IS NOT permitted. Attendees engaging in such activity will be asked to leave the premises. Remember gentlemen, your precious daughter is watching you – and so is Jesus, so let's make every effort to be worthy of their respect, trust and love by being virtuous, honorable men in their presence.
Q. Do you accept vendors or local company product giveaways?

A. Yes, we encourage family oriented companies to offer their products for giveaways. Please
contact us
for more info.