Description
DADANK MUSIC FESTIVAL
BLUNT MASTER PRODUCTIONS UNION DADANK KUSHITES, 4OE LIFE ENTERTAINMENT, AND LIL G TV PRESENTS A WORLDWIDE LIVESTREAM EXCLUSIVE ...DADANK MUSIC FESTIVAL.
FEATURING THA ALKAHOLIKS, KING T, JAYO FELONY, MR TAN, MOE ZMD, MIKE STORM HOSTED BY COMEDIAN LIL G SPECIAL INVITED GUEST BISHOP DON MAGIC JUAN
SUNDAY NOV 6, @ THE PLAYHOUSE NIGHT CLUB
Founded as a marketing tool to promote the benefits of the growing cannabis industry. Promoting events nationally to educate the masses provides a clear understanding of the growing trends and networking opportunities available. Sign up to be the first informed of up coming events scheduled for all to attend.
Our mission to raise the standard of informative seminars conferences and entertainment venues starts with people coming together to educate particpate and celebrate...Join us today
The date is set and the promotion from the ocean has begun launching what will be considered a live entertainment expo showcasing the benefits of the cannabis plant. " Music and live entertainment is the driving force to get a message mainstream," said James Turner, event coordinator promoter. " It's amazing how this new concept of blending entertainment around an expo format is taking root, and it's about to get even bigger." Turner, an entertainment promoter with a history of great shows has partnered with cannabis industry leaders, as well as, friends in the entertainment industry to raise awareness to promote the cause and benefits of this growing industry
Kushite dispensary owner and cannabis activist Rossil Raul brings his professional knowledge and expo experience to the stage with a passion of establishing positive connection with industry leaders. " I think it's real cool fam," said Raul in a statement. " Racking out at entertainment venues is a win win situation for all involved
An informative expo , and evening showcase featuring comedy and live performances from local entertainers
YOU HERD IT FIRST PUBLICATIONS
FOR INFORMATION TICKETS EXHIBIT, VENDOR ,SPONSOR ,ARTIST, PERFORMANCE
CONTACT OR INBOX James Turner Rhythmfest Ent.
EVENT COORDINATOR 714 610-1343 or r
www.cannabis420expo.com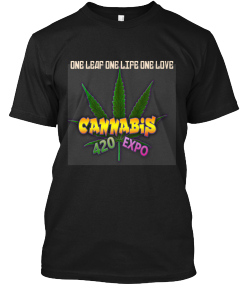 CANNABIS 420 EXPO @ 333Live Apparel
$21.99
We partnered with Teespring to create some awesome merchandise for this event. Show your support and look good wearing it. Check it out!