Description
Join dadageek for an evening of digital artwork, music technology, and performances created by students from our Fall 2018 classes. Our students have spent weeks exploring tech-art subjects ranging from analog synthesizer design to creative coding and will be presenting their creations for the public to experience, listen to, and interact with. This showcase will feature the many facets of dadageek, including handmade analog synthesizers, interactive video installations, and new media performances.
The evening will feature special performances from dadageek instructors including Adam Fangsrud (Flatliner), Mickey Delp (Delptronics) and Kyle Evans (pulseCoder)
Come meet our amazing students and instructors and help us celebrate their hard work!
Learn more about dadageek at www.dadageek.com
THE VENUE
Atmosphere Coworking is an Austin-based membership club designed for productivity, networking and building business.
SPONSORS
This project is supported in part by the Cultural Arts Division of the City of Austin Economic Development Department
CounterVolt is a public event series that exists at the intersection of music, art, and technology.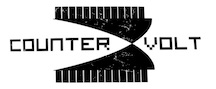 #creativecoding #digitalart #dadageek #processing #p5js #arduino #interactiveart #techart #keepAustinweird #dadageekslovethisstuff