DACA, DAPA, & Deportation: Defending Dreamers and their Families
Description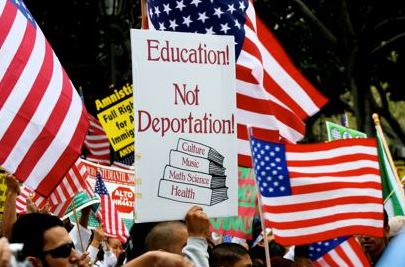 Over the past decade, there have been multiple efforts to reform the U.S. immigration system, including policies such as DACA (Deferred Action for Childhood Arrivals) and DAPA (Deferred Action for Parents of Americans and Lawful Permanent Residents). While only DACA is currently in effect, it is uncertain if it will remain as a standing executive action to allow young undocumented immigrants to plan their future without fear of deportation.
This event will feature a free screening of the film Dream: An American Story and follow with a panel discussion including immigration experts examining the new reality for Dreamers in America. Attendance is free and open to the public with registration.
Guest Speakers to include:
Aldo Bello is an Emmy award-winning documentary film director, television producer and co-owner of Mind & Media, Inc. Bello's latest documentary film is DREAM: An American Story, which has already garnered several awards, including two regional Emmy awards, "Best of Festival" from the Greater Washington Independent Film Fest, the Marcom Platinum Award, a Summit Emerging Media Leader Award and a Pixie Platinum Award for the documentary's title sequence. He is also the recipient of the 2012 Americans for Immigrant Justice Humanitarian Award.
Elizabeth Vaquera received her doctorate in Sociology from the University of Pennsylvania in 2007. She recently joined The George Washington University as Associate Professor and Director of the newly established Cisneros Hispanic Leadership Institute. She holds appointments in Sociology and the Trachtenberg School of Public Policy and Public Administration. She is also co-author of several books, the most recent of which, Education and Immigration, examines the educational experiences of immigrants and their children living in the U.S. Her research focuses on the physical, emotional, and social wellbeing of vulnerable and diverse groups, particularly Latinos/as, immigrants, and children. In particular, she has conducted research on undocumented young adults for the past five years.
Susannah Volpe is Managing Attorney for immigration at the D.C. office of Ayuda. She is a graduate of the University of Texas School of Law. After law school she worked for Catholic Charities of Central Texas, where she handled family based immigration matters, humanitarian visa applications, and deportation defense, focusing on remedies for juveniles. She moved to Walker Gates Vela, a small immigration law firm, to expand her removal defense practice. She has presented numerous CLEs on topics ranging from immigration law for criminal defenders to SIJS procedures and remains a volunteer mentor to attorneys handling SIJS cases in Texas family and immigration courts and to pro bono attorneys in the DC-Maryland area where she is currently based.
Ana Tobar was born in San Salvador, El Salvador and migrated to the United States when she was 5 years old with her family. She is currently a senior at George Mason University double majoring in Global Affairs and Communication. She has been working with Mason DREAMers, an organization that works towards creating a more inclusive environment for undocumented students on campus, for the past four years and is currently the Internal President. She has had the opportunity to travel to Princeton, University of California Berkeley and Arizona State University, to present her work with the undocumented population at Mason.