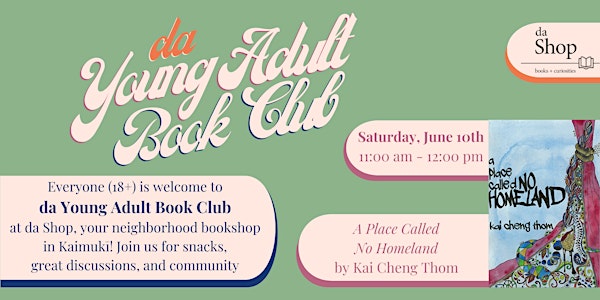 da Young Adult Book Club
Join us at da Shop and da Young Adult Book Club for community, good food, and lively discussions about some rad books!
By da Shop: books + curiosites
Date and time
Saturday, June 10 · 11am - 12pm HST
Location
da Shop: books + curiosities 3565 Harding Avenue Honolulu, HI 96816
About this event
Next meeting is Saturday, June 10th, from 11:00 a.m. - 12:00 p.m.
Join da Shop and da Young Adult Book Club! Open to everyone over 18, this club is a great way to meet people and nerd out over some really great books!
Our next book is A Place Called No Homeland by Kai Cheng Thom!A a clandestine romance across time and space.
We meet the 2nd Saturday of every other month and we will vote on our next reads at meetings. da Shop is also offering a special BOGO 40% off A Place Called No Homeland , so bring a friend!
About the Book:
This extraordinary poetry collection journeys to the place where forgotten ancestors live and monstrous women roam—and where the distinctions between body, land, and language are lost. In these fierce yet tender narrative poems, Thom draws from both memory and mythology to create new maps of gender, race, sexuality, and violence. Descended from the traditions of oral storytelling, spoken word, and queer punk, Thom's debut collection is evocative and unforgettable.
About the Author:
Kai Cheng Thom is a writer, performance artist, social worker, fierce trans femme and notorious liar who loves lipstick and superhero cartoons. A prolific essayist and poet, her work appears online in publications including BuzzFeed, xoJane, Everyday Feminism, and Autostraddle; and in print in Asian American Literary Review, Plenitude, and Matrix Magazine, among others. Her first collection of poetry, a place called No Homeland, will be published by Arsenal Pulp Press in Spring 2017. As a spoken word artist, she has appeared and featured at venues including Buddies in Bad Times Theatre and the Banff Centre for the Arts. She is also a mental health community worker and co-founder of the collective Monster Academy: Mental Health Skills for Montreal Youth. Kai Cheng lives in Montreal and Toronto, both of which were built on unceded Indigenous territory. Fierce Femmes and Notorious Liars: A Dangerous Trans Girl's Confabulous Memoir is her first novel.
About da Shop:
da Shop: books + curiosities is Honolulu's favorite community bookstore. Located in Kaimuki and uniquely curated for locals, da Shop is where books, print publishing, and community converge to celebrate independent bookselling, books as artifacts, and bookstores as a cultural space where anyone may encounter ideas to enrich and inspire their lives.
About the organizer

da Shop: books + curiosities, based in Kaimuki, is an eclectic retail bookshop designed for Hawaiʻi, featuring Hawaiian and Oceania titles, a deep selection of bestselling national and international literature, cookbooks, biographies, award-winning children's books and access to a digital database of over one million titles. Launched four years ago as an offshoot of Hawaiʻi based publisher Bess Press, da Shop is open from 11 am – 4 pm, Tuesday through Sunday.

Monthly author events showcase Hawaiʻi based and international authors.