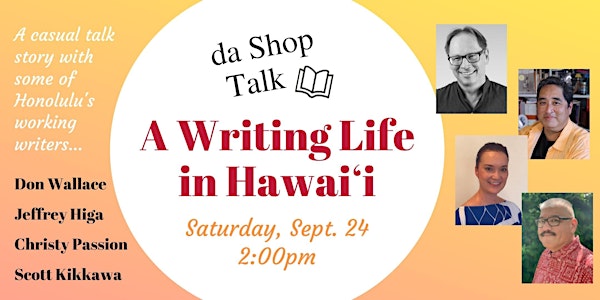 da Shop Talk: A Writing Life in Hawai'i
Join us for a casual talk story with Don Wallace, Christy Passion, Scott Kikkawa, and Jeffrey Higa about being writers with a day job.
When and where
Location
da Shop: books + curiosities 3565 Harding Avenue Honolulu, HI 96816
About this event
Join us for a casual talk story with some of Honolulu's working writers. Meet Don Wallace, Christy Passion, Scott Kikkawa, and Jeffrey Higa who will share about what it is like being a published writer with a day job. From the hustle to the reality of writers' block (from within and without), this bookish hour is perfect for those aspiring to have a writing career, or for anyone who enjoys talking shop about all things literary.
Authors will be available to sign their books afterwards. Note: This is NOT a writing workshop, but there will be time for Q & A.
Attendance is free. Parking is available across the street.
About the writers:
Don Wallace is the contributing editor at HONOLULU Magazine; author of four books; and the founder of literary blog The Hawai'i Review of Books. He has written for The New York Times, Harper's, The Surfer's Journal, The Wall Street Journal, Fast Company and Wine Spectator. Wallace also authored the popular article "50 Essential Hawai'i Books You Should Read in Your Lifetime," and most recently, "Essential Hawai'i Books You Should Read: The Next 134." His other writings include the book The French House: An American Family, a Ruined Maison, and the Village that Restored Them All and the documentary film Those Who Came Before: The Musical Journey of Eddie Kamae.
Christy Passion is a Native Hawaiian poet, a short story writer, and the author of Still Out of Place (Bamboo Ridge Press, 2016). Her work has been published in local journals such as Bamboo Ridge, Hawai'i Pacific Review, and the anthology Honolulu Stories. Her poetry has won both local and national awards, including the James Vaughn Award, The Atlanta Review International Merit Award, the Academy of American Poetry Award, and the Hawaiʻi Literary Arts Council. She is a critical care nurse in Honolulu, where she lives and works, when she is not writing.
Jeffrey J. Higa, author of Calabash Stories, is the great-grandson of Okinawan immigrants who came to Hawaii to work on the sugar plantations. He inherited their stories and love for their adopted land. He earned a Master's Degree in Creative Writing from the University of Missouri-St. Louis and has gone on to become an award-winning fiction writer, essayist, and playwright.
Scott Kikkawa, a recipient of the Elliot Cades Award for Literature, writes noir detective stories set in postwar Hawaii, featuring 442nd veteran Nisei Detective Sergeant Francis "Sheik" Yoshikawa. His critically acclaimed debut murder mystery, Kona Winds was released at the end of 2019 and gained a following shortly thereafter. Red Dirt his second novel in the mystery series published in 2021, and a third is scheduled for Spring 2023. When he is not writing his novels or working as a federal law enforcement officer, Kikkawa also serves as a columnist and Associate Editor for local literary blog The Hawai'i Review of Books.
About the bookstore:
da Shop: books + curiosities is Honolulu's favorite community bookstore. Located in Kaimuki and uniquely curated for locals, da Shop is where books, print publishing, and community converge to celebrate independent bookselling, books as artifacts, and bookstores as a cultural space where anyone may encounter ideas to enrich and inspire their lives.