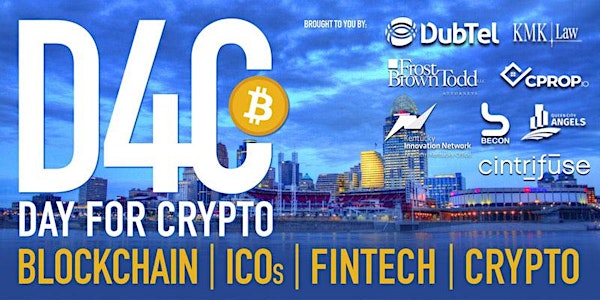 D4C - Day For Crypto - Focused on crypto-currencies, ICO's and fintech
Date and time
Tuesday, December 12, 2017 · 8am - 6pm EST
Location
Northern Kentucky Convention Center 1 West Rivercenter Boulevard Covington, KY 41011
Description
Get ready for a first-of-its-kind event in the Cincinnati area

Blockchain—the disruptive technology behind digital currency.
Join Becon Global and Crypto Properties on Tuesday, December 12 to discover the world of Blockchain technology and digital currency made popular by Bitcoin. Learn how to invest, buy, and sell different type of cryptocurrencies. Then deep-dive into the future of digital currency and the underlying technology: Blockchain, which is poised to disrupt both public and private sectors.
This event is ideal for investors; entrepreneurs considering ICO fundraising; financial, legal and IT professionals. Simply curious about bitcoin and other digital assets? You're invited too.
THE AGENDA
8:00-8:50
Registration and Coffee
8:50-9:00
Opening of the Conference
• Wendy Lea, Cintrifuse (Cincinnati USA)
• Adam Koehler, Co-Founder at CPROP (Cincinnati USA)

9:00-9:30
Keynote Presentation: Intro to blockchain and digital currencies: past, present and future
• Peter Vessenes, Managing Director at New Alchemy, former Chairman Bitcoin Foundation (USA)
9:30-10:15
Getting started with Crypto-Currencies. Buying, Selling, Storing
TBA
10:15-11:30
Panel Discussion: An overview of various crypto-currencies
• Nils Veenstra, Becon Global, Moderator
• Albert Castellana, Board Member at NEM Foundation (Singapore)
• Alexander Perchikov, Product Marketing Director at Bitfury Group (Netherlands)
• Matthew Spoke, Board Member at Ethereum Enterprise Alliance (Canada)
11:30-12:00
Do I have a business that lends itself to a tokenization model and can I raise money with an ICO / TGE / Token Sale?
• Nick Ayton, Founder and CEO at Chainstarter (UK)

12:00-1:00
Lunch
1:00-2:00
Setting up an ICO / TGE / Token Sale. Practical lessons learned

• Sandy Selman, Co-Founder at CPROP (USA), Moderator
• Anna Melton, Co-Founder at TokenKey (Gibralter)
• Pascal Haider, CEO at Global Goals Coin (Austria)
• Leonid Bondarenko, CTO at Exch.One (Switzerland)
• Amy Karr, Cofounder at ​Arclydia ​Group, (USA)

2:00-2:45
Focus on the Midwest: ICO startups near you
• Luke Sestito, Co-Founder at CPROP (Covington)
• Dan Novaes, Co-Founder and CEO at Current (Indiana)
• Jon Schlinkert, CEO of Sellside (Cincinnati)
• Mark Pohlkamp, Cofounder & CEO at Knowbella (USA)
• Mike Hiles, Co-Founder at 10XTS (Dayton)
2:45-4:00
How US-based investors can participate in ICOs / TGEs and be fully compliant
• J. Gray Sasser, Co-Chair Blockchain and Digital Currency Team, Frost Brown Todd LLC (USA)
• Mark Sims, Partner, KMK Law Tax Group
• Mark Reuter, Partner, KMK Law, Securities Regulation Group
4:00-4:30
Current and Upcoming Litigation in US surrounding Crypto and ICO startups
• Thomas Hankinson, KMK Law

4:30-5:00
Where is blockchain technology entering mainstream business?
• Nils Veenstra, Managing Partner at BECON (Ireland)

5:00-5:15
Closing of Conference
• Adam Koehler, Co-Founder at CPROP (Cincinnati USA)
5:30-7:30
Network Reception, House of Orange, Sponsored by Dubtel Corporation

---

Breakfast and lunch will be provided. Tickets are $199 until December 4th at 9am. After December 4th or at the door, tickets are $249.
Notice: The trading of Bitcoins and alternative crypto currency has potential rewards and risks. Trading may not be suitable for all people. Anyone wishing to invest should seek his or her own independent financial or professional advice.
About the organizer
BECON is all about the power of Blockchain methodologies and solutions
The aim of our knowledge platform is to let you understand the importance, functionality and how to overcome the challenges of Blockchain. Showing a rapidly accelerating range of use-cases, we provide insights into building and implementing solutions and the application of Blockchain, across all sectors, industries and services. Connecting you on a global level with your peers, experts and Blockchain clusters and chapters, country by country.
We offer a range of services from introductory workshops, C-level sessions, forums, bootcamps, masterclasses, online trainings, webcasts, conferences and right through to the delivery of news, white papers, reports, and indexes of both Blockchain industries and use-cases.
Contact us for more information: http://www.becon.global/contact/