Description
The Leading Decentralized Insurance Event
Decentralized Insurance Conference (D1Conf) is the third annual event for the decentralized insurance community, insurtech innovators, and traditional insurance companies who are aimed at redefining the global landscape of the industry.
D1Conf 2019 will take place in Malta on November 5-6, 2019, and will be held right before Malta AI & Blockchain Summit.

Progress in decentralized insurance community has been remarkable over since the last year's conference. Now we're excited to discuss how decentralized insurance is getting traction and moving from the experimental stage to real products.
D1Conf's main objective is to bring together organizations and enthusiasts using Ethereum to learn and collaborate in creating decentralized insurance apps, platforms, and protocols, and therefore encouraging the industry innovation.
Register for live streaming
https://bit.ly/34lNekS
Why attend?
1. Get access to the unique education and collaboration hub.
2. Share your ideas and hear feedback from peers, evaluate threats and opportunities based on the real-life experience of the ecosystem members.
3. Build connections with the community of insurtech startups, developers, actuaries, risk managers, marketers, and distributors, as well as existing insurance technology providers and regulators
Who should attend?
Insurtech and fintech startups
Crypto protocols, platforms and dApps
Traditional insurance companies
Oracle providers
Risk capital providers
Insurance product builders, developers

Actuaries and data scientists
Distributors and regulators
Meet the Decentralized Insurance Community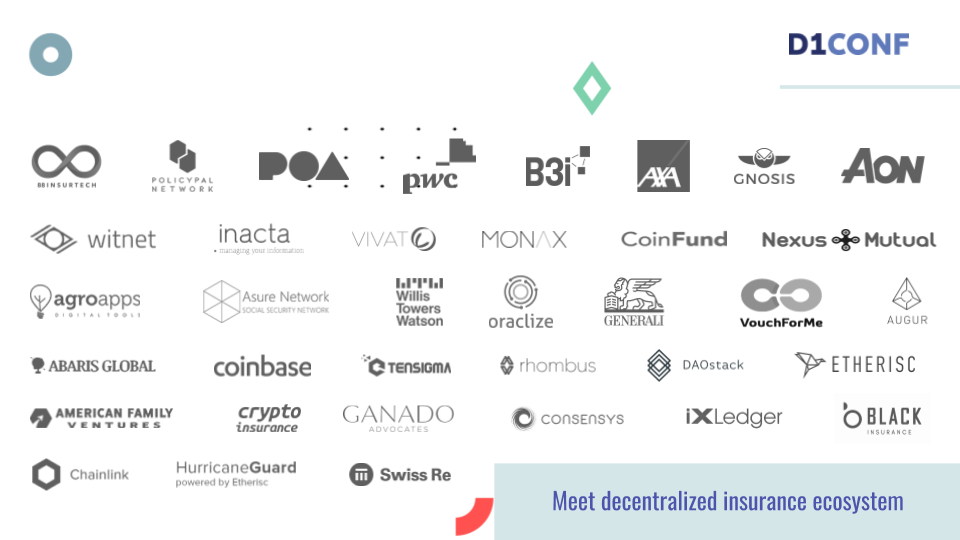 Present at D1Conf 2019
We are all creating the Decentralized Insurance ecosystem together, and we want D1Conf 2019 to reflect that.
In addition to onstage presentations, D1Conf will facilitate new connections and community-driven conversations through interactive panel discussions and fireside chats.
This year, D1Conf will be organized around the following themes:
Real-world insurance products and lessons learned
How-tos, protocol, smart contracts, and dev tools
The most recent updates on prediction markets, claim management, securitization of risks, parametric insurance, and more
Legal frameworks, use of capital examples and interesting risk cases from business insiders
How blockchain is transforming the insurance industry and its key players; opportunities and risks
For additional information, visit d1conf.com.
To see how the last year's event went, check out these recaps.
Telegram - https://t.me/D1Conf
Twitter - https://twitter.com/d1conf
Facebook - https://www.facebook.com/d1conf/
Reddit - https://www.reddit.com/user/d1conf
YouTube - https://www.youtube.com/channel/UCC2AG5CpRbAZi6kT0TVopAA
Medium - https://blog.etherisc.com/tagged/d1conf
* For payment option by invoice please contact natalia@etherisc.com
Organizer of D1Conf, Decentralized Insurance Conference
Etherisc develops a protocol for decentralized insurance applications. We use blockchain technology to make the purchase and sale of insurance more efficient, enable lower operational costs, and provide greater transparency into the industry.
Common infrastructure, product templates and insurance license-as-a-service make a platform that allows anyone to create their own insurance products.