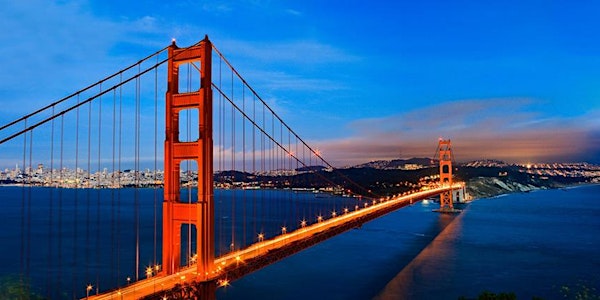 d10e San Francisco: Celebrating Fearless Ideas
When and where
Location
San Francisco Marriott Marquis 780 Mission Street San Francisco, CA 94103
Refund Policy
Contact the organizer to request a refund.
Description
WHAT IS D10E?
D10e is an international event experience focused on celebrating decentralization in FinTech, disruptive tech and culture, the sharing economy, and the future of work. Formerly known as Coin Congress, we are U.S. based and have hosted four previous successful conferences in Singapore, San Francisco, and Amsterdam between 2014-2016. d10e Amsterdam (February 2016) was our European debut and we return to San Francisco 19-20 July 2016. We will host d10e Bucharest in Fall of 2016.
WHY ATTEND?
D10e is an opportunity for those excited about decentralization to build real friendships with like-minded people capable of creating the world of tomorrow together. We believe that events should be fun and fruitful, intimate and focused. This isn't a dull networking event to pass out business cards, but an exclusive conversation focused on engagement, knowledge-sharing, community, and inspiration.
Network. Meet inspiring people creating the world of tomorrow. Network with savvy, hopeful next generation individuals and companies pushing the envelope of human creativity and collaboration. Our Tuesday networking party and Wednesday cocktail hour are fantastic opportunities to converse and share.

Learn. Stay privy to the hottest innovations and future trends in business, investment, communication, marketing, and technology. Our Wednesday presentations, panels, and exhibit hall showcase the spectacular decentralizing innovations changing finance, business, technology and culture, the sharing economy, and the future of work.

Have fun. Have fun. Our launch parties help all participants meet, drink, and be merry with one another before our full day of sessions, presentations, and panels. We conclude with a second casual networking event. This special structure drastically improves everyone's experience. Our mobile event app doesn't just populate schedules and meeting locations. See the LinkedIn profiles and social channels for every new person you meet, explore speaker and sponsor details, and share your experience on the social feed, and more.

Engage. We're an intimate open forum of passionate collaborators. We encourage participation and friendship. From interactive Q/As to legendary and intimate socials, this isn't your average 'conference'.
WHY DECENTRALIZATION?
d10e is a numeronym for decentralization, which is more than a buzzword. Innovative technologies are changing the way we think and live, and quickly. Nearly every aspect of our lives will be uprooted by visionaries and disruptive companies eager to revolutionize industries. Everything that can be decentralized will be decentralized. It's up to us, the early adopters, to drive the cultural shift toward the next leap in human civilization. This is only the beginning.
HIGHLIGHTS
Join us July 19th, 2016 for a private networking evening of conversation and introductions followed by a full Wednesday of focused discussions, panels, presentations, live demos, and a startup competition.

750 top professionals have attended our previous four events. We took cutting-edge conversations on the hottest trends in FinTech to Singapore and San Francisco in 2014. In 2015, we returned to San Francisco expanding our event topic to include innovations in disruptive tech. Our February 2016 d10e European debut explored Fintech, disruptive tech, sharing economy, and future of work. Amsterdam sold out, reaching venue capacity at 154 participants. We turn to Europe for our Bucharest event in Fall 2016.

220+ experts, executives, makers, and investors have presented at our events.

C-Level executives from bitcoin and blockchain companies, disruptive technology companies, investment firms, and startup incubators are our most loyal supporters.

55+ media outlets covered our events, including Vice News, CoinDesk, CoinTelegraph, RT News, and more.

300 of the most passionate leaders spearheading decentralizing technologies and ideas are expected to attend. We anticipate our largest audience to date.
Join us to explore the fearless concepts, ideas, and technologies changing finance, business, technology and culture, the sharing economy, and the future of work -- forever.
---
SAY HELLO
Paul Puey

Aitbitz

Co-Founder & CEO

Kevin McKernan

Courtagen Life Sciences and Medicinal Genomics

Chief Science Officer

Christopher Allen

Blockstream

Principal Architect

Federico Ast

CrowdJury

Founder & CEO

Cecile Baird







Chris Bates

Bitland Global

Chief Security Officer

Lisa Cheng

The Vanbex Group

Founder & Head of Research

Daniel Diaz

Dash

Head of Business Development

Jacob Dienelt

Immutable Data Partners

Founder

Simon Dixon

BnkToTheFuture.com

Co-Founder & CEO

Evan Duffield

Dash

Lead Developer

Shariq Hashme

Gigster

Software Engineer, Platform & Automation

Jason King

Unsung.org

Founder

Doug Kirkpatrick

Beyond Empowerment

Author

Martin Koeppelmann

Gnosis

Co-Founder

Joey Krug

Augur

Core Developer

Liam Krut

Papirys

CTO

Ragnar Lifthrasir

IBREA

President

Vinny Lingham

Civic Technologies, Inc

Co-Founder & CEO

Matt Liston

Gnosis

Strategist

Lawrence McQuillan

Independent Institute

Senior Fellow & Director

Pamela Morgan







Tatiana Moroz

Crypto Media Hub

Founder & CEO

Ted Moskovitz

Apollo Scheduling

Executive Vice president

Matt Perez

Nearsoft

Co-Founder & COO

Brock Pierce

Managing Partner at Blockchain Capital

Chairman of the Bitcoin Foundation

Milana Rabkin

STEM

Co-Founder & CEO

Devon Read

Alexandria.io

Founder

Brian Santos

WorkCar

Co-Founder & CEO

Christian Saucier

Ubiquity

CTO

Zak Slayback

Praxis

Founding Member

Thomas Thomison

Encode

Chief Speaker

Guido Baroncini Turricchia

Helperbit

CEO

Reid Williams

IDEO

Venture Designer

Pierre Wolff

ExecConnect

Managing Director

Dr. Phil Wolfson




Psychiatry & Psychotherapy

Perry Woodin

Node40

Founder

David Yerger

Bitgo

Enterprise Sales