Description
D1 ALL AMERICAN BOWL FORMAT
This year format - League vs League - Coaches Staffs/Programs will be selected to represent the following leagues. Age groups will be broken down as follows: 5/6U 7/8U 9/10U 11/12U and 13/14U
NWGYFL - NORTH (BLACK)
YFA - WEST (WHITE)
GXYFL - EAST (RED)
MAYFL - SOUTH (BLUE)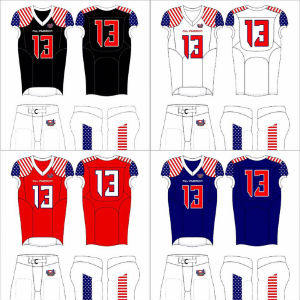 Each team will play three games . The top two teams will play for the championship. The bottom two teams will play a consolation game. The League Reps with the most championship wins will recieve a $1000 . For example MAYFL wins 3 out of 5 championships then the MAYFL coaching staff will receive $1000.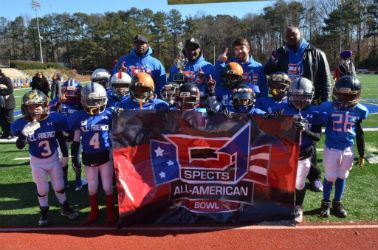 COACHING CRITERIA / PLAYER RULES
- Coaches are on a volunteer bases.
- Maximum 4 coaches per staff
- Coaches must run 4 practices January 9-12, 2017 from 630pm -8:30pm. Practice location is TBD.
- Depending on the number of players , each team will play at least 3 games. Games will be played Jan 14-16
@ South Cobb High School. Schedule is TBD
- Head coaches must presently be head coaches in one of the leagues listed above.
- Head coaches will be allowed 3 players from their team or program at a 50% discounted rate.
- Head coaches can chose there own staff , however a coach nor itrs staff can coach the same age group
he/she is currently coaching .
- All coaches must be from the same league or program , no cross league coaching.
- All players must be registered no later than Dec 20... No players can be added after this time.
- Players will be placed on teams by the All American Committee/ Coaches will have some input.
- Each player must play at least two quarters each game.
- Coaches will be asked to supply a depth chart made avaiable for public viewing
- Each team will have no more than three players from the same team. We hope to divide all players up equally.
- Team composition
QB – 2
RB/FB – 4
OL / DL – 8
WR/TE – 3
DB – 5
LB – 3
Important Dates :
November 13th ... All American Try-outs @ Pebblebrook HS
December 4th ... Final Try-out
December 15th ... Deadline for Golden Ticket holders to register
January 9th-12th - Practice Loaction- TBD
January 13th - Uniforms issued / Team Pictures
January 14th - Games @ South Cobb HS
January 15th - Games @ South Cobb HS
January 16th - Championship Games