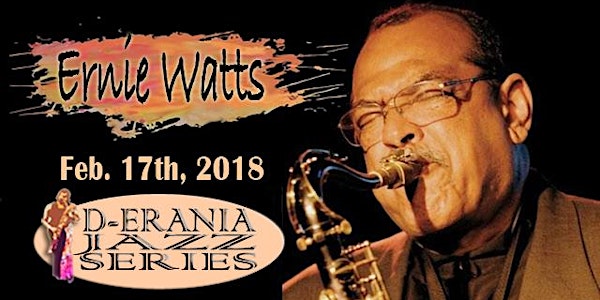 D-Erania Jazz Series - Legendary Saxophonist, Ernie Watts!
Location
SPAA Theatre & Performing Arts Center
350 Victory Drive
Park Forest, IL 60466
Description
Two-time Grammy Award winner Ernie Watts is one of the most versatile and prolific saxophone players in contemporary music and he's one of the most recorded Saxophonists; he's heard on everything from Marvin Gaye classics to the Rolling Stones!! It has been more than fifty years since he first picked up a saxophone, and from age sixteen on he has been playing professionally. It is such a special honor to have this Legend & Titan joining us on Saturday, February 17th for the first D-Erania Jazz Series show of 2018! It will truly be a once in a lifetime show that you don't want to miss! And shortly before the concert (5:30pm) you will have a chance to participate in a Mini-Music Workshop, produced by the Jazz Desires NFP Organization (www.jazzdesires.org)! Come meet & greet Ernie Watts or get helpful tips on playing sax. Admission to the workshop is free with your purchase of concert tickets, but you must sign up in advance to attend the music workshop because seating is limited!
2018 Coupon Booklets for the D-Erania Jazz Series are also available for purchase. The vouchers provide discounts to each of the four show, including two Free Entry passes!