Description
Shawn Shinneman, editor of D CEO Healthcare and senior editor for D CEO, invites you to a breakfast panel featuring four of the region's most influential industry leaders.
---
A steady stream of growth and corporate relocations has made sure health systems have their hands full in accounting for the ever-expanding needs of North Texas. Meanwhile, technology and regulation have ushered in an era in which more and more medicine is practiced on an outpatient rather than an inpatient basis. This puts providers trying to figure out where to park their profits at a crossroads: Invest in expanding already large hospitals—seeing the growing populations—or move into smaller communities with more focused models of care? The question has beget a new mix of facilities in the area. But what does the future hold? How do these systems view their long-term investment strategies? How do independent providers fit into the mix? And what does it all mean for the patients? We will explore during a breakfast event featuring a panel with some of the areas biggest names in healthcare:
Gary Brock, Chief Integrated Delivery Network Officer, Baylor Scott & White Health
Barclay Berdan, CEO, Texas Health Resources
Stephen Mansfield, CEO, Methodist Health System
Chris Crow, CEO, StratiFi Health & President of the Catalyst Health Network
---
7:00 AM: Check-in

Space is limited and tickets will be sold on a first-come, first-served basis.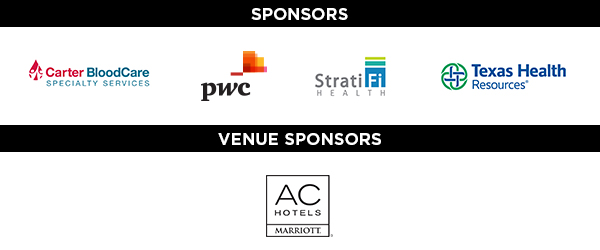 Click here to learn more about Carter BloodCare Specialty Services.