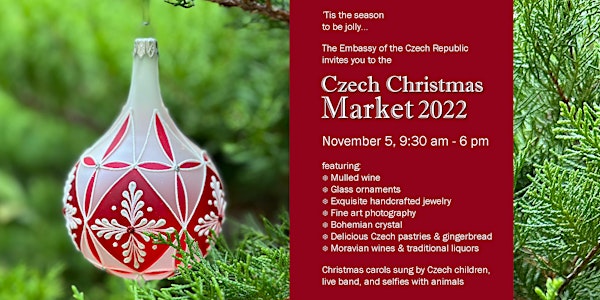 Czech Christmas Market
Join us for the Czech Christmas Market 2022!
When and where
Location
Embassy of Czechia 3900 Spring of Freedom Street Northwest Washington, DC 20008
About this event
Tis the season to be jolly! The Embassy of the Czech Republic invites you to its annual Czech Christmas Market on November 5, 2022, from 9:30 am to 6 pm. We look forward to bringing you the magic of the season in person once again. Browse stands filled with beautiful handcrafted ornaments, Bohemian crystal, exquisite bead and glass jewelry, fine art, Moravian wines and traditional liquors.
Enjoy the taste and smell of mulled wine as well as an assortment of delicious Czech pastries and gingerbread, and savory cuisine.
Adore the array of live animals from the Nativity scene for selfies. Listen to children of American Sokol Washington DC and Slavic American Sokol performing Czech Christmas carols and live music by Czech pop artist Thom Artway.
EVENT DETAILS:
Date/Time: November 5, 2022, 9:30 am – 6 pm
Location: Embassy of the Czech Republic
3900 Spring of Freedom Street, NW, Washington, DC 20008
Reservations are required | Admission is free.
If you cannot reserve a time, it may be full. Therefore, select another time for entrance.
Some of the vendors cannot accept credit cards, so please bring cash as well.
Embassy Policy: By registering, you are acknowledging that an inherent risk of exposure to COVID-19 exists by attending this event on the premises of the Embassy of the Czech Republic. You and any family members and guests voluntarily assume all risks related to exposure to COVID-19 and agree not to hold the Ministry of Foreign Affairs of the Czech Republic and the Embassy of the Czech Republic or any of their diplomats, staff, contractors, affiliates, employees, agents, or volunteers liable for any illness, injury, or death.
The Embassy of the Czech Republic disclaims and excludes any and all liability for any loss, injury, or damage, alleged to have been suffered by or as a result of or otherwise on its premises. No large bags are allowed. Small purses may be checked as you pass through security for entrance. RSVP confirmation and photo ID required.
PERFORMERS:
American Sokol Washington DC | http://www.sokolwashington.org/
American Sokol Washington DC provides fitness and community for individuals and families of Czech, Slovak and Moravian heritage, as well as for any other interested persons. The non-profit organization offers an array of sports and outdoor-appreciation activities, and a variety of social, cultural and educational opportunities.
Slavic American Sokol | https://www.slavicamericansokol.org/
Slavic American Sokol promotes and provides education in the Czech, Slovak and other Slavic languages, folklore, culture and athletics.
Thom Artway | https://www.thomartway.com/
Thom Artway is a popular Czech pop artist who combines modern sounds with classic songwriting with impassioned, introspective lyrics. His folk-pop draws you in with a distinctive voice and naggingly melodic earworms. He first came to national attention when his song Towards the Sun was picked for the soundtrack for the Czech movie Křídla Vánoc (Wings of Christmas). He has scooped up prestigious Anděl awards (the Czech Grammys) and recorded two albums with Warner Music. He makes regular appearances at the most prestigious domestic festivals and tours in Europe.
COMPANIES:
European Trading Company | http://www.europetrade.us/
The European Trading Company imports hundreds of handmade Christmas glass ornaments from the Czech Republic. It hand selects its collections from designers and artisans with centuries old skills and traditions of fine glass blowing and decorating, yet following the latest trends. Since 1994, the family business has imported over a million ornaments to the United States.
Topix Crystal Art | http://www.topixcrystalart.com/
Topix Crystal Art is a distributer of fine Bohemian crystal imported from the Czech Republic. Each piece is mouth-blown, handcrafted, cut and painted by the most skilled crystal makers, following traditions dating back to the eleventh century. The pieces reflect both classical glass-making techniques and the latest sophisticated processes. Topix has a wide selection of exquisite pieces, ranging from traditional tableware to chandeliers and other works of art.
Praha Beads and Jewelry | https://prahabeadsandjewelry.com/
For over 18 years, Praha Beads and Jewelry has been creating exquisite handcrafted jewelry with a vintage-looking flair, using Czech glass beads, Venetian glass beads and semi-precious gemstones. You may find them at prahabeadsandjewelry.com, which carries hard-to-find Czech glass beads and other items for all your jewelry-making needs.
Preciosa | www.berkana-usa.com
Preciosa's crystal jewelry and décor delight those who love beauty all around the world. Luxurious jewelry and sought-after fashion accessories are created in the cradle of the world's glass jewelry industry. From the centuries-old tradition of Bohemian cut crystal, Preciosa enriches each creation with craftsmanship, skills and the latest technologies. Berkana USA represents Preciosa in the US.
Shelalee | https://www.shelalee.com/
Shelalee is a small, women-owned business handcrafting unique jewelry using Czech glass beads. Founded in 2012, Shelalee has been focusing on inspiring the virtue of beauty as the reflection of uniqueness, compassion, kindness, and strength hidden in every single woman. All Shelalee products are designed and hand-crafted in quantities limited to one or just a few pieces.
National Czech & Slovak Museum & Library | https://ncsml.org/
Located in Cedar Rapids, Iowa, The National Czech & Slovak Museum & Library (NCSML) preserves, presents, and transcends unique stories of Czech and Slovak history and culture through innovative experiences and active engagement to reach cross-cultural audiences locally, nationally, and internationally. The Museum's award-winning store proudly sells merchandise tied to Czech and Slovak roots, including unique and fun souvenirs. Something for every taste and age!
Penfield Books | https://www.penfieldbooks.com/category/czech-titles/
For 43 years, Penfield Books, based in Iowa City, has been publishing and distributing Award Winning books of cultural and ethnic interest, primarily focused on Northern, Central, and Eastern Europe, with a varied selection of Czech and Slovak titles. One of their newest and featured titles is Haunted Prague: Stories of Spirits, Sorcerers, and the Supernatural.
Plamen Press | https://www.plamenpress.com/
Plamen Press is an independent press focused on the publication and promotion of Central, Eastern and Southeastern European literature translated into English. As publishers, Plamen Press believes that its role is to use every means available to reanimate literary works for readers.
Lillis Photography | https://www.lillisphotography.com/
Lillis Photography is a fine art, portrait, and event photography business in Washington, DC. Lillis has served as the official photographer for the American Friends of the Czech Republic for over ten years. She has photographed Czech leaders on many occasions and has traveled to the Czech Republic, capturing architectural and landscape images. She also provides her artwork to hospitality and healthcare industries. She is represented by Grand Image, an art consultant in Seattle.
OM Design & Photography | http://www.omdesigns.cz/
OM Design and Photography, Baltimore and Prague based small business offers planning and desk calendars with Czech architecture or Czech Christmas cookie recipes. It is designed for the USA market, with US major holidays and days of the week starting with Sunday. The calendars are bilingual, English and Czech and for the first time include not only Czech major holidays, but also list a Czech name day for each and every day of the year. Greeting cards and prints ready for framing with Czech motives are also available. Photographed, designed and produced by OM.
SunnyDayArt | https://www.etsy.com/shop/SunnyDayArtandCraft
SunnyDayArt is a family art studio and woodcraft shop founded in the Sunshine State in 2006. Their authentic "walnut babies" ornaments have been used as traditional Christmas décor in Czechia for many centuries. The studio will also be selling traditional Czech Christmas cookies made by Katerina, using recipes treasured in her family for generations.
La Bohemia Bakery | http://labohemiabakery.com/
La Bohemia Bakery is a European artisan bakery located in Rockville, Maryland. Its priority is bringing authentic quality European baked goods to customers at an affordable price. The bakery's menu includes pastries, tarts and cakes, savory baked goods, breads, and mouthwatering sandwiches.
Marlenka International Ltd. | https://marlenka.us/
MARLENKA® products are made only from the best quality ingredients mainly from local production in the Czech Republic. Marlenka produces a variety of honey cakes and other honey desserts and imposes high quality standards on its production.
Spevak Winery | https://vinarstvispevak.cz/en/
A small family-owned winery, founded by Frantisek Spevak, based on his philosophy that a good quality wine is born in the vineyard, not the winery. All the grapes used for wine production are sustainably-grown and hand-picked on Spevak Estate located within the Slovacko sub-region of Moravia where Frantisek pioneers farming of new resistant crossings. Thirty-five grape varieties allow him to produce an impressive portfolio. Choose from a selection of seven wines, curated by Moravian Wine Series and imported into the US by Wills International (www.willsinternational.com).
R. Jelínek | https://www.rjelinek.us/
R. Jelínek is a producer of Jelinek Slivovitz, a national brand and plum brandy from the Plum Valley in the Czech Republic. Established by the Jelínek family in 1894, the privately owned company continues to adhere to its tradition of kosher distillery production. Exporting the popular brandy to the United States since 1934, it currently distributes in over 30 states.
Frederick County Sheep Breeders
http://www.fredericksheepbreeders.com/
Whispering Meadows Alpaca Breeders
http://www.whisperingmeadowsalpaca.com/
The Frederick County Sheep Breeders is a Maryland-based sheep and goat producers association. Its purpose is to promote as well as to educate the public regarding sheep, goat and lamb activities in Maryland. Whispering Meadows Alpaca Breeders is a family run business with a successful 4H program educating youth on alpacas and agriculture. The association and the farm will be selling wool and alpaca stockings, hats, figurines, and other items. Lambs, goats, and alpacas will be on hand for selfies and cuddles.