About this Event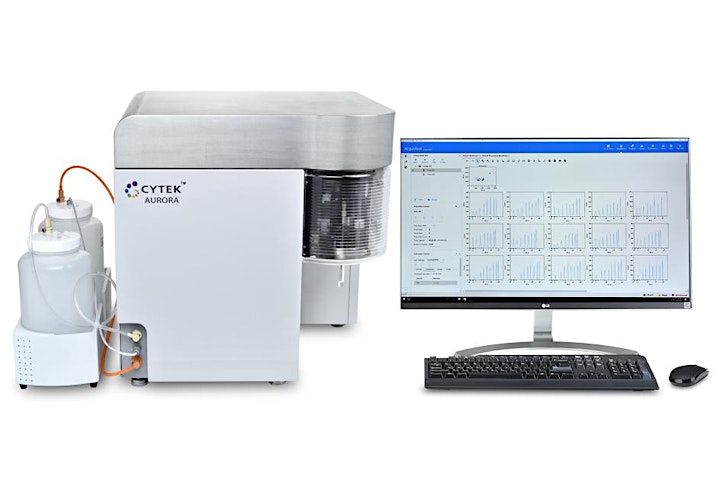 Meet with Aurora users and the Cytek R&D team in a casual environment to consult on getting the most out of your Aurora. Cytek's team will present Aurora Best Practices. Additionally, join us for the grand opening ceremony for the School of Spectral Cytometry, a joint collaboration between Amsterdam UMC and Cytek.
The Cytek presentations will be a repeat of our meeting held at CYTO 2019 in Vancouver, Canada. For any questions regarding this event, please contact Juan Garcia Vallejo (jj.garciavallejo@amsterdamumc.nl) or Janelle Shook (jshook@cytekbio.com).
Tentative Agenda:
8:00 AM Breakfast
9:00 AM Welcome - Agenda Overview
9:15 AM Instrument QC, Setup, & Cytek Assay Settings
10:15 AM Coffee break
10:30 AM Aurora User Presentation - TBA
11:00 AM Tips for Successful Multicolor Applications
12:30 PM Lunch Break
1:00 PM Aurora User Presentations
2:00 PM Coffee Break
2:30 PM Data Analysis
4:00 PM Opening Speeches for the School of Spectral Cytometry
5-7 PM: Reception and School of Spectral Cytometry Tours
Lodging:
The closest hotel to the meeting space is Hotel Olympic. Additional nearby hotels you may want to consider for your trip: citizenM Amsterdam South Hotel; Holiday Inn; Holiday Inn Express; and Hotel Novotel.
Getting to the Meeting from Your Hotel:
There are many good public transportation options to help you get around in Amsterdam. Here's a comprehensive list of options:
Train station Amsterdam Zuid (about a 15-20 minute walk)
Metro line 50: stop at Amstelveenseweg (about a 10 minute walk)
Metro line 51: stop at De Boelelaan/VU (about a 10 minute walk)
Tram line 5: stop at De Boelelaan/VU (about a 10 minute walk)
Tram lines: 16 and 24, stop at VUmc (about a 1 minute walk)
Bus lines 62, 166, 171, 176 and 310: stop at VUmc (about a 1 minute walk)
Bus lines 142, 170 and 172: stop at De Boelelaan (about a 5 minute walk)
Plan your trip with https://9292.nl/en (public transport departures, calculating travel times)
If you will be driving to the meeting, the O|2 building is accessible from all directions via the A 10 Amsterdam ring road. Follow the ring road to the S108 exit (Oud Zuid/Buitenveldert/Olympic stadium). At the end of the slip road turn left onto Amstelveenseweg (in the direction of VUmc/Zuidas/Amsterdamse bos/Amstelveen). Follow the signs to the P2/VUmc car park. You can park in the P2 car park on Gustav Mahlerlaan. The entrance is located next to the ACTA building (see the route description map). Parking fees are €1 per 17 minutes, or € 30 for a day ticket. You can find information and parking options near VU Amsterdam on www.parkerenbijvu.nl.