Cystic Fibrosis Association Turkey Trot

Thursday, November 26, 2015 from 9:00 AM to 12:00 PM (CST)
Event Details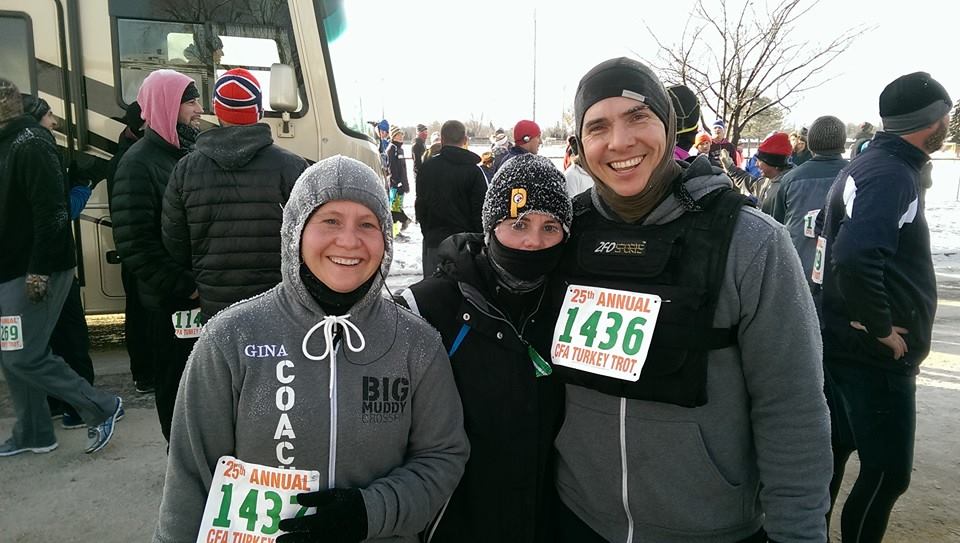 Use Code : FAMILY in the promo code area if you are registering 4 or more family members!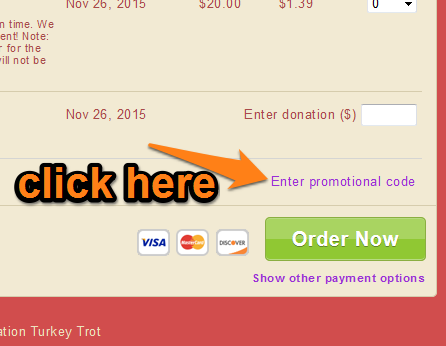 Sponsorship opportunities available!
The most fun 5K/10K in Bismarck/Mandan! Join us Thanksgiving morning for a brisk run along the mighty Missouri River! This is our 26th year and there is always something new.
Events
5K Computer timed run

5K Computer timed  race walk

10K Computer timed run

5K Family Fun Walk 

Virtual Turkey Trot- Walk on your own, we'll mail you your shirt!


Every runner will receive a long sleeved t shirt
Start Time 9:15 am with staggered starts.
Packet Pick-up
Saturday, November 21, at the CFA Office (921 S. 9th St.  #115) 10 am -2 pm

Wednesday, November 25, at Scheels in Kirwood Mall noon to 7 pm
The CFA Turkey Trot is the major fundraiser for the Cystic Fibrosis Association of North Dakota. Every day we are one step closer to a cure for cystic fibrosis, but until then, our friends with CF have to continue to fight to breathe.
You can help our friends with CF  to breathe easier!
 Want to set up an easy, online fundraising page? Just click here.

We always have a variety of gift cards as prizes for our best pledge earners!
Prizes will be awarded for the top three runners in each age group per race. Due to the increased participation in this race, and because people are usually anxious to get back home for Thanksgiving dinner, prizes will be mailed out this year once results are finalized.

 9 & Under

10-14

15-19

20-29

30-39

40-49

50-59

60-69

70 & over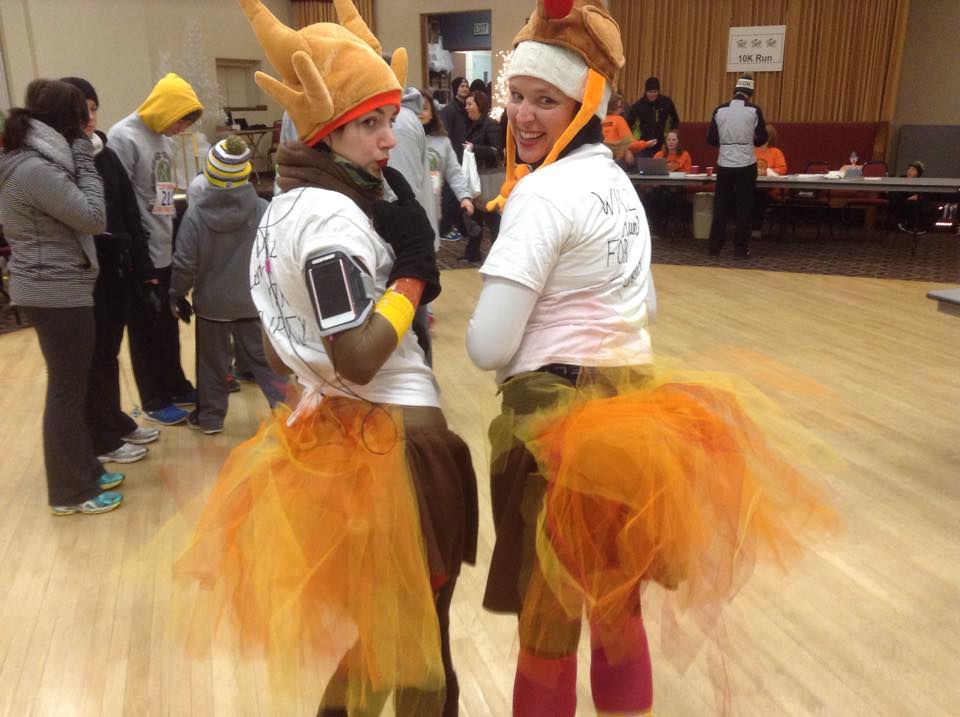 Costumed runners encouraged! Let's see those Turkey hats! We will have a variety of prizes for our best dressed and most spirited runners!

PRICING:
Early Bird registration 5/7/15 through 6/30/15: $20 adult; $10 age 9 and under

7/1/15-8/15/15 registration $22.50 adult; $12.50 age 9 and under

8/16/15-9/30/15 registration $25 adult; $15 age 9 and under

10/1/15-11/15/15 Registration $27 adult; $17 age 9 and under

11/16/15-11/25/15 Registration $30 adult; $20 age 9 and under

Day of race: Registration $30 adult $20 age 9 and under ( family discount is not available day of race)

Family Fun Walk is $25 adult and $15 age 9 and under through day of race.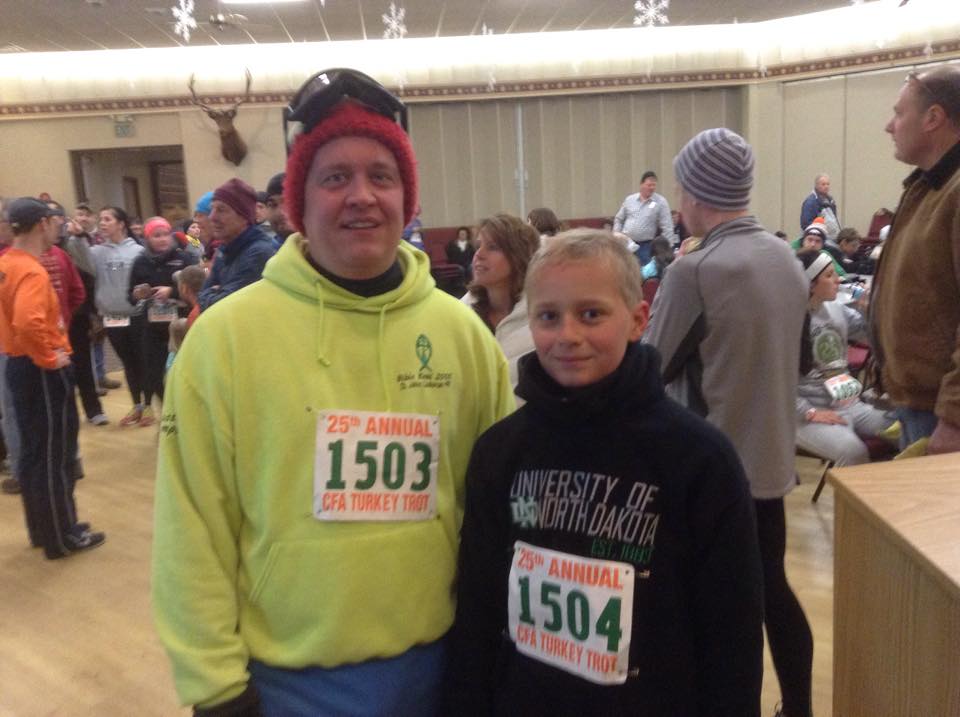 Where can I contact the organizer with any questions?
Call (701) 222-3998 or email development.cfa@midconetwork.com
 Can I update my registration information?
yes, up until the week before the event! (11/21/14)
 What is the refund policy?
All sales are non-refundable.
 What about the non-guaranteed t-shirts?
All participants will recieve a T-shirt, but a shirt cannot be guaranteed for the day of the event if you register after 11/14/14.
Can I register the day of the Turkey Trot?
Sure. It is reccomended to register in advance, as that makes the day more fun for everyone, but we won't turn away last-minute registrants. Registration the week of the race must be made in person and will be $35 per runner or $25 for runners 9 and under.
Can I register in person or by mail?
Sure! Online registration is preferred. However, you may mail your registration to CFA, 921 S. 9th st #115, Bismarck, ND 58504 or register in person at the same address.
Note: By registering, you agree to the following: IN CONSIDERATION OF YOUR ACCEPTING THIS ENTRY, I HEREBY WAIVE AND RELEASE ANY AND ALL RIGHTS AND CLAIMS FOR MYSELF, MY HEIRS, EXECUTORS AND ADMINISTRATORS, FOR DAMAGES I MAY HAVE AGAINST THE SPONSORS OF THIS RACE, THE CYSTIC FIBROSIS ASSOCIATION OF NORTH DAKOTA AND CO-SPONSORS, THEIR AGENTS, REPRESENTATIVES, SUCCESSORS, AND ASSIGNORS FOR ANY AND ALL INJURIES TO ME AT THE EVENT. I ALSO GRANT PERMISSION FOR THE FREE USE OF MY NAME, PICTURES AND/OR LIKENESS IN REPORTING OR PROMOTION OF THE EVENT.


If you are registering a child under the age of 18 you represent and warrant that you are the parent or legal guardian of that party and have the legal authority to enter into this agreement on their behalf and by proceeding with this event registration, you agree that the terms of this Agreement and Waiver shall apply equally to all Registered Parties.
When & Where

Bismarck Elks Lodge
900 S Washington St
Bismarck, ND 58504


Thursday, November 26, 2015 from 9:00 AM to 12:00 PM (CST)
Add to my calendar
Organizer
The Cystic Fibrosis Association of North Dakota (CFA) devotes its time and financial resources to helping North Dakotans with cystic fibrosis (CF) and their families to breathe easier by:
Assisting with the costs of medications and medical equipment not covered by insurance
Providing funding for lung transplants
Providing financial assistance to those traveling for medical care

Providing college scholarships so young people with cystic fibrosis can focus on studies, and not compromise their education because they need jobs to support their educational endeavors
Informing the public about cystic fibrosis and current research
Lobbying to protect individuals with CF and their families from undergoing undue hardship and ensuring their right to receive health care coverage.
 
The CFA is a statewide non-profit corporation. It is not affiliated with any national or international parent organization, nor does it receive any government assistance.