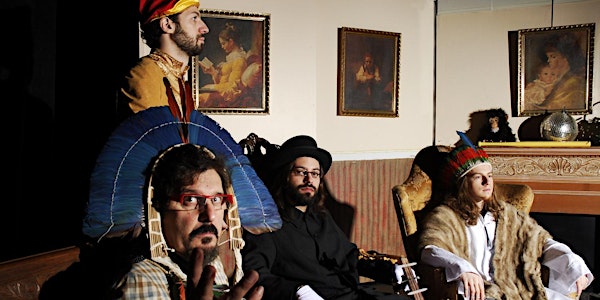 Cyro Baptista & the Banquet of Spirits
Location
JMAC - Jean McDonough Arts Center
20 Franklin Street
Worcester, MA 01608
"Brazilian percussion genius." -Time Out New York
About this event
One of the premiere percussionists on the planet, Cyro Baptista leads his winsome quartet on a virtuosic trek through myriad musics of the world. Washed out surf rock splashes, blazing hardbop solos, breathtaking West African harping, exquisite Brazilian rhythms — the sounds all coalesce into a carnivalesque stew of joy and irreverence as these four astonishing players draw on sounds and instruments from around the globe to create utterly unique combinations.
A veteran of stage and studio work with the likes of Paul Simon, Herbie Hancock, Yo-Yo Ma, Trey Anastasio (of Phish), John Zorn, Laurie Anderson, Cassandra Wilson, Sting, the New York Philharmonic, the Kennedy Center Orchestra, Wynton Marsalis and the Jazz at Lincoln Center Orchestra, and many others, Baptista is one of the most sought-after players around. His visionary approach to music-making stresses inclusion, community and pushing past boundaries, while remaining refreshingly fun and totally accessible.
Throughout the week, Baptista will be leading workshops with a variety of community groups and participants, using everyday objects as well as traditional instruments, culminating in community participation in this concert.
This residency is supported by grants from the Worcester Arts Council, New England Foundation for the Arts and the National Endowment for the Arts.
HEALTH & SAFETY
We are taking every possible precaution for the safety of all.
Upon arrival, all patrons must show PHOTO ID and PROOF OF FULL VACCINATION, including a BOOSTER SHOT, or evidence of a negative COVID-19 TEST. Members of the Holy Cross community can show HC CLEAR badge to fulfill this requirement.
MASKS ARE REQUIRED indoors for all patrons and staff, regardless of vaccination status, and they must be surgical masks (or better). For additional details, visit the College's Visitors on Campus - Policy (https://www.holycross.edu/2019-novel-coronavirus-covid-19-information/visitors-campus/visitors-campus-policy)
Disclaimer: The Worcester PopUp at the JMAC is a creative co-working space of the Worcester Cultural Coalition and in partnership with The Barr Foundation. This event does not necessarily reflect the views of either organization.
Arts Transcending Borders would like to extend special thanks to the Barr Foundation, which is generously subsidizing all rental costs associated with the BrickBox Theater for calendar year 2022. Learn more at jmacworcester.org/barrinitiative.