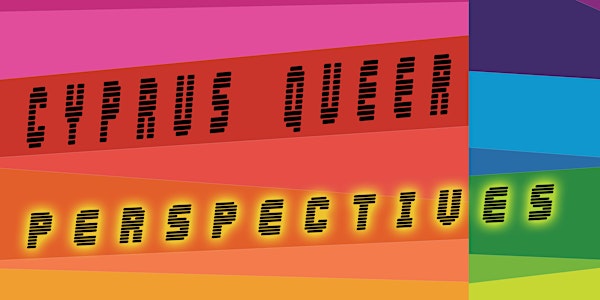 Cyprus Queer Perspectives
Exhibition focusing on queer perspectives of life in Cyprus, experiences of queer artists, identity, activism, history and the movement.
When and where
Location
CVAR / Severis 285 Ermou Street 1017 Nicosia Cyprus
About this event
Starting from the need for representation and visibility of LGBTQI+ people from Cyprus and beyond, and from the desire of LGBTQI+ artists to participate in a visible manner on the wider spectrum of Cypriot life, this exhibition aims to be one of the few first initiatives to place queer perspectives of the island in the spotlight. Queer perspectives of life in Cyprus have not yet been fully explored, and so this exhibition will cast into focus the experiences of queer Cypriot artists, while exploring issues of overlapping and sometimes conflicting identities, political and social activism, the history and progress of the queer movement, and the joys or pains of being queer in Cyprus.
In their works the artists will touch upon those thoughts in the works exhibited and pose the following questions to the viewer: How do queer Cypriots see and experience Cyprus and Cypriot society? How are queer Cypriots seen and experienced? Are queerness and Cypriotness compatible, or are they irreconcilable? And finally, where has Cypriot queerdom come from, and where is it going?Among the works, we shall also have participations from friends of the movementfrom outside Cyprus as well.
instagram: cy.queer.perspectives
facebook: Cyprus Queer Perspectives
OPENING EVENT SCHEDULE:
18:30
Video Screenings: Alexis Stylianou, George Rallis, Marios Philippou
19:00
Welcome Speeches:
Fieke Huisman – Embassy of the Kingdom of the Netherlands, Deputy Head of Mission.
Monica Panayi – President of the board of ACCEPT- LGBTI Cyprus
Alexandros Efstathiou – Curation and Coordination Team
19:30
Performance by Ibrahim Ince
20:00
Video Screenings: Alexis Stylianou, George Rallis, Marios Philippou
20:30
Performance by Ibrahim Ince
21:00
Video Screenings: Alexis Stylianou, George Rallis, Marios Philippou
21:30
Performance by Ibrahim Ince
22:00
Video Screenings: Alexis Stylianou, George Rallis, Marios Philippou
23:00
Doors Close
***Please bring your own masks and follow social distancing rules. ***
***Each ticket allows a 30-minute event attendance. ***
Curation / Coordination:
Alexandros Efstathiou, Andreas Stylianou, Marilena Kyriacou
Guest Honorary Participation:
Andreas Karayan
Participating Artists:
Alex Guest, Alexis Stylianou, Andreas Stylianou, Christos Ioannides, Christoforos Christodoulou, Dimitris Georgiou, Fatma Nur Özogul, George Rallis, Ibrahim Latif Ince, Irene Kattou, Jack Beeks, Leandros Farley Stamatiades, Leila Lohman, Logan Bellew, Marios Philippou, Michalis Pantelidis