CYPRESS COLLEGE HEALTH INFORMATION TECHNOLOGY WORKSHOP

Wednesday, January 30, 2019 from 5:00 PM to 6:30 PM (PST)
Event Details
Workshop will cover program requirements, application process, selection criteria, cost, background check, physical requirements and more.
Program requirements:  http://www.cypresscollege.edu/academics/divisions-special-programs/health-science/
If  you cannot attend the HIT workshop in person, you can join by Webinar.  RSVP is required. 
First Time Users

If you have not accessed CCC ConferZoom on your computer, log onto https://www.zoom.us/test prior to the webinar session and follow the listed instructions. Also, make sure to disable all pop-up blocker software (usually in Tools, Options)
Instructions:
Dial the telephone conference line: 

+1 669 900 6833 (US Toll) or 

+1 646 876 9923 (US Toll)

 


Meeting ID 965-859-658

To gain access to the computer portion of the webinar, click on the following meeting link:

          URL:  https://cccconfer.zoom.us/j/965859658 


Enter your full first and last name when you are prompted for your login name.  If prompted, click the Launch Zoom button, then follow the on-screen prompts.
Once you are in the meeting room, verify that your correct full name is listed in the Participants column on the right hand side of the screen.  If you need to change the name listed, hover over your name, click on Rename and correct your screen name.
It is extremely important that you are listed in the Participants column with the legal name you use at Cypress College as this is how your attendance will be verified.
STUDENT TELEPHONE CONFERENCE FEATURES:
*6 - Mute/unmute your individual line
QUESTIONS?  Contact CCC Confer.  Client Services is available Monday through Friday between 8:00 am and 4 pm at 760-744-1150 extension 1537 or 1554 or email clientservices@cccconfer.org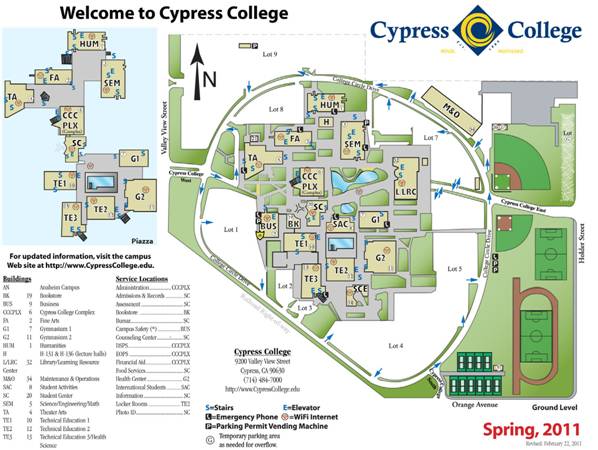 Parking Lot #4 is closest to the Health Science Bldg/Tech Ed 3 - Room 203
There is a $2 daily fee for parking on campus.

One Day Short Term Parking Kiosks are located in Parking Lots 1, 4, and near Parking Lot 5 on College Circle Drive. Students and guests may register the vehicle license plate at the Kiosk after paying the $2 daily parking fee. Kiosks DO NOT accept cash payments. Credit or Debit cards only.
Individuals without a Credit or Debit card can purchase a parking pass at the Bursars Office between the hours of  8:00 am - 5:00 pm.

Students and guests may also pay the short-term fee for parking and register the vehicle license plate online prior to arriving on campus by paying at http://www.cypresscollege.edu/services/campus-safety/parking-2/

When & Where

Cypress College, Health Science/Tech Ed 3 - Room 203
9200 Valley View St.
Cypress, CA 90630


Wednesday, January 30, 2019 from 5:00 PM to 6:30 PM (PST)
Add to my calendar
Organizer
HEALTH SCIENCE DIVISION 714-484-7283