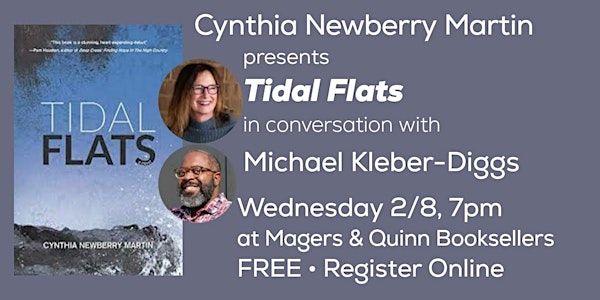 Cynthia Newberry Martin in conversation with Michael Kleber-Diggs
Cynthia Newberry Martin in conversation with Michael Kleber-Diggs
By Magers & Quinn Booksellers
Date and time
Starts on Wednesday, February 8 · 7pm CST
Location
Magers & Quinn Booksellers 3038 Hennepin Avenue Minneapolis, MN 55408
About this event
In Tidal Flats, a young couple must navigate that fine line between the things they want for themselves and the the things they want together, and it appears each will have to make a choice―the person they love or the life they want. Mary Cassatt Miller, the director of an Atlanta home for older women, and famous photojournalist Ethan Graham want a life together. Despite Ethan's work taking him to the streets of Afghanistan, he agrees that after three years, he will stop traveling. But, nine weeks before their third anniversary, Cass is unsure whether Ethan will ever give up the work he loves. As the clock counts down, it doesn't help that Singer, the artist-bartender, is always in Atlanta, and the enthralling Setara, the subject of Ethan's most famous photograph, is also his business partner. Then, a new danger in Afghanistan changes everything.
Cynthia Newberry Martin's first novel, Tidal Flats, won the Gold Medal in Literary Fiction at the 2020 Independent Publisher Book Awards and the 14th Annual National Indie Excellence Award for Fiction. Martin's second novel, Love Like This, will be published in April of 2023. She holds an MFA from Vermont College of Fine Arts and has served as the Review Editor for Contrary Magazine and the Writing Life Editor for Hunger Mountain. Her website features the How We Spend Our Days series, over a decade of essays by writers on their lives. She grew up in Atlanta and now lives in Columbus, Georgia, with her husband, and in Provincetown, Massachusetts, in a little house by the water.
Michael Kleber-Diggs (KLEE-burr digs) (he / him / his) is a poet, essayist, literary critic, and arts educator. His debut poetry collection, Worldly Things (Milkweed Editions 2021), won the Max Ritvo Poetry Prize, the 2022 Hefner Heitz Kansas Book Award in Poetry, the 2022 Balcones Poetry Prize and was a finalist for the 2022 Minnesota Book Award. His essay, "On the Complex Flavors of Black Joy," is included in the anthology There's a Revolution Outside, My Love: Letters from a Crisis, edited by Tracy K. Smith and John Freeman. Another essay, "There Was a Tremendous Softness," is forthcoming in A Darker Wilderness: Black Nature Writing from Soil to Stars, edited by Erin Sharkey (Milkweed Editions, February 2023). Michael lives in Saint Paul with his wife Karen, two cute cats and two precicious doggies.
A note about in person events:
We are very excited to bring authors and readers back together in our space, and we know you are too!
As we all navigate the transition back to congregating in person, we ask that you use honesty, care, and understanding in interacting with fellow event-goers, staff, and authors.
Please note that Magers & Quinn will always comply with current city and state regulations, and reserves the right to change the below policies at any time. These are guidelines only, and if you have questions about the most up to date information, you can always call us at 612-822-4611.
For information about how our in-person events work, please read on:
Q: Are masks required?
A: Masks are not required to browse in the store. However, we strongly encourage masking while seated in the event area and waiting in the signing line.
For the health and safety of others, we strongly encourage you to wear a mask or face covering, especially for longer visits to the store such as events.
Q: Are in store events free?
A: Yes, Magers & Quinn events are free and open to the public unless otherwise noted.
Q: Do I need to RSVP?
A: Yes, please. Each event will now include a registration link.
As we navigate this step back to in-person events, we will be limiting event capacity to ensure a safe and comfortable experience for all attendees and authors. By requiring pre-registration, we can easily communicate event updates and policies with those who plan to attend, and can contact attendees after the event with follow-up information.
We strongly suggest registering via the Eventbrite link provided on our website, but if you are unable to sign up online, please call or visit the bookstore and register with a bookseller.
We may or may not be able to accommodate unregistered walk-ins, and seating priority will always be given to registered customers. We appreciate your understanding of this process!