Book your appointment by choosing a date // Reserve su cita eligiendo una fecha
About this Event
We were so happy yet we didn't know
When I open my eyes, I photograph them; when I close my eyes, I listen to them.
For 25 years I looked at them, portrayed them, captured them, in order to keep them forever. Emigrating and maintaining close relationships seemed to be two incompatible concepts. But they turned out not to be the case.
I see them on my walls and listen to their recorded voices, our conversations. And suddenly the language, what they say, no longer matters. It doesn't matter if they look at me. It doesn't matter if they are no longer here.
It's about that feeling that you get when you close your eyes and you don't see them anymore, you feel them…."
The exhibition corresponds to the Open Call 2020-2021, a project of Institute of Hispanic Culture of Houston (IHCH) coordinated by Mariela G. Domínguez. This year the selection of the exhibition proposals was juried by the artist Betirri Bengtson.
About the artist:
Cynthia Isakson is an Argentinian photographer with a focus on portraits.
She studied photography in Buenos Aires in the 90's. She is now living in the United States, where Houston has been her home since 2003.
She has several photographic projects that have been exhibited in Argentina, Portugal, Italy, and United States.
These projects include the following series: Eramos tan felices y no lo sabíamos, A look back, The whole picture, Generations, Humans are scarier, Portraits, and Hidden.
Many of her most touching works are related to her family, her immigration, and the passage of time.
Visit: January 11, 2021 thru February 28, 2021 - Free admission / By appointment only
Eramos tan felices y no lo sabíamos
Cuando abro los ojos los fotografío; cuando cierro los ojos, los escucho.
Durante 25 años los miré, los retraté, los capturé, para guardarlos para siempre. Emigrar y mantener relaciones cercanas parecen ser dos conceptos incompatibles. Pero resultó que no lo eran.
Los veo colgados de mis paredes y escucho sus voces grabadas, nuestras conversaciones. Y de repente el idioma, lo que dicen, ya no importa. No importa si me miran. No importa si ya no están aquí.
Se trata de esa sensación que tienes cuando cierras los ojos y ya no los ves, los sientes...
La muestra corresponde al Open Call 2020-2021, un proyecto del Instituto de Cultura Hispánica de Houston (IHCH) coordinado por Mariela G. Domínguez. Este año el jurado de la selección de las propuestas expositivas estuvo a cargo de la artista Betirri Bengtson.
Sobre el Artista:
Cynthia Isakson es una fotógrafa argentina especializada en retratos.
Estudió fotografía en Buenos Aires en los años 90. Vive en los Estados Unidos, donde Houston ha sido su hogar desde 2003.
Varios de sus proyectos fotográficos han sido exhibidos en Argentina, Portugal, Italia y en los Estados Unidos.
Sus proyectos de fotografía incluyen las series: Éramos tan felices y no lo sabíamos, Una mirada atrás, La historia completa, Generaciones, Los humanos dan más miedo, Retratos y Escondidos.
Muchos de sus trabajos más conmovedores están relacionados con su familia, la migración y el paso del tiempo.
Visitas: 11 de enero, 2021 hasta 28 de febrero, 2021 - Entrada gratuita / Exclusivamente con reserva de cita previa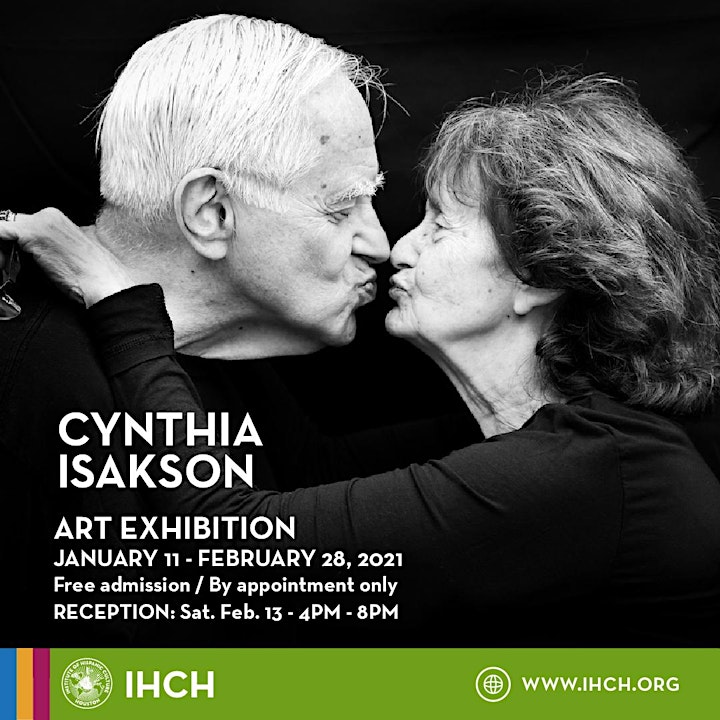 HELP US AND RESPECT THE FOLLOWING GUIDELINES IN ORDER THAT WE CONTINUE OUR ACTIVITIES:
Entry allowed only for people with prior reservation.
Please do not attend if you have symptoms.
Visitor should Wear Face Coverings / Face Masks.
Temperature Check Procedure.
Maintain adequate social distance at all times and take precautions.
All instructions from IHCH staff must be followed.
The IHCH follows CDC guidance on the recommended size of social gatherings.
AYÚDENOS Y RESPETE LAS SIGUIENTES PAUTAS PARA PODER CONTINUAR CON NUESTRAS ACTIVIDADES:
Únicamente se permite el ingreso de personas con reserva previa.
Por favor, no asista si presenta síntomas.
Visitas deben usar mascarilla facial / cubrebocas.
Procedimiento de verificación de temperatura.
Mantenga un distanciamiento social adecuado en todo momento y tome precauciones.
Se deben cumplir todas las instrucciones del personal del IHCH.
El IHCH sigue la guía del CDC sobre el tamaño recomendado de las reuniones sociales.