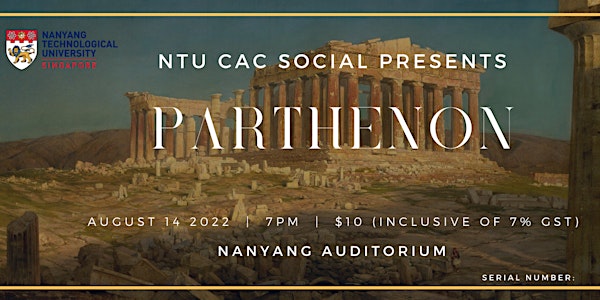 Cynosure 2022 - Parthenon
Join us on an exciting journey, with 12 Greek gods and goddesses battling the deadly sins! Fun games, awards and prizes to be won!
When and where
Location
Nanyang Auditorium 50 Nanyang Avenue Singapore, 639798 Singapore
About this event
Doors to Nanyang Auditorium will open at 6.30pm. Do be on time as we will be starting strictly at 7pm.
About this event
Summary of Parthenon
In peaceful Parthenon, a former temple on the Athenian Acropolis, Greece, there resides 12 Greek gods and goddesses. They lived in harmony until one day, Pandora, the first human woman ever created, opened a box to release 12 deadly sins: Envy, Greed, Hatred, Pain, Poverty, War, Hunger, Disease, Sloth, Evil, Hope, and Death.
Now, the 12 Greek gods and goddesses have to work together, using their powers to each to contain one of the sins, and bring peace and harmony back to Parthenon.
What is Cynosure?
Traditionally, Cynosure is an annual event, held to mark the end of a successful CAC year. It aims to:
Celebrate CAC's achievements over the academic year
Thank everyone for their contributions across all CAC events
Recognise outstanding individuals and clubs for all their hard work
What's so special about Cynosure 2022 - Parthenon?
This is the first ever post-pandemic Cynosure event
For the first time, models get to showcase their talents through a series of skits, performance and games
What are you waiting for? Sign up now to be a part of this momentous event with us! Tickets are selling fast!