Description
Enjoy a night of short films about, featuring and inspired by bicycles, at the Eye Cinema in Galway.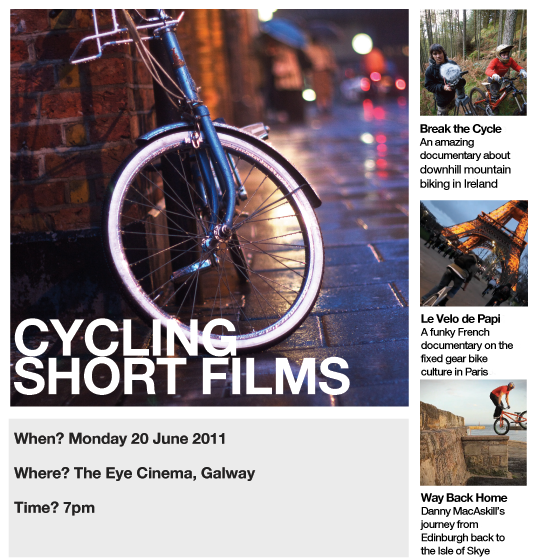 About the Event:
The Galway Cycling Film Shorts evening is one of a number of free events being held in Galway city as part of the National Bike Week in Ireland.
Register and print your Entry Ticket in advance (click on the orange Register button above) to gain admittance to the Eye cinema on the night.
Full film listing:
EXPO BICYCLE CITY
Directed by Martin de Thurah
Denmark 2010 | DIGITAL 3 min (1024 × 576)
A collaged bicycle tour through a zoetropic rendition of Denmarks capital city. A brilliant film by the Danish director Martin de Thurah that featured at the Danish pavillion at the Shanghai world exposition in 2010. Fantastic cinematography by de Thurah and Kasper Tuxen.
PEDAL PUSHERS
Directed by Niamh Kennedy (720 × 576)
Dublin 2009 | DIGITAL 11 mins
A film by an Irish director that studies the daily life of the Dublin cycle couriers. It takes a strong nerve to cycle in Dublin navigating chaotic junctions, reckless drivers and opened car doors. But there's one group that have this down to an art, with the streets as their office and their playground. This film takes us into the world of the Dublin bicycle couriers. The film encompasses everything from illegal races to what happens when you just can't avoid a car (not for the squeamish).
WAY BACK HOME
Directed by Dave Sowerby
Edinburgh 2010 | Digital 8 mins (1920 × 1080)
Danny MacAskill's latest riding clip Way Back Home, is Danny's journey from Edinburgh back to his home town of Dunvegan in the Isle of Skye. The clip was filmed and directed by Dave Sowerby, a long time friend of Danny's. The music used in Danny MacAskill's Way Back Home video is by Loch Lomond and The Jezabels.
MOVING BEYOND THE AUTOMOBILE - BICYCLING
USA 2011|Digital 3:36 mins
Directed by Elizabeth Press, Streetfilms
Moving Beyond the Automobile is a ten part video series which explores solutions to the problem of automobile dependency. It's a visual handbook that will help guide policy makers, advocacy organizations, teachers, students, and others into a world that values pedestrian plazas over parking lots and train tracks over highways. Cars were then, and this is now. Welcome to the future.
TRAVIS COLLIER: SPOTS
Directed by Mike McKinley
VANCOVER CANADA 2011 | Digital 4 mins
A cinematic portrayal of professional bmx'er Travis Collier. Travis contemplates the locations that he rides – discussing the comradery and creativity that comes out spending much of his life in these 'spots'.
LE VÉLO DE PAPI FAIT DE LA RÉSISTANCE
Directed by Coline Maldec
PARIS 2010 | Digital 20mins
There is something magical to be found in these two wheeled vehicles, as simple a mechanical device as they are. Some people get it, and a lot more don't. The people featured in this video clearly do. A funky French documentary depicting the various aspects of fixed gear bike culture in Paris.
BREAK THE CYCLE
Directed by Andy Yoong
IRELAND 2010 | Digital 60 mins in total (excerpt of 20 mins being shown)
Break the Cycle is a documentary about Downhill Mountain Biking in Ireland. Most of the best downhill riders lives revolve around their bikes – their friends, their family, even their jobs. The film aims to get an insight into the lives of those top Irish mountain bike riders, to show their individuality. Shooting them at the places they ride, train, work and live while showing off the amazing landscapes on the Island of Ireland. It looks into how these riders have used their bikes to 'break the cycle' of everyday life. See more.