Cyberweek 2013 - Nov. 4th - Nov. 8th, 2013
Description

Registration is now open for Cyberweek 2013. Cyberweek is an innovative, virtual conference to discuss various facets of the world of Online Dispute Resolution (ODR) processes. Participation in this conference, as always, is free and is facilitated via discussion forums, webinars, and simulations of ODR tools and applications.
Cyberweek 2013 will take place:

Monday, November 4th through Friday, November 8th
Cyberweek is hosted by the Werner Institute at Creighton University via www.adrhub.com. Collaboration is the key to the sucess of Cyberweek and we are fortunate to have the support and assistance of the National Center for Technology and Dispute Resolution, The Internet Bar Organization, Modria, and ODR Latinoamerica.
If Cyberweek is new to you and you would like to see what cyberweek entails please visit the Cyberweek 2010, Cyberweek 2011, and Cyberweek 2012 sites to revisit the discussions from the past three years. Details for this year's Cyberweek will be shared as they emerge.
The program is now completed, below is a listing of when each of the activities will take place and when the discussion forums go live: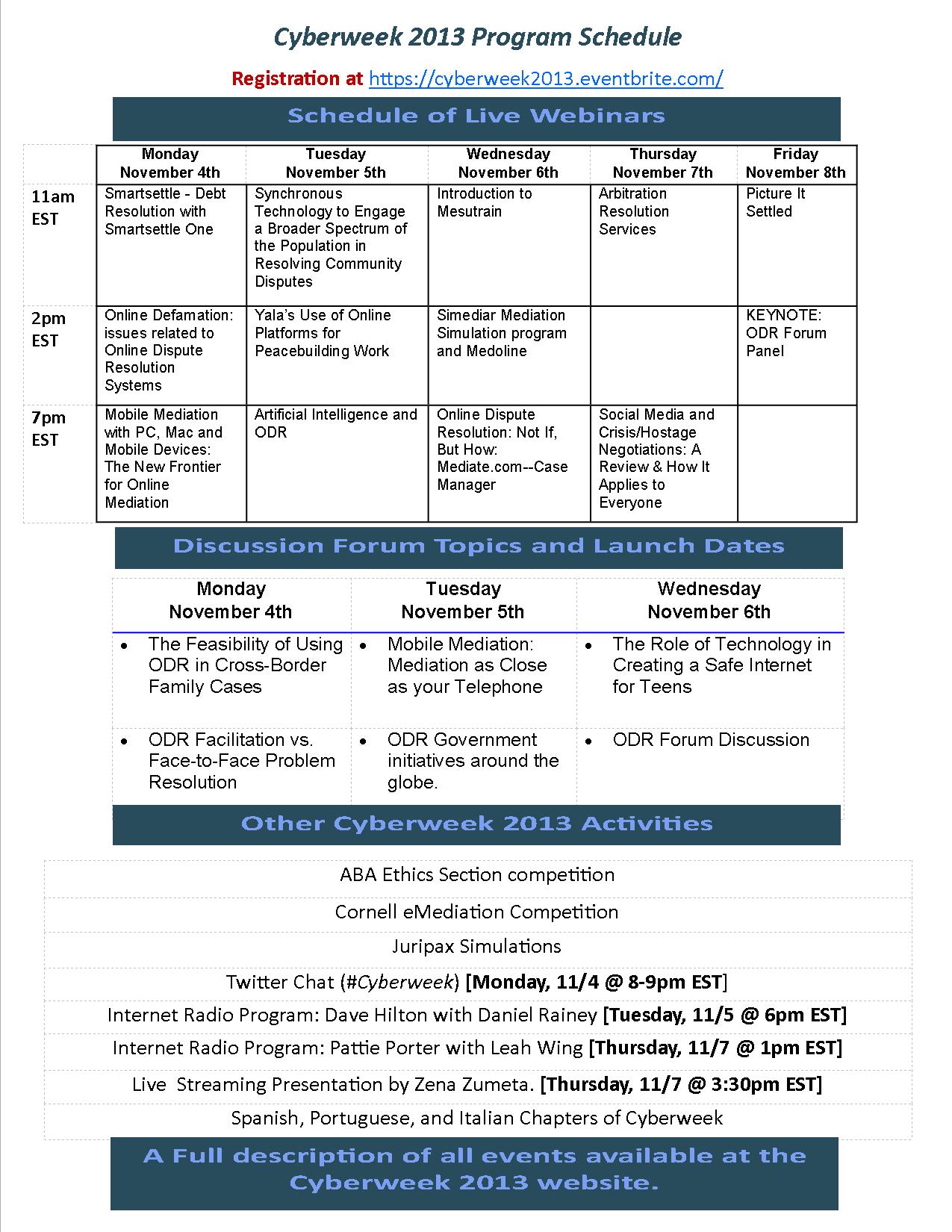 _________________________________________________________________
Cyberweek 2013 en español
Para más información y para matricularse oprima el siguiente enlace:
https://eventioz.com.ar/e/cyberweek-2013-del-4-al-8-de-noviembre
Para cualquier pregunta se puede comunicar con Alberto Elisavetsky: elisavetsky@gmail.com
_________________________________________________________________
Cyberweek 2013 - Italian Chapter

Once again we are very happy to see Cyberweek take place in Italian as well. T
Per informazioni e registrazione all'Italian Chapter visita:
https://eventioz.com.ar/e/cyberweek-2013-4-a-8-novembre
Se avete domande, Si prega di contattare Michele Romanelli: romanelli.michele@gmail.com
__________________________________________________________________________
Cyberweek 2013 - Portuguese Chapter (new this year)
https://eventioz.com.ar/e/cyberweek-2013-4-8-novembro
_________________________________________________________________

Please visit the websites of our collaborators
to learn more about the wonderful work they do: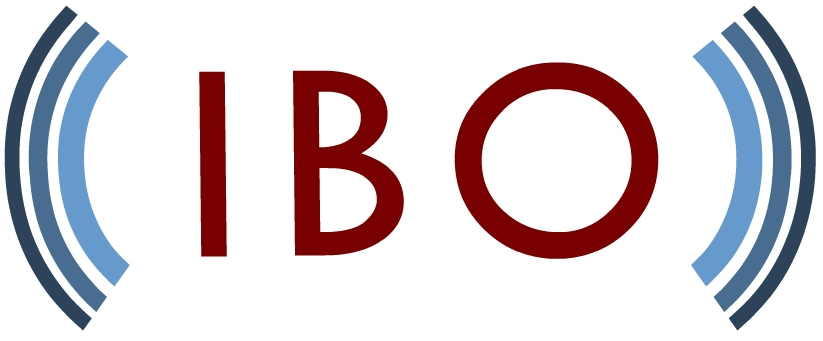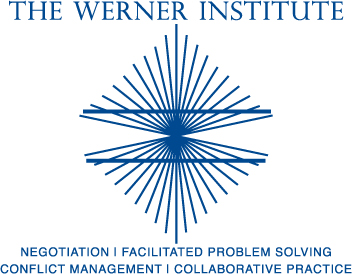 Organizer of Cyberweek 2013 - Nov. 4th - Nov. 8th, 2013
The Werner Institute was established in 2005 thanks to a generous gift from the C.L. Werner family, creating the most richly endowed program of its kind in the country. The mission of the Werner Institute is to be a leader in advancing the field of conflict resolution to a new quantum level with a focus on developing the next generation of practitioners and scholars who are responsive to the real, and often unacknowledged, needs of those in conflict. With an interdisciplinary foundation and a focus on collaboration and open inquiry, the Institute supports the mission of Creighton University and builds a bridge between the field of conflict resolution and the issues faced by people in an increasingly complex world.