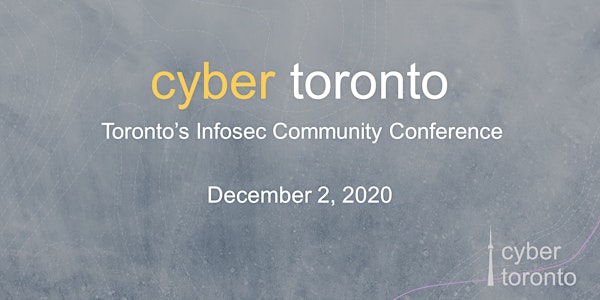 CyberToronto Conference
Save the Date! The inaugural CyberToronto 2020 Conference is December 2, 2020.
About this event
Join us for a full day of learning, fun and networking by your very own Toronto information security community!
Presented by (ISC)² Toronto Chapter in proud collaboration with OWASP Toronto and Leading Cyber Ladies Toronto.
Agenda:
09:30 AM - 09:35 AM | Intros
09:35 AM -10:20 AM | Opening Keynote: Ann Cavoukian and Parry Aftab
10:25 AM -11:05 AM | Diversity & Inclusion Panel
11:10 AM -11:40 PM | ASIS Toronto session with Sherri Ireland
11:45 AM -12:30 PM | Panel: Threat Landscape
12:30 PM -1:30 PM | Lunch Networking Session
1:30 PM - 2:10PM | Community Leaders Panel
2:20 PM- 2:55 PM | Leading Cyber Ladies session with Cat Coode
3:05PM-3:45PM | OWASP Toronto: Getting to know OWASP & its projects
4:00 PM - 4:45 PM | Closing Keynote: Tanya Janca
4:45 PM - 5:00PM |(ISC)² Toronto Chapter closing remarks
Note: Agenda is subject to change.
Speaker Bios:
Opening Keynote
Ann Cavoukian
Dr. Ann Cavoukian is recognized as one of the world's leading privacy experts. She is presently the Executive Director of the Global Privacy & Security by Design Centre and is also a Senior Fellow of the Ted Rogers Leadership Centre at Ryerson University.
Parry Aftab
Named "The Leading Cybercrime Expert in the United States" by the Boston Herald, Parry Aftab was among the world's first cyberlawyers, helping found the field of cyberlaw 23+ years ago. Since then, as a digital privacy and security lawyer, she has advised nations, UNESCO and the UN, digital and entertainment industry leaders and well-known household brands. Parry has been named to and headed national and global task forces.
Closing Keynote
Tanya Janca
Tanya Janca, also known as SheHacksPurple, is the author of 'Alice and Bob Learn Application Security' (see https://www.amazon.com/dp/1119687357/). She is also the founder of We Hack Purple, an online learning academy, community and weekly podcast that revolves around teaching everyone to create secure software. Tanya has been coding and working in IT for over twenty years, won numerous awards, and has been everywhere from startups to public service to tech giants (Microsoft, Adobe, & Nokia). She has worn many hats; startup founder, pentester, CISO, AppSec Engineer, and software developer. She is an award-winning public speaker, active blogger & streamer and has delivered hundreds of talks and trainings on 6 continents. She values diversity, inclusion and kindness, which shines through in her countless initiatives.