About this Event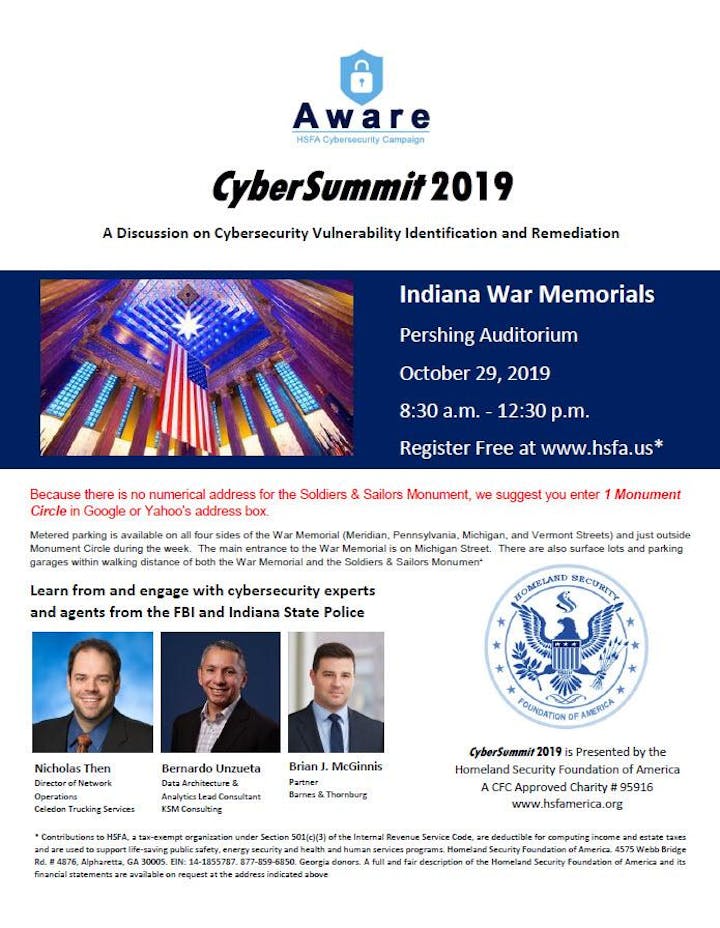 Learn from and engage with cybersecurity experts and agents from the FBI and Indiana State Police.
Nicholas Then, Director of Network Operations, Celedon Trucking Services
Bernardo Unzueta, Data Architecture & Analytics Lead Consultant, KSM Consulting
Brian J. McGinnis, Partner, Barnes & Thornburg
LOCATION: Indiana War Memorials - Pershing Auditorium
DATE: October 29, 2019
TIME: 8:30 a.m. - 12:30 p.m.
Because there is no numerical address for the Soldiers & Sailors Monument, we suggest you enter 1 Monument Circle in Google or Yahoo's address box.
Metered parking is available on all four sides of the War Memorial (Meridian, Pennsylvania, Michigan, and Vermont Streets) and just outside Monument Circle during the week. The main entrance to the War Memorial is on Michigan Street. There are also surface lots and parking garages within walking distance of both the War Memorial and the Soldiers & Sailors Monument.
Download the flyer: https://wisemenllc.sharefile.com/d-s5528cc3947c43fe8
CyberSummit 2019 is Presented by the Homeland Security Foundation of America | A CFC Approved Charity # 95916 | www.hsfamerica.org
* Contributions to HSFA, a tax-exempt organization under Section 501(c)(3) of the Internal Revenue Service Code, are deductible for computing income and estate taxes and are used to support life-saving public safety, energy security and health and human services programs. Homeland Security Foundation of America. 4575 Webb Bridge Rd. # 4876, Alpharetta, GA 30005. EIN: 14-1855787. 877-859-6850. Georgia donors. A full and fair description of the Homeland Security Foundation of America and its financial statements are available on request at the address indicated above