Cybersoft Special OPEN HOUSE Invitation (*Discount Package information at t...
Description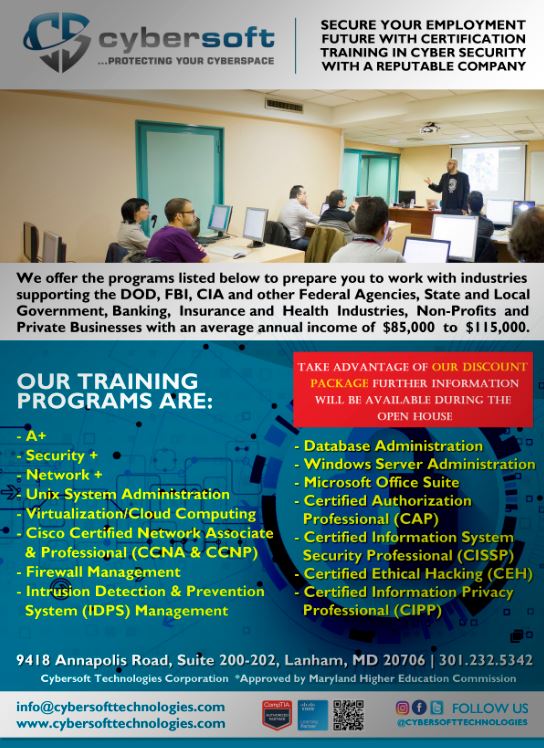 Are you looking for a lucrative job in the IT field? If yes, you are in the right place. Our 4th Quarter Open House is around the corner!
Are you aware that there is a shortage in the Information Technology domain, particularly the Cybersecurity Workforce?
Are you thinking of a Career change? If yes, according to Forbes Magazine published on January 2nd, 2016 "If you are thinking of career change, then you might want to take a look at expanding cybersecurity market which is expected to grow from $75 billion in 2015 to $170 billion in 2020."
Cybersoft Technologies Corporation will be having a special "OPEN HOUSE" event taking place on Saturday, November 18th, 2017 from 1pm. Kindly mark your calendar!
The location will be in our Training Center at 9418 Annapolis Road, Suite 200-202, Lanham, MD 21046.
This Open House event will provide a platform where we will share with you about the prospect and career opportunity in Information Technology and Cybersecurity. You will meet with some of the best instructors and students in the IT field and learn how we can assist you in landing your next $80k and above job.
Don't miss this event:
Check out our Facility and Training center.
Get your questions answered by your education specialists.
Stop and chat in-person with expert trainers.
Get information on how to enroll in the program.
This program will increase your marketability through our training program. Our goal is to work with you to provide you the required skills that will get you a life-changing job. We make you extremely attractive to employers by providing you with practical training. We record on daily basis amazing testimonials from our current and past students.
We have been supporting our community for more than a decade, and we are excited to have you as a beneficiary of this abundant opportunity. We have helped some of our county residents navigate the unemployment hurdles. Our alumni are currently supporting Federal, Defense, State and Counties Agencies.
We hope that you will plan to attend this life-changing career opportunity ahead of you and look forward to seeing you next week Saturday at our Training Center.
For more information about this event, please feel free to call our office at (301) 232-5342 or email us at info@cybersofttechnologies.com.

**Please share and forward to those you feel will benefit from this event. Also, there will be discount packages for attendees so kindly reserve your seating to adequately prepare for you.
We look forward to seeing you there!