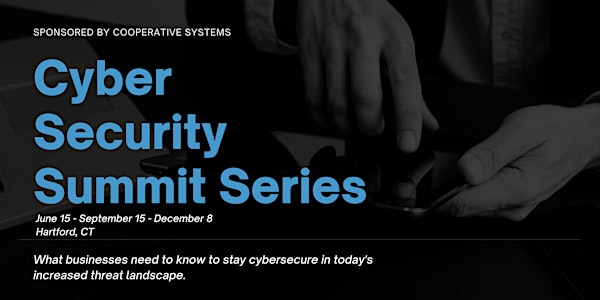 Cybersecurity Summit Series Sponsored by Cooperative Systems
This series features three (3) separate sessions that will cover a range of cybersecurity topics vital to today's business owners.
About this event
We want you to think about cybersecurity in a way that you've never thought of it before.
We want you to explore things about cybersecurity that will open your eyes to how NOT being prepared could crush your business.
This three part summit kicks off on June 15th as we invite you to the first ever Cybersecurity Summit Series in Hartford, where we give you tangible takeaways about things that you never knew could hurt your business and your reputation.
All of the Summits are VIRTUAL EVENTS accessed via Zoom. Each Summit begins at 9am and ends at noon.
By attending, you'll leave this cybersecurity summit feeling differently about cybersecurity and I.T., and you'll know the exact steps to take in protecting your business from a cybersecurity incident.
This event will be interactive where we inform you through industry specific breakouts and highly valuable workshops so that you and YOUR business can be empowered to transform your I.T. environment.
This event is designed with you in mind, where you'll get you the tools you need to stay in business and stay secure. We'll guide you in combatting all the confusion around cybersecurity, while giving you concrete information on what, why, and how to increase your company's cybersecurity standing.
What you will you learn at these events?
June Summit:
-State of the Industry
-Real World Scenarios
-Current Threat Landscape
-Why you should care about Cyber Security for YOUR business
- All attendees will have the opportunity to complete a SWOT analysis and leave with actionable items to get results and initiatives to set you on the path to success.
June Speakers:
Jay Ryerse - CISSP , Vice President, ConnectWise Global Security Sales
Conor Phoenix - Supervisory Special Agent at Federal Bureau of Investigation (FBI)
September Summit:
-Current events as it relates to Healthcare, Manufacturing, Financial Services industries.
-Industry focused breakout sessions to dive deeper into the SWOT Analyses
-Learn what you can do NOW to strengthen your cyber security posture.
September Speakers -
Scott Garcia - Professional Services Risk Advisor , Smith Brothers Insurance
Frederick Scholl - Cybersecurity Program Director, Quinnipiac University
December Summit:
-Solution focused
-Learn about the layered security approach and why it's so important
-Receive recommended solutions from our experts based on opportunities and weaknesses identified in the SWOT analysis.
December Speakers -
Henry Washburn - Sales Engineering Manager, Huntress
James McQuiggan -Security Awareness Advocate, KnowBe4
Check out this video for more details!
The September and December events are virtual.
Join us for all three of the Summits- June 15th, September 15, and December 8th.
You won't regret it!
Details:
All of the Summits are VIRTUAL EVENTS accessed via Zoom. Each Summit begins at 9am and ends at noon.
This event is FREE to attend but we encourage all attendees to consider making a donation to ReadyCT's support of the computer science career pathway at Bulkeley High School (Hartford, CT), where learning happens in the classroom, in the workplace, and is informed by CS industry leaders. Learn more about this programming and how your business can become involved with this link.