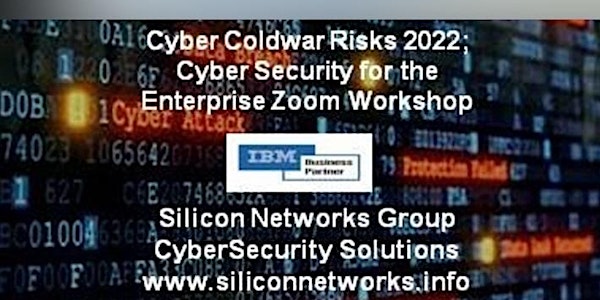 Cybersecurity during the Cyber Cold War: Cyber Risks in 2022
Post Covid-19 Small Businesses and Startups are challenged with the challenge of providing a secure and high performance work space for all
About this event
2022 Small Business Cyber Issues Include:
1. Retooling for remote work created new vulnerabilities
2. Ransomware is more prevalent than before the pandemic
3. IoT and the supply chain has experienced new levels of cyber attacks
4. Expansion of cloud services increases complexity and depth of cyber attacks
5. Multi-factor authentication is becoming a foundation for login security: what is next?
6. Mobile computing and wearable's are more of a target today
7. Phishing is a popular methodology for cyber terrorists
8. Insider threats are more prevalent than ever
9. Data privacy elevated to a primary organizational objective
10. Artificial Intelligence and Expert Systems becoming core component of cyber security
Find out how to use this punch list to protect your startup from cyber threats. Major infrastructure is at risk in a global orbit, so is every small business. Major targets include water systems, power plants, media centers (TV, Internet, Radio), and logistics.
Part of your startup business plan should include the cyber security plan.
ABOUT THE PRESENTER(S)
Over forty years of network engineering and management experience. Currently working with small businesses in CyberSecurity. Most clients the GSA and government organizations.