North Texas ISSA presents CyberSecurity Conference 9. Join us in-person for a full day of cyber security content, CPEs and door prizes.
About this event
We are have an incredible offering of content this year with over 30 sessions, 3 hands-on activities, and live keynote with Allan Alford of the Cyber Ranch Podcast
Cloud, Application, Ransomware
Increasingly, our data is moving into systems we cannot directly control. It flows through "someone else's server" in the cloud, PaaS and SaaS offerings, and proprietary (often closed-access) devices that sit in our homes and quietly but continuously report on our activity to the cloud. How can we secure the cloud? How can we find weaknesses in applications? And how can we better understand, poke at, and harden the internet of things that permeate our daily lives?
Digital Forensics and Incident Response
Cybersecurity professionals must have the tools, techniques, and procedures needed to recognize and respond to threats. Not only are containment, eradication, and recovery essential to incident response, drawing the right conclusions and preserving evidence to stand up in a court can define your career.
Red Team and Blue Team Tools
Awareness of and proficiency with the right tool for the right job is vital for both finding new vulnerabilities and mitigating and defending against threat actors that would exploit them. Come share and learn about the tools in the utility belt of offensive penetration testers and blue team defenders that help find and reduce risks to sensitive information.
Growing Your Career in Cybersecurity
Whether you're thinking about starting a degree or certificate program or just landed your first role, cybersecurity is a dynamic career that changes quickly and is a rapidly growing field. Find out how to stand out, speak up, and prioritize what is essential to achieve your personal and career growth goals.
Building Highly Effective Security Programs
As security gains prominence and influence in the boardroom, it is critical for security leaders to know how to speak the language of business, prioritize, and level up their programs continuously. From developing security strategies and building security awareness to implementing a metrics-based approach to security program management, learn from leaders in the field how they succeed in delivering sustainable and effective programs.
Career Speed Dating
We will have a limited participation session designed by Dave Belanger where you can have a 3-minute conversation with CISOs and Security Career experts like: Paul Trusty, Jason Matthews, George Finney, Cecil Pineda, Sam Satyanathan, Byron Davis, or Craig Broussard
The CISO Mentor
A handful of the CISO authors from "The CISO Mentor" will present in a panel session with a live Q&A. Come and hear about why you need a mentor, should be a mentor or maybe both.
Catering
The event will kick-off at 8AM with a lite breakfast and open networking in the main hall. We will have a hot lunch with multiple options.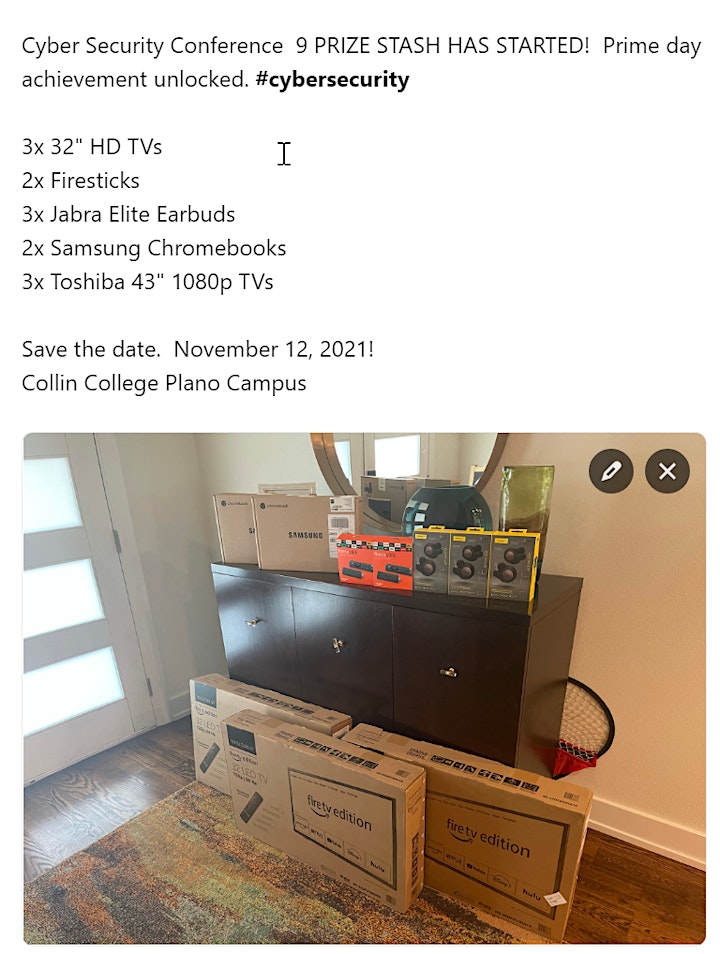 PRIZES
We are going to have an incredible plethora of prizes!!!!!!!!!!!!!!!!!!!!!!!!
3x32" HD TVs
3x43" HD TVs
2x FireSticks
2x Jabra Elite Earbuds
2x Chromebooks
AND SO MUCH MORE!!
Come and talk to your favorite community sponsors ! They will have educational sessions as well as booths with swag and giveaways!