About this Event
Technology is changing faster than it ever has, and that's creating serious new risk for Iowa manufacturers. A rapidly advancing wave of industrial progress – faster computers, better automation, plentiful sensors, and sophisticated data analysis – promises to make your company more productive than it's ever been. But it also is making you more vulnerable than ever before.
Join CIRAS and three Iowa cybersecurity firms for a wide-ranging discussion of the benefits and problems associated with business in the information age.
The conversion will include:
• Dave Nelson, president and CEO of Pratum, an information security consulting firm in Ankeny, discussing the need to balance the benefits of advanced technology against the risks of falling prey to ransomware, malware, phishing, or some other threat.
• Experts from ACS, a Des Moines-based information technology company, discussing the mix of dangers and rewards that comes with an Internet of Things (IoT)-enabled factory – including a discussion of real-world cyberattacks on IoT equipment.
• Experts from ProCircular, a privacy and information security experts firm in Coralville, discussing federal cybersecurity regulations and the data security requirements faced by factory or other firm who does business with the federal government.
Agenda:
8:15 AM - Registration and Breakfast
9:00 AM - FBI Omaha, Cyber Task Force - Kenneth Schmutz
10:00 AM - Pratum - Dave Nelson
11:00 AM - ACS - TBA
12:00 PM - ProCircular - Aaron Warner
1:00 PM - Lunch
1:30 PM - Demo and Interaction - Pratum, ACS, & ProCircular
2:30 PM - Panel Discussion
4:00 PM - Closing Remarks
4:10 PM - Networking
Presenters: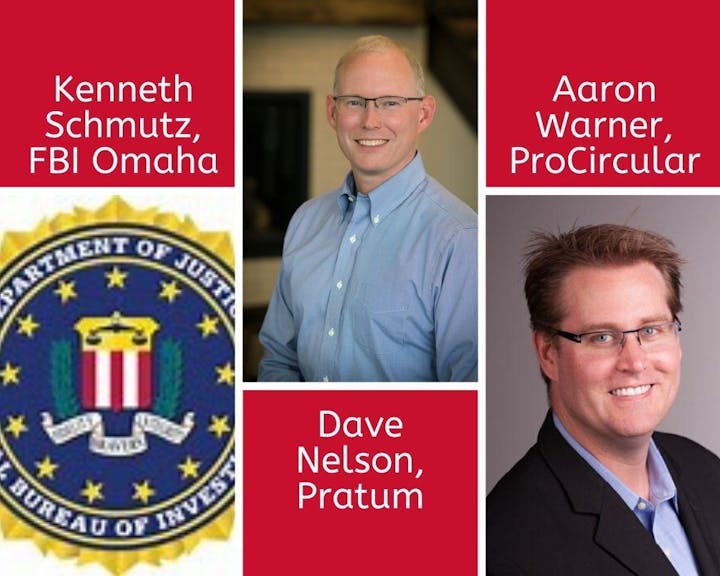 Kenneth A. Schmutz, Supervisory Special Agent (SSA)
FBI Omaha, Cyber Task Force
SSA Schmutz graduated from Utah State University with a Bachelors and Master's degree in Information Systems. SSA Schmutz worked for 13 years in the private sector for IT companies prior to joining the FBI in 2004. SSA Schmutz investigated computer intrusions his whole career which included his time in Seattle, Chicago and the FBI's Cyber Division in Washington DC where he focused on cyber threats to the critical infrastructure. In August of 2012, SSA Schmutz was transferred to the Omaha Field Division where he serves as the supervisor of the FBI's Cyber Task Force (CTF).
David Nelson, CISSP
Pratum
Founder and CEO Dave is a Certified Information Systems Security Professional (CISSP) with over 25 years of cybersecurity and technology experience. He is a Fellow with the Information Systems Security Association (ISSA) and has led cybersecurity and technology organizations in both the public and private sector.
In 2008, Dave founded Pratum, which was one of the first pure play information security companies in the Midwest. With the mission of solving information security challenges based on risk, not fear, Dave built the Pratum team to provide organizations with objective assistance in addressing their cybersecurity challenges. Today Pratum is considered a leader in vCISO and managed security services with clients across the nation.
Aaron R. Warner, Security Expert
ProCircular
Aaron R. Warner has more than 25 years of experience in information technology, security, and risk management. He specializes in organizational security and applying technology, process, and people to solve complex challenges. As the CIO and CTO of biotech leader Integrated DNA Technologies, Aaron assembled an amazing team of bright people who grew IDT from 13 employees to nearly 1,000, from hundreds of thousands to hundreds of millions in revenue, and built facilities worldwide until the sun never set on the company.
Aaron has been recognized by Gartner and Microsoft, published articles and whitepapers, and sits on the board of several startups and charitable organizations. He's a Certified Information Systems Security Professional (CISSP), a certified Security+ engineer, and a full member of the FBI/DHS Infragard partnership. He received undergraduate degrees in management information systems and computer science from the University of Iowa and an MBA from the Tippie College of Business.