Education on the latest cybersecurity challenges and how businesses could prepare for the same.
About this Event
Technology is changing faster than it ever has, and that's creating serious new risk for Iowa manufacturers. A rapidly advancing wave of industrial progress – faster computers, better automation, plentiful sensors, and sophisticated data analysis – promises to make your company more productive than it's ever been. But it also is making you more vulnerable than ever before.
Join CIRAS and three Iowa cybersecurity firms for a wide-ranging discussion of the benefits and problems associated with business in the information age.
The conversion will include:
• Dave Nelson, president and CEO of Pratum, an information security consulting firm in Ankeny, discussing the need to balance the benefits of advanced technology against the risks of falling prey to ransomware, malware, phishing, or some other threat.
• Experts from ACS, a Des Moines-based information technology company, discussing the mix of dangers and rewards that comes with an Internet of Things (IoT)-enabled factory – including a discussion of real-world cyberattacks on IoT equipment.
• Experts from ProCircular, a privacy and information security experts firm in Coralville, discussing federal cybersecurity regulations and the data security requirements faced by factory or other firm who does business with the federal government.
Agenda:
8:15 AM - Registration and Breakfast
9:00 AM - Keynote: An Overview of Our Cyber Adversaries, How They Are Attacking Us, And What We Can Do About It - FBI Omaha, Cyber Task Force - Kenneth Schmutz
10:00 AM - Improving System Availability through Information Security: A Look At Common Controls Used to Increase Up-time - Pratum - Dave Nelson
11:00 AM - Before the Breach - ACS - Ryan Weston
12:00 PM - Cybersecurity 2020: Learn the latest trends in cybersecurity and compliance, examples of the dark web, and the risks you'll need to address in coming years - ProCircular - Aaron Warner
1:00 PM - Lunch
1:30 PM - Demo and Interaction - Pratum, ACS, & ProCircular
2:30 PM - Expert Panel : Challenges and Blind sides to Prepare For
4:00 PM - Closing Remarks
4:10 PM - Networking
Presenters & Panelists: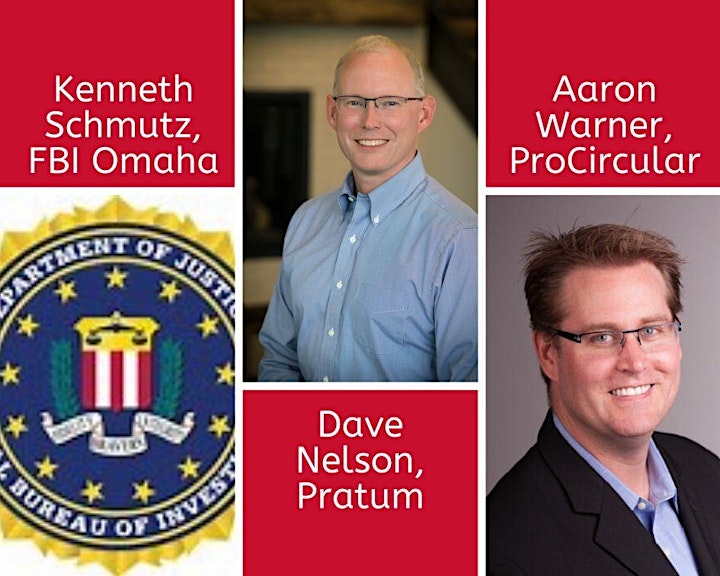 Kenneth A. Schmutz, Supervisory Special Agent (SSA)
FBI Omaha, Cyber Task Force
SSA Schmutz graduated from Utah State University with a Bachelors and Master's degree in Information Systems. SSA Schmutz worked for 13 years in the private sector for IT companies prior to joining the FBI in 2004. SSA Schmutz investigated computer intrusions his whole career which included his time in Seattle, Chicago and the FBI's Cyber Division in Washington DC where he focused on cyber threats to the critical infrastructure. In August of 2012, SSA Schmutz was transferred to the Omaha Field Division where he serves as the supervisor of the FBI's Cyber Task Force (CTF).
David Nelson, CISSP
Pratum
Founder and CEO Dave is a Certified Information Systems Security Professional (CISSP) with over 25 years of cybersecurity and technology experience. He is a Fellow with the Information Systems Security Association (ISSA) and has led cybersecurity and technology organizations in both the public and private sector.
In 2008, Dave founded Pratum, which was one of the first pure play information security companies in the Midwest. With the mission of solving information security challenges based on risk, not fear, Dave built the Pratum team to provide organizations with objective assistance in addressing their cybersecurity challenges. Today Pratum is considered a leader in vCISO and managed security services with clients across the nation.
Aaron R. Warner, Security Expert
ProCircular
Aaron R. Warner has more than 25 years of experience in information technology, security, and risk management. He specializes in organizational security and applying technology, process, and people to solve complex challenges. As the CIO and CTO of biotech leader Integrated DNA Technologies, Aaron assembled an amazing team of bright people who grew IDT from 13 employees to nearly 1,000, from hundreds of thousands to hundreds of millions in revenue, and built facilities worldwide until the sun never set on the company.
Aaron has been recognized by Gartner and Microsoft, published articles and whitepapers, and sits on the board of several startups and charitable organizations. He's a Certified Information Systems Security Professional (CISSP), a certified Security+ engineer, and a full member of the FBI/DHS Infragard partnership. He received undergraduate degrees in management information systems and computer science from the University of Iowa and an MBA from the Tippie College of Business.
Dawn Buzynski, Public Relations Practitioner
Strategic America
Dawn Buzynski leads the award-winning public relations team at Strategic America. Dawn is an accredited public relations practitioner (APR) with nearly 20 years of experience in public relations and marketing. Her expertise encompasses public affairs, media relations and digital communications. Dawn excels in organizational efficiencies, fostering strong business relationships and managing high-level projects. She is a solid record of achieving synergy within environments. Previous to joining Strategic America, Dawn spent seven years focused on B2B public relations for industrial clients. She loves traveling around the world to organize trade show efforts, prepare media events and orchestrate new product launches. Dawn is also former president of the Iowa chapter of the Public Relations Society of America and continues to serve to enhance the public relations profession. Although Dawn has traveled nearly everywhere, she has lived in Iowa all her life. She is a graduate of Iowa State University and resides in West Des Moines with her husband and two daughters.
Brian McCormac
BrownWinick
Brian McCormac is a partner at the BrownWinick law firm in Des Moines, where he co-chairs the firm's data security and privacy practice group. Prior to joining BrownWinick, Brian served as global privacy counsel for a multinational agriculture company in Central Iowa. Brian has counseled clients on a wide range of data protection issues, including data breach investigation and response, consumer privacy, incident response planning and preparedness, breach notification, technology transactions, vendor management, and due diligence in corporate transactions. Brian assists clients with commercial litigation, advertising and marketing issues, and antitrust and distribution law matters. Brian also provides support to corporate legal departments on a wide range of issues and serves as an outside general counsel resource for many small businesses.