Cybersecurity, Big Data, and Expansion Opportunities in Fairfax County
Sales Have Ended
Registrations are closed
Tickets are not currently available.
Sales Have Ended
Registrations are closed
Tickets are not currently available.
Description
TechFire and the Fairfax County Economic Development Authority (FCEDA) cordially invite you to a special reception and panel featuring cybersecurity and big data leaders from Fairfax County, Virginia, on May 2 at Microsoft Technology Center Los Angeles, in Playa Vista.

We are very privileged to have three tech leaders from Fairfax County's entrepreneurial and venture capital community flying out to Los Angeles to speak at the event: Steven Chen, Principal of Blu Venture Investors and CEO of PFP Cybersecurity; Bryan Ware, CEO of Haystax Technology; and Steven Schneider, CEO of Logi Analytics. The panel will discuss what's next for the cybersecurity and big data sectors, and the event will also feature perspectives on the key advantages that Fairfax County offers for growing technology companies, including for tech companies from Southern California looking to expand to the East Coast and the Washington, DC area in particular.

Fairfax County's dynamic business community is on the forefront of one of the strongest economies in the country. Along with its well-known strengths in cybersecurity and big data, and in government and defense technology, the county has large and growing numbers of big data, commercial IT, financial, software, communications and technology management service providers.

Fairfax County is a highly desirable business location for companies of all sizes and especially businesses that specialize in technical and business services. With its diverse business base, firms come to Fairfax County for its ideal mid-Atlantic location, the proximity to the federal government in neighboring Washington, D.C., the well-educated workforce and the high quality of life.

Many California-based companies have expanded operations to Fairfax County in order to to take advantage of the region's highly skilled workforce, vibrant business community that includes more than 9,100 technology-focused enterprises, proximity to the Department of Defense and civilian agencies that issue billions of dollars in procurement opportunities each year, and the contractors that work with government agencies. Just a few examples of California companies that have expanded to Fairfax County include Palo Alto Networks, VMWare, Splunk, UST Global, Nutanix, and Forescout Technologies. In addition, since 2008 five companies relocated their corporate headquarters from California to Fairfax County: CSC, Hilton Worldwide, Science Applications International Corporation (SAIC), Geeknet and Northrop Grumman.



WHEN & WHERE:
May 2, 2018. Doors open at 1:30 pm. The program will run from 2 - 3:30 pm, followed by a reception from 3:30-4:30 pm.

At Microsoft Technology Center - Los Angeles, located in "The Reserve" office park in Playa Vista, 13031 W. Jefferson Blvd, Suite 200, Los Angeles, CA 90094.


SPEAKERS:


Steven Chen, Principal, Blu Venture Investors & CEO, PFP Cybersecurity
Steven is an investor and serial entrepreneur focused on cyber security, IoT and data analytics. Steven is a Principal with Blu Venture Investors, and Founder and CEO of PFP Cybersecurity, offering a patented platform of trust for connected devices based on power analysis and AI. He is also Founder and Board Director of Totus-Solutions (physical security and wireless), Chairman of Totus Strategic Partners, President of Monte Jade DC, and Chairman of IEEE 1451.5 Wireless Smart Sensor Networks. Formerly founder and CEO of 3eTI (acquired by EFJohnson in 2006). Served as CEO of Totus Solutions, Chairman of BioGreen, CTO of EFJohnson, and VP of PCB Piezotronics.



Steven Schneider, CEO, Logi Analytics
Steven is CEO of Logi Analytics, the leading big data embedded analytics platform. With more than 20 years of technology leadership experience, before being named CEO, during his tenure at Logi Analytics Steven served as both Chief Operating Officer and Chief Product Officer, where he led the sales, product, engineering, marketing, and customer success teams. Prior to Logi, he was a founding partner of OnDemandIQ, a Hosted Business Intelligence solution, and a practice manager at leading web technology company Proxicom. Steven holds a BS in Computer Science from Virginia Tech and an MBA from the University of Southern California.
Bryan Ware, CEO, Haystax Technology
Bryan serves as the CEO of Haystax Technology, a threat analytics software company headquartered in Fairfax County, Virginia. Bryan leads a diverse team of scientists and software developers delivering analytical solutions for mission-critical challenges. Haystax's Constellation Analytics Platform is used by leading organizations to help identify and prioritize cyber threats, safety and security concerns, and other operational risks using our Patented analytical models. Haystax's customers include leading financial institutions, non-profits, the national security community, and law enforcement, fire, emergency management and homeland security departments.


Rodney Lusk, Director, National Marketing, Fairfax County Economic Development Authority
Rodney Lusk coordinates the efforts of the National Marketing team which travels throughout the U.S. to promote Fairfax County as a prime expansion location for emerging technology companies. He supports firms that are proposing to grow their operations in Fairfax County, and coordinates the development of incentive and relocation packages for firms considering the relocation of their corporate headquarters. Some of National Marketing's corporate relocation/expansion wins include; 1) Carfax, 2) EY, 3) Hilton Hotels Worldwide, 4) Navy Federal Credit Union, and 5) Amazon Web Services.


Mark White, Director, Los Angeles Office, Fairfax County Economic Development Authority
Mark White heads the Southern California office for the Fairfax County Economic Development Authority. The office serves as a resource for California companies, and those from up and down the West Coast, who are interested in expanding on the east coast and want to find the best location in which to do that. The FCEDA first opened a California office in 2006 in San Francisco, and in 2011 shifted its base to Southern California. Mark specializes in assisting companies, governments, and capital investment companies, focusing on formulating strategies to help facilitate market expansion.

ABOUT FCEDA AND TECHFIRE:

About the Fairfax County Economic Development Authority (FCEDA):
The award-winning Fairfax County Economic Development Authority (FCEDA) promotes Fairfax County as one of the world's best business locations. The FCEDA is an independent authority chartered by the Commonwealth of Virginia, with offices around the globe (including here in Southern California) that work with businesses interested in expanding in the US market. The California office serves as a resource for California companies, and those from up and down the West Coast, who are interested in expanding on the east coast and want to find the best location in which to do that.

Located minutes from Washington, D.C., Fairfax County is an attractive location for headquarters
operations as well as for research and development, sales, marketing and government relations functions. Fairfax County offers proximity to the United States federal government, a state-of-the-art technology infrastructure, highly educated labor force, easy access to dozens of U.S. and global destinations through Washington Dulles International Airport and a quality of life that includes one of the best public school systems in the U.S.

The FCEDA provides a wide array of free, confidential services and information to assist new, expanding and relocating domestic and international companies and organizations. In addition to its headquarters in Tysons Corner, Fairfax County's largest business district, the FCEDA maintains offices in seven major commercial centers worldwide: Bangalore, Boston, London, Los Angeles, Munich, Seoul and Tel Aviv.


FCEDA services include:

Providing current, comprehensive market information about Fairfax County, the Commonwealth of Virginia and the Washington, D.C, area;
Assisting businesses with start-up, relocation and expansion needs by identifying office or industrial real estate options that suit their requirements;
Providing information for employees of businesses relocating to the county;
Offering increased visibility through FCEDA publications, Web site and newsletters as well as access to media opportunities when available;
Linking entrepreneurs with potential venture capital investors and other business and professional service providers;
Assisting company expansion operations by providing information and answering inquiries about county zoning, taxes and other issues critical to doing business;
Making introductions to other organizations in the community for partnerships or other business relationships;
Identifying state programs such as workforce and tax incentives to qualifying companies, and Virginia programs that assist businesses looking to expand globally.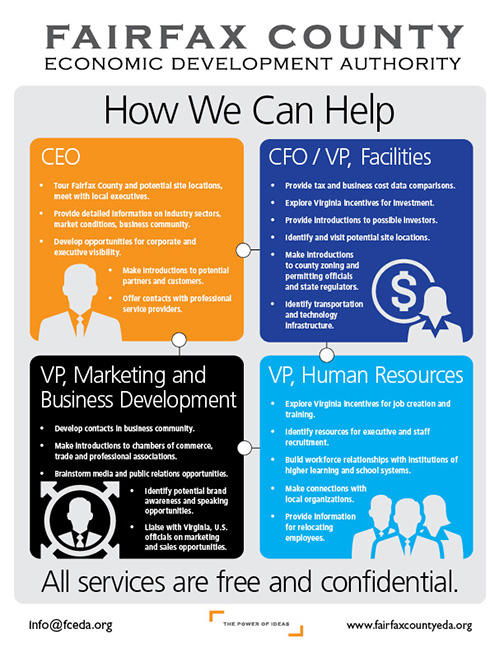 About Fairfax County's Tech Economy
Fairfax County is home to more than 9,100 technology-focused enterprises that deliver a full spectrum of high-end services and solutions to government, industry and consumer markets worldwide. Many nationally and internationally recognized technology market leaders, including Fortune 500 companies such as Northrop Grumman, General Dynamics and CSC are headquartered or have significant operations in the county.

One of every four jobs in Fairfax County is directly related to the technology sector. Along with the highly-skilled workforce of well-educated professionals, access to international transportation and the county's recreation and entertainment amenities are among reasons the county is so attractive to innovative technology firms, especially those looking to recruit and retain human capital.

The Washington, D.C., metro area has the second-largest number of computer and mathematical jobs in the U.S. The region also leads all metropolitan areas in the number of software and systems software developers, computer and information research scientists and operations research analysts.

Fairfax County's Key Advantages For Businesses

When compared to other similar areas of the country, Fairfax County stands out as an excellent business location. In Fairfax County, you will find:
a highly educated and trained workforce;
a dynamic network of technology firms and services;
strategic access to international airports and Washington, D.C.;
a competitive tax structure;
affordable, flexible and attractive real estate options;
a multi-modal transportation network; and
excellent public schools, colleges and universities.

Fairfax County: "One of the great economic success stories of our time."
— Time magazine
Learn more at http://www.fairfaxcountyeda.org.


ABOUT TECHFIRE:
TechFire is a leading producer of tech conferences and events, and has been recognized in Techmeme's list of nationally significant tech events. C-SPAN broadcast a recent TechFire summit nationally on TV. Our 35+ past events have attracted 6600+ registrants to hear speakers such as C-level executives from Warner Bros and PBS, investors from leading VC firms like Kleiner Perkins and Greylock, and Founders/CEOs from startups like Aurora, BlackLine, HotelTonight, About.me, Dollar Shave Club, and many more. TechFire is helping organize this event as a consultant to FCEDA. Learn more at techfire.co.