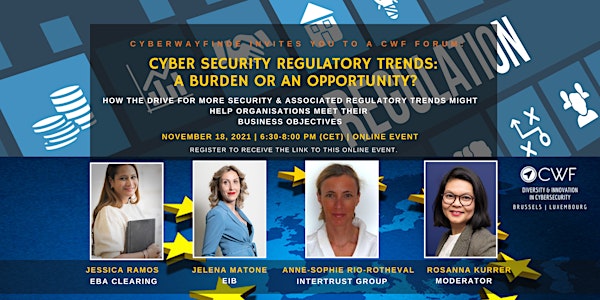 Cyber Security Regulatory Trends: A Burden or an Opportunity?
How the drive for more security & associated regulatory trends might help organisations meet their business objectives.
About this event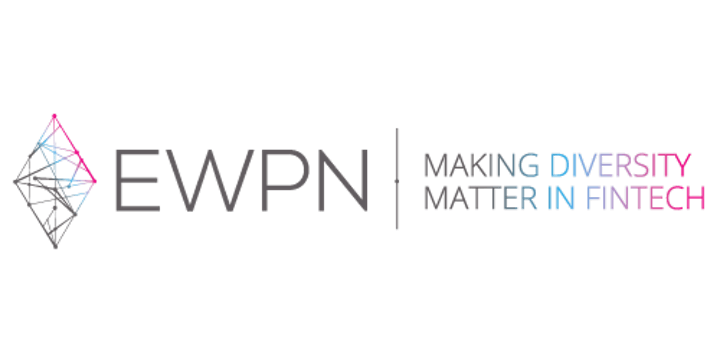 Thanks to our cohost: European Women Payments Network (EWPN)
As we all experienced first-hand last year, there was an unprecedented increase in our reliance on digital networks and systems to keep the world from completely grinding to a halt. While our dependence on ICT structures continue to grow, so too have the cyber attacks and threat actors become ever more persistent and ubiquitous - in constant search for vulnerabilities to exploit in our digital infrastructures.
Governments have responded to this climate of continuous attacks and cyber incidents with directives and regulations aimed at increasing security and maintaining public trust in our financial infrastructures. Companies need to comply in order to prove their ability to secure their critical systems as well as the data stored, process and transferred.
As the complexity of keeping any organisation safe and secure continues to grow, we are challenged to comply with an increasing number of regulations while staying current in this dynamic environment. For security and compliance teams, it is imperative to keep the staff and top management informed of the urgency to comply.
However, could these challenges bring with them significant opportunities for our organisations to grow and thrive?
How might we reframe and meet these challenges to create an environment conducive to increased cybersecurity awareness among all the stakeholders across the entire enterprise - and effectively increasing an organisation's security posture?
Join us on Thursday evening, November 18, 2021 for a stimulating discussion on how the drive for more security and the associated regulatory trends might help meet their security objectives as well as creating opportunities in other important areas.
Our panelists are leading professionals and thought-leaders in their respective fields:
Anne-Sophie is a senior financial risk management executive in the Luxembourg banking/ funds/ financial sector. After ten years as senior manager for EY and director for Accenture she has decided to join several banking institutions to design and implement strong risk management framework mainly on credit, liquidity and operational risk. Her sectors of expertise are mainly payment solution, fund industry, asset management, wealth management, retail, specialized financing and debt portfolios.
Jess is a legal and regulatory expert in the financial industry, currently Head of Regulatory and Oversight Affairs at EBA CLEARING. She is a passionate advocate for diversity and inclusion, a promoter of inspirational leadership and a cyber security enthusiast, which she channels throughout her activities as co-founder of Mizbiz, as the Belgian ambassador for the European Women Payments Network (EWPN), as mentor for Conception X and as an advisor to the CyberWayFounder Board. Jess is sometimes referred to as CWF's "Fairy Godmother" as she was instrumental in the development and launching of the first CWF program cohort.
Jelena is a respected and leading CISO who was awarded the CISO of the year for 2019 in Luxembourg for her role at the European Investment Bank (EIB). She is a versatile and innovative Cybersecurity professional with emphasis on cyber security risk management, policies and procedures creation, IT/IS security, IT Operations, audit, risk mitigation, business process improvement and IT governance.
Prior to her current role at the EIB, Jelena served as the Senior Operational Risk and ISO for the European Stability Mechanism, the crisis resolution mechanism for euro area countries. Earlier in her career, Jelena managed IT Audit and Compliance for Sobey's, one of the two national grocery retailers in Canada and Audit, Corporate Development, M&A and growth strategies and IT Audit for George Weston, one of the Canada's largest publicly traded food processing and distribution companies.
Moderator: Rosanna Kurrer