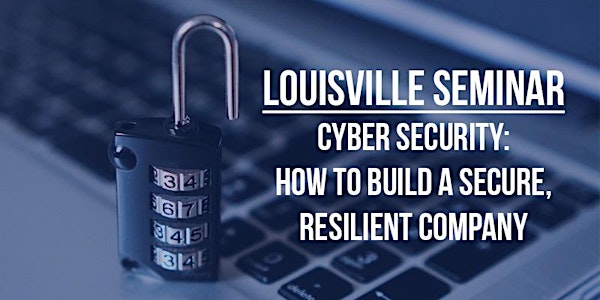 Cyber Security: How To Build a Secure, Resilient Company (Louisville)
Location
The Education Center at Fifth Third Insurance – Epic Insurance Solutions & Integrity HR
9700 Ormsby Station Rd.
Louisville, KY 40223
Description
Did you know that small businesses are victims in 71% of cyber-attacks? From inconvenient technology issues to loss of digital assets to hacked employee data – your business encounters operational, financial, and legal risks when utilizing the cyber world. Learn how to protect your company and mitigate your risk in this seminar.
More About The Seminar
Cyber risks are ever-changing, and their consequences are ever-increasing. Whether an organization is lax in their internal security procedures or employees fail to follow protocols for data safekeeping, cyber security breaches have the potential to seriously derail your business operations. Join us to discuss how you can help your organization to avoid costly business interruptions by safeguarding your network.
This free session is open to business leaders in the CEO or business owner role as well as strategic HR professionals. HR professionals will receive 2 hours HRCI Business credit and 2 SHRM PDCs for attending this seminar. This program is designed to qualify for two (2) hours of continuing professional education (CPE) for CPAs.
Expert Presenters:
Jim Kramer, President - MCM Kramer Technology Solutions
Armando Vilches, CPCU, Managing Director & Professional Lines Broker - RLA Insurance Intermediaries
Armando Vilches, CPCU is the Managing Director and Professional Lines Broker for RLA Insurance Intermediaries – Nashville. Prior to joining RLA Insurance Intermediaries, Armando worked for USRe and Willis Towers Watson, the world's third largest insurance broker. He has over 32 years of specialty insurance experience and frequently writes about and presents on topics of risk management and professional insurance lines.
Feedback From Past Seminars
"I obtain additional knowledge with every seminar I attend. I'm consistently learning new ways to make improvements for the business I work for as well as the employees I manage."
- Misty Malone, Firm Operations Manager, Lindemeyer CPA