Description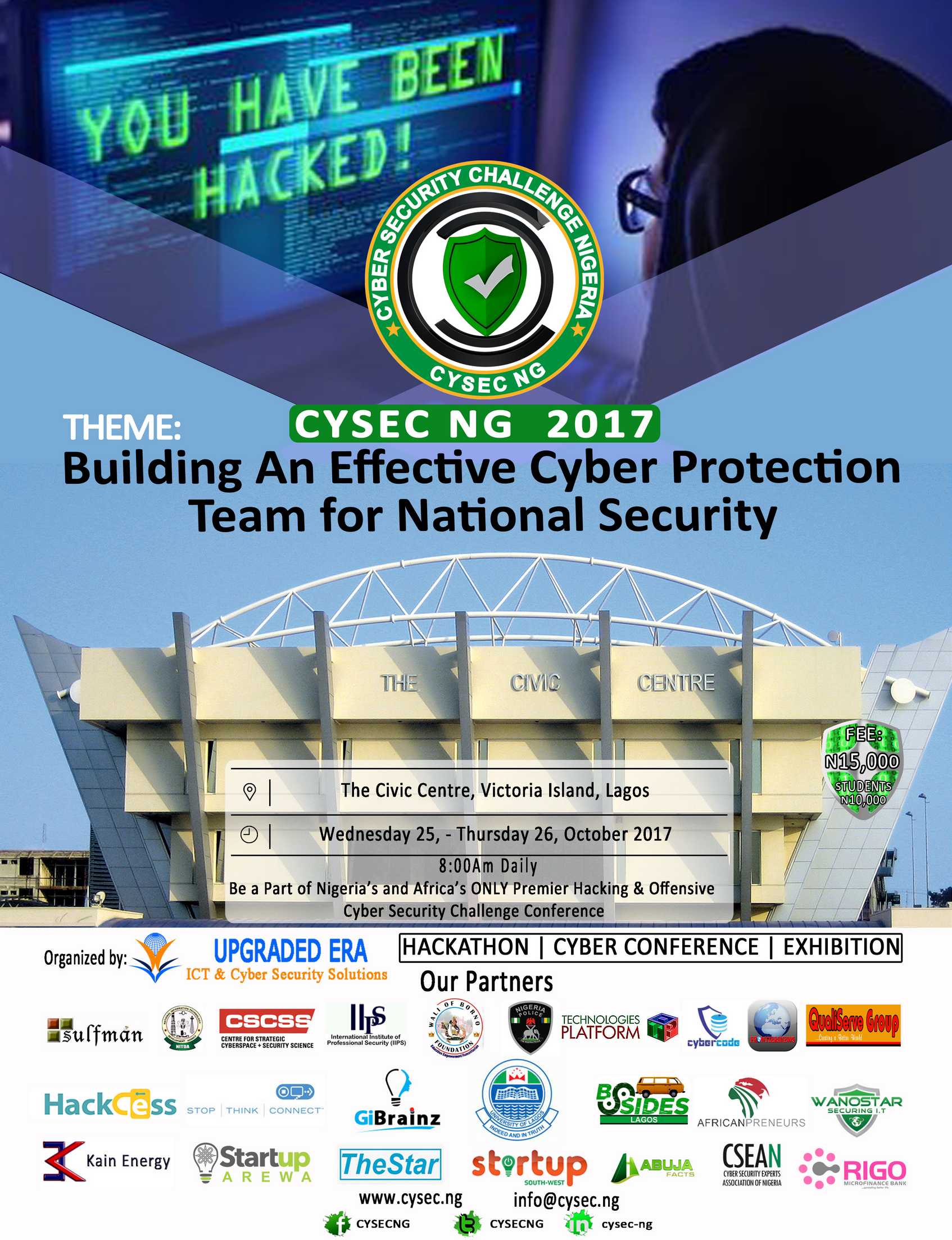 CYSEC NG 2017 is Here, The Largest Offensive Premier and Hacking Conference in Africa
"In Order to Beat a Hacker, You Have to Think Like One."
Brought to you by security professionals and hackers, CYSEC NG shows you the state of security from the hacker's point of view.
Don't miss the ONLY premier offensive hacking and cyber security confenrence in Africa!
Cyber Security Challenge Nigeria CYSEC NG 2017 Team Participation
The competition is played by teams of 2 to 4 people. Each team must delegate a team leader as the liaison between the organisers and the participants, and every team participant must not be above 26 years old, You should be an enrolled student of any university in Africa, OR a young professional with less than two years of experience.

The competition is open to anyone resident in Africa that meets the age requirements.
Each team must compete a series of online qualifying challenge rounds, which will challenge them to learn about networking, coding, penetration testing, and cyber security. Winning teams from our virtual competitions with higher points will be invited to compete in the National Final, a face-to-face competition where the ultimate CYSEC NG 2017 Ultimate Champion Team emerges for the year 2017.
Fantastic Cash Prizes and Certification Training Scholarships to be Won!!!

Think you and your team are up for the challenge? Register Here today!!!
Cyber Security Training
At Cyber Security Challenge Nigeria, we offer cyber certifications, cyber assurance and cyber defence trainings for participants. In a supportive, hands-on learning, training modules, our public, private and bespoke training courses meet the needs of individuals, employers, enterprise and the government.
CYSEC NG provides Cyber Labs, where companies can simulate real-life cyber attacks on their infrastructure, helping them to detect, prevent & combat breaches without risking their own network.
The infrastructure, information security is still not guaranteed until all members of the system are properly educated and equipped on cyber security and how best to protect vital resources.
Kindly forward the name that you wish to be written on the certificate and the proof of payment to info@cysec.ng. Furthermore, your prompt response as regards payment before the event will be greatly appreciated to enable us IMPRINT your name on the certificate as failure to do this might result to extra charges.

First Class Venue - The Civic Centre, Victoria Island, Lagos.
Conveniently located in Victoria Island (VI), an affluent area that encompasses a former island of the same name that sits between Lagos Island and the Lekki Peninsula in the Lagos Lagoon. It is the main business and financial centre of Lagos in Lagos State, Nigeria. Great venue to deliver highly focused Hands on Lab Practical Presentations , Trainings and The Hacking Challenge.
Ticket Payment
Delegates are entitled to all event proceedings and a certificate of attendance. Kindly make either bank deposit or transfer to our account below.
Account Name: Upgraded Era Solution Limited

Account Number: 0070621595
Bank: Diamond Bank Plc.
For more information regarding the conference, training boot camps and exhibition/sponsorships, please contact us by filling the Contact Us Form or Email Us. Kindly visit our Website for more information. To Get Inside the Mind of a Hacker…We'll show you at CYSEC NG 2017