Event Information
Location
Members-Only
Problem Solving Forum
Description
Members-Only Problem Solving Call
Cyber Security
hosted by The CFO Leadership Council
Wednesday, February 7, 2018
12:00PM - 1:00PM ET
Note: Dial In info will be sent in your registration confirmation
Join us for our Problem Solving Forum where members meet monthly at a virtual roundtable to discuss different topics most important to members.
In this hour-long call, we will discuss "Cyber Security" with Jack Healey, CEO, Bear Hill Advisory Group and CFOLC Member of our Atlanta Chapter.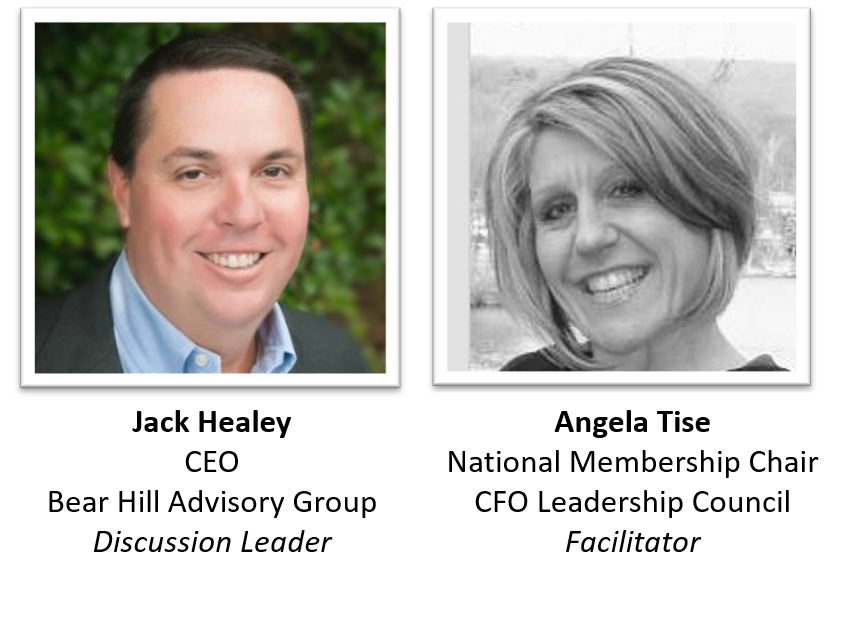 Registration
To register for this program, simply click on the green tickets button. All CFO Leadership Council members can attend this event for free. Non-member senior financial executives who are CFOs, Vice Presidents of Finance, Directors of Finance and Controllers (or the like) are welcome to attend this program.

Please note that these calls are offered to current CFOLC members only. The CFO Leadership Council reserves the right to decline any registration.
---
More Information
For more information about this program or The CFO Leadership Council, please contact Angela Tise, Northeast Regional Director at angela@cfolc.com.
---
About Our Speaker
Jack Healey
CEO
Bear Hill Advisory Group

Mr. Healey is a member of the Business Advisory Board for the Lubin School of Accounting, Whitman School of Management, Syracuse University; He holds Board positions for several privately held companies and not for profit entities. He has been a guest lecturer at Syracuse University, Kennesaw State University, Georgia Tech and the University of Alabama, and has been published in several business websites and magazines. He is a licensed Certified Public Accountant, Certified in Financial Forensics and a Certified Fraud Examiner. He is a member of the National Association of Corporate Directors, Association of Corporate Growth, AICPA and the National Association of Certified Fraud Examiners.
Jack Healey has extensive experience in operational performance enhancement, business crisis management, process improvement and financial re-engineering. Jack formed Bear Hill Advisory Group in 2009 to help management preserve the value of their businesses while navigating business crisis risk. As a former audit partner in a CPA firm, and Operational CFO of a highly acquisitive public company he became an expert in identifying business crisis risk imbedded in failing business processes before they occurred and transformed that hidden risk into value for his clients and his shareholders. After successfully exiting the public company he co-founded, he identified the need to help business owners retain the value others exploited during times of duress. As a Certified Public Accountant, certified in Financial Forensics, a Certified Fraud Examiner, a professionally trained negotiator and recognized expert in crisis management and ethics he formed a group of highly trained and dedicated individuals to help companies retain their value, brand and reputation before, during and after an adverse business event.
In 2014 he developed the Business Crisis Diagnostic and Prevention Model™ which provide businesses with the frame work necessary to identify impending business crises before they occur. Through this proprietary process, businesses can identify the hidden risks inherent in their organization and develop containment plans prior to the loss of profits, reputation or associate well-being. This model has been adopted by his clients as both a risk management tool for existing businesses as well as a method to find the hidden value and risk in potential acquisition targets.
Date and Time
Location
Members-Only
Problem Solving Forum