About this Event
Cyber Science is the flagship conference of the Centre for Multidisciplinary Research, Innovation and Collaboration (C-MRiC) focusing on pioneering research and innovation in
It is co-sponsored by IEEE.
Cyber Science aims to encourage participation and promotion of collaborative scientific, industrial and academic inter-workings among individual researchers, practitioners, members of existing associations, academia, standardisation bodies, and including government departments and agencies. The purpose is to build bridges between academia and industry, and to encourage interplay of different culture.
Cyber Science invites researchers and industry practitioners to discuss topical, innovative and emerging issues in Cyber Security, Ethics in Artificial Intelligence, Machine Learning, Cyber Security, Cyber Incident, Cyber Insurance encompass principles, analysis, design, methods and applications.
It is a yearly conference with the intention to be held at various cities / countries in the world; the first three events were in London, followed by Glasgow, Scotland, then the University of Oxford, UK, and in 2020, it will be held at the Dublin City University, Dublin, Ireland.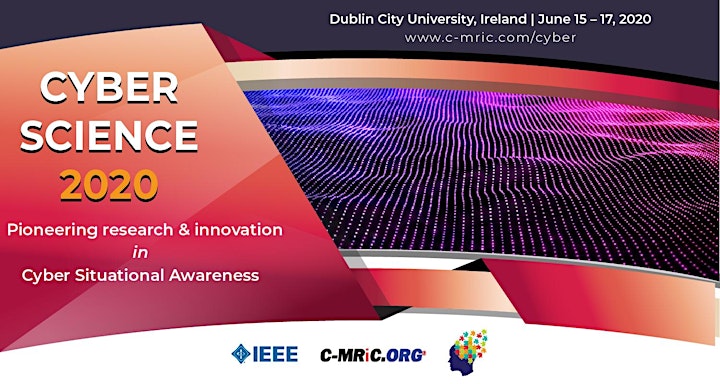 Attendees will have access to the following:
Four co-located events - Cyber Security, Social Media, Cyber Incident and Cyber Situational Awareness.
The Conferences will discuss topical, pertinent and emerging concepts and issues related to AI, ML, Ethics, Cognition, Cyber Security, CyberSA, Cyber Incident, Forensics, Blockchain, Cyber Insurance, Social Media, Fake News, False and Alternative Truths, Wearable, Web Analytics, Health Bioinformatics, Online Social Networks, Business Intel, Digital Economy & Blockchain and Social Communities & Cultures.
Keynotes from notable industry and academic speakers will be presented at the event.
Posters will be presented at the conference.
Industry tracks discussing and publishing pilot and proof of concepts.
Work in Progress track discusses preliminary works.
Research Ideas track is available for ideas in early stages assessment.
A copy of a printed textbook of the entire proceedings for free
Free and complimentary Lunch, drinks and dinners will be served at the conference.
This registration is only for non-author attendees and participants and covers the three days!