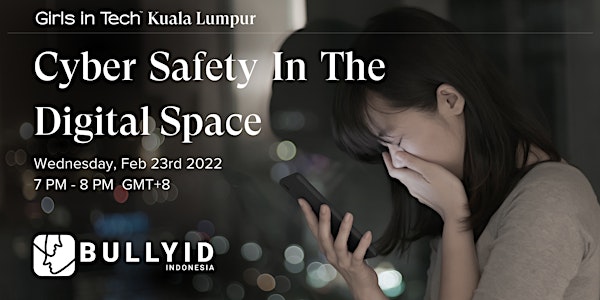 Cyber Safety in the Digital Space
As connectivity improves, the world is also facing the downside of escalation of cyber harassment in the digital space.
About this event
During the webinar, you will learn about:
7 types of cyber harassment and how to prevent yourself from it
Circumstances when "sexting" may represent aggravated abuse to include sextortion and revenge porn
Bullyid Indonesia platform for revenge porn victims to report their cases through Revenge Porn Help Centre in order to get help.
Recent new research on the victim impact of abusive images in cyberspace as well as encouraging new technology becoming available to address the permanency of abusive images
About the event:
You truly understand the importance of Cyber Safety only when you are faced with the threatening facts of it. The consequences of cyberbullying can lead to mental health issues, increased stress and anxiety, depression, acting out violently, low self-esteem and suicide.
The COVID 19 pandemic has made the issue even more detrimental. Global blockades have made our new "normal" more dependent on digital platforms. As connectivity improves, the world is also facing the downside of escalation of cyber harassment, such as cyberstalking, online impersonation, catfishing, doxxing, swatting, trolling, and revenge porn.
Revenge Porn or Non-consensual pornography is an activity of sharing someone's intimate photos or videos online without permission as a form of revenge and purpose to ruin the victim's life in the real world or to humiliate the victim.
Through understanding the meaning behind revenge porn, society is needed to become a part of an ally to show support, encourage the victim, care about the victim's mental health by helping to seek professional help, and helping them in going through a legal process as their final step to fight their revenge porn case.
There is a space for anonymous Q&A at the end.
Register now: https://bit.ly/gitklsafe
MEET OUR SPEAKERS
Agita Pasaribu S.H (LL.B), M.A., Founder of Bullyid App
Agita Pasaribu is currently the Founder of Bullyid App, an online platform that integrates Artificial Intelligence with psychologists & lawyers, to provide tele-health and tele-legal services for physical abuse and cyberbullying victims.
Bullyid works to provide online mental health and legal knowledge support for victims of cyberbullying, harassment and domestic violence in Indonesia. The organization dedicates to bring equality and justice accessible for everyone by raising awareness towards mental health and law enforcement. Agita has been advocating for progressive youth-related policies at various diplomatic and international forums to promote the UN Sustainable Development Goals.
Agita's biggest interests are utilizing technology to solve deep social issues worldwide and benefiting the most vulnerable in society. Agita contribution and commitment to youth empowerment has been recognized and celebrated globally, she has been advocating to the UN, ITU and WHO on how Artificial Intelligence can be used to detect early symptoms of mental health illness on social media and to reduce cyberbullying cases.
Agita is the AI Ethics & Legal Advisor at the Care Innovation Corporation, expert member at the AI Policy Exchange, as well as part of working group member of WHO SDG 3.4 Global Youth, UN Major Group for Children & Youth and ITU-Indonesia Concern Forum. She is a Fred J. Hansen Fellow, ILive2Lead International Young Women's Alumnae, Southeast Asia Young Leader and Global Strategic Leadership Award 2019 "Social Cause Category" awardee from the AAFT University of Media & Arts and Top 10 of Asia & Starplanet.
Agita shared about "Experiencing Diversity" from her travel journey at TEDxTalk. She received LL.B (Criminal Law) from the University of Indonesia and M.A in International Relations-ASEAN Studies focusing on open data policy, open government partnership, cyberspace in Southeast Asia from University of Malaya.
https://www.linkedin.com/in/agitapasaribu/
Iffah Suraya, Junior Counselor, Universiti Malaya
Iffah Suraya is a junior counselor soon to graduate from University of Malaya's Professional Counseling program. Formerly, she completed her Bachelor's in psychology at Boston University. Currently, in addition to interning, she volunteers for MIASA and various organizations such as THINKINT. When she's not reading and learning about all of the kinds of therapeutic approaches that exist, she's tuning into people's life stories, playing the piano, or trying to brush up on her language skills (or eating or walking). Empowering humans to cope is what she wants to do (we all need strategies to deal with our emotions and with life).
PRE-EVENT INFORMATION
Requirements
Webinar is open to all who are interested irregardless of the gender. The webinar talk will be held on Zoom and livestreamed to LinkedIn. Please create a Zoom account to interact directly with the speakers or create a LinkedIn account for joining the livestream webinar.
ABOUT GIRLS IN TECH
Founded in 2007 by Adriana Gascoigne, Girls in Tech is a nonprofit organization dedicated to eliminating the gender gap in tech. We have more than 60,000 members in 50+ chapters around the world.
Girls in Tech started with an idea: There is a strong, smart and outspoken girl within all of us. We exist to make sure that girl is heard. Because when every voice, every perspective, every personality is honored and respected, we do better work and live richer lives. At Girls in Tech, we are passionate about inclusivity, because we know that tech today requires people of all skills and backgrounds. Whether you're a data analyst, a creative, a strategist, an entrepreneur or a coder, you are needed.
JOIN US!
Interested in joining our community? Let's join forces! Click this link to become a member.
As a member, you'll have access to in-person and virtual events and workshops designed to help you grow professionally and personally. Plus, find a mentor, build meaningful relationships, and take advantage of our opportunities to find a job that's right for you.