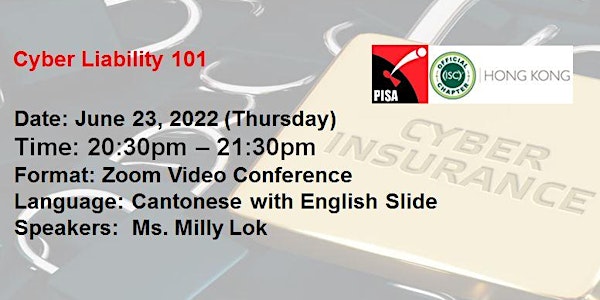 Location
Zoom Video Conference
Central
Central
Central, HKI HKG
Hong Kong
Date:June 23, 2022 (Thu) Time: 20:30pm – 21:30pm Format: Zoom Language: Cantonese with English PPT Slide Speaker: Ms Milly Lok
About this event
Cyber Liability 101
Introduction
Data Protection in Hong Kong
Who has exposures?
Top 5 Major Cyber Attacks of 2021
Features of Coverage
Claims Scenarios
Date: June 23, 2022 (Thursday)
Time: 20:30pm – 21:30pm
Format: Zoom Video Conference
Language: Cantonese
Speaker: Ms Milly Lok (Business Development Manager UPS Capital)
About the Speaker
Ms Milly Lok has been in the insurance industry for over 20 years after graduating from University of Toronto. She holds the designation of ANZIIF (The Australian and New Zealand Institute of Insurance and Finance). She has completed the Fintech Program at University of Oxford to extend her academic qualification.
Before joining UPS Capital, she worked for a Fintech Start-up Broker and focusing on the Financial line especially Professional Indemnity Insurance and Cyber Liability Insurance.
Please remind you that this presentation is conducting in Cantonese with Slide PPT in English.
PISA and (ISC)2 HK Chapter members have higher priority to join this seminar.
One CPE can be claimed for (ISC)2 CPE for each attendance.
For any questions, please contact us at info@pisa.org.hk
Website:  https://www.pisa.org.hk
Telegram:   https://t.me/pisaorghk
Facebook:  https://fb.me/PISAHKG  /  https://fb.me/ISC2HK
UPS Capital was born from an idea in the late 1990s to create a financial services division within UPS®. In 2000, UPS Capital expanded insurance agency licensing to all 50 American states to help transform the company's direction to focus on risk mitigation solutions.UPS Capital further expanded its financial services offerings in 2004 to include UPS Capital Merchant Services, ideal for businesses seeking fast, secure and reliable payment processing solutions. International relaunch.
In 2011, UPS Capital relaunched its European and Asian presence by concentrating on risk mitigation solutions. In June of 2015, UPS Capital acquired Parcel Pro, a leading provider of insured transportation services to the jewelry, wristwatch and collectible industries. Today, UPS Capital has developed innovative solutions that are facilitated through UPS, UPS Capital or other UPS affiliates in over 22 countries or territories.