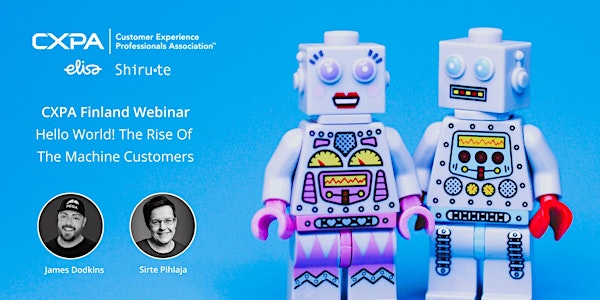 CXPA Finland Webinar: Hello World! The Rise Of The Machine Customers
Is your business ready to serve customers sending digital personal assistants and other devices to do their booking, shopping and bidding?
About this event
Machine Customers Are Here - Is Your Business Ready?
*** THIS WEBINAR HAS ENDED. YOU CAN WATCH THE ONLINE REPLAY ON OUR SITE WWW.CXPA.FI ***
A Machine Customer is a machine that fills the space for a customer to perform activities so the customer doesn't have to, acting on her or his behalf to interact with businesses independently. Be it digital assistants, wearables or home automation devices, many different types of machines may soon be autonomously engaging with your organisation to help their masters lead healthier, less busy and more productive lives. And some of them may already be out there, doing the bidding, booking, ordering and shopping for your customers, without you even knowing about it. 
Machine Customers set new requirements for planning and designing your business processes to support your customers and employees alike. Do you know what your business needs to know about planning for and dealing with Machine Customers? Have you already defined your Machine Customers' journeys, so that you can manage them?
James Dodkins, CX Rockstar & CX Evangelist at PEGA, together with Sirte Pihlaja, Head of Team at CXPA Finland and CEO at Shirute are here to talk about Machine Customers, and what their rise will mean for your business.
James Dodkins used to be an actual, real-life, legitimate, award-winning rockstar playing guitar in a heavy metal band, releasing albums and tearing up stages all over the world. He is now the CX Evangelist at Pegasystems where he researches the mindsets, principals and philosophies of companies that deliver 'Rockstar Customer Experiences'. He shares those strategies through transformative training, engaging video content and inspiring keynote talks. James was awarded The UK's #1 CX Influencer by Customer Experience Magazine in 2020, The UK's Most Outstanding CX Keynote Speaker by Corporate Vision Magazine in 2021, The World's #10 Customer Service Guru by Global Gurus in 2021, as well as countless other notable mentions in industry publications like Business Insider, The Times and Forbes. He is also a two time #1 Best Selling Author and the Ex-host of Amazon Prime's weekly topical CX show, 'This Week In CX'.
Sirte Pihlaja (CCXP & Trained Facilitator of LEGO® SERIOUS PLAY®) is the CEO of Shirute, the first customer experience agency in Finland. A founding member of CXPA, she heads the activities of CXPA Finland, and is one of the first Europeans to have been certified as a CCXP. She is an internationally respected CX/EX expert, coach, strategist and designer who has advised businesses around the globe for 25+ years. Sirte was recently recognised as a TOP 150 Global Customer Experience Thought Leader, in the CX Hall of Fame and in Top 33 Inspiring Women in CX to follow. The CXPA has also awarded her the Extra Mile Award. She has written two global bestsellers on people experiences. Sirte is passionately championing CX and Creativity in the Caribbean, the Nordics, South-East Asia and beyond, and is a familiar face on international conference stages as well as CX/EX awards juries.
You can read more about this topic in this blog article:
https://www.linkedin.com/posts/sirte_customerexperience-cx-shirute-activity-6998927553474265088-rDfr
Let us know if you want to ask or hear something related to the theme, and send us your questions before the webinar through our feedback form. We aim to cover as many questions sent in as possible during the webinar.
Agenda
15.00
Welcome to CXPA Finland webinar
Sirte Pihlaja, Head of Team, CXPA Finland & CEO, Shirute (CCXP) 
15.10
Hello World! The Rise Of The Machine Customers (interview)
James Dodkins, Customer Experience Rockstar & CX Evangelist, PEGA & Sirte Pihlaja
15.40
Q & A
James Dodkins & Sirte Pihlaja
15.55
Closing words
Sirte Pihlaja
The webinar will be hosted by Sirte Pihlaja.
We warmly welcome you to join our webinar and discussion!
Best Regards
CXPA Finland Team