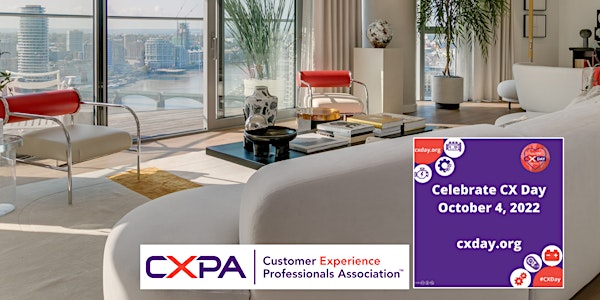 CX Day 2022!
Celebrate CX Day with us, sharing insights and ideas on how CX professionals can continue to add value in today's world
When and where
Location
Knight Frank South Bank Estate Agents 18 York Road London SE1 7ND United Kingdom
About this event
We know the vital role Customer Experience plays in both the good times and the not-so-good. That said, it's never easy to keep driving success. Providing each other with support, ideas and confidence is as important as ever.
So please join us on Tuesday 4 October to celebrate the Customer Experience Professionals' Association CX Day. It will be a relaxed but insightful afternoon of networking with your peers, rich discussions and the sharing of lessons learned. And – for those who want to stay on afterwards – a few drinks too!
We'll celebrate the contribution CX continues to make and, topically, our expert speakers will explore how CX can support brands and their customers through times of economic hardship. We'll hear what companies are already doing and we'd love to hear from you too.
Our Chair for the event is none other than Brian Pressey. Many of you will know Brian, who has held senior CX positions at the likes of TUI Travel and John Lewis.
Our fantastic speakers include Enna Khan of Knight Frank, who are also kindly hosting the event, Chloe Woolger of Kantar, Kate Birtles of Biffa and Sarah Thompson, a Cx and EX consultant.
The event will run from 3.30 to 6.30pm on Tuesday 4 October at Knight Frank's Living Lab in Waterloo, London.
We've loads to discuss - and it's free! We know how supportive and collaborative the UK's CX community is so please join us – we look forward to seeing you there!