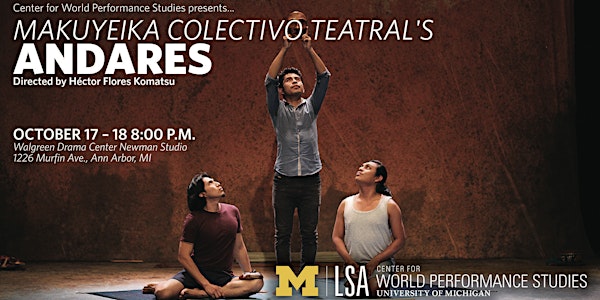 Multiple Dates
CWPS Presents: Makuyeika Colectivo Teatral's ANDARES
Description
U-M Center for World Performance Studies presents...
Makuyeika Colectivo Teatral's
Andares
October 17 & 18, 8pm
Walgreen Drama Center Newman Studio | FREE & OPEN TO THE PUBLIC
Performed in Spanish with English subtitles.

Center for World Performance Studies presents Makuyeika: Colectivo Teatral, founded by U-M alumnus Héctor Flores Komatsu, for a one week artist residency that will include class visits, workshops and two performances of their devised-work Andares. The piece chronicles the lives of indigenous youth in México, and the realities that they face at the crossroads of modern life and tradition. Performances of the piece will take place in the Newman Studio at Walgreen Drama Center on Thursday, October 17 and Friday, October 18 at 8pm.
Makuyeika: Colectivo Teatral is a theatre ensemble dedicated to creating original works about the narratives and theatricalities of Mexico's indigenous people, touching with keen, artistic sensibility themes of great social, cultural, and human value. Meaning "wayfarer" in the language of the Wixarika people, Makuyeika was formed after an extensive search across the country's indigenous communities, a project undertaken by Flores Komatsu as an inaugural recipient of The Julie Taymor World Theatre Fellowship.
Andares is a theatre creation about the lives of indigenous youth in México, devised collectively through personal anecdotes, ancestral myths, as well as traditional music and art forms. The play shines light on a range of realities — land usurpation, widespread violence, ancestral duties, community resistance, — that indigenous people face at the crossroads of modern life and tradition. Meaning "pathways," Andares is a genuine, eye-opening, and intimate close-up on Mexico's most remote corners and the extraordinary stories of its humble, everyday inhabitants.
Héctor Flores Komatsu is an international theatre artist working primarily in Mexico and the United States, and recurrently in the countries of France and Brazil. He was born in Cuernavaca, Morelos, México and moved with his family to the United States at age thirteen. He is founder and artistic director of the Makuyeika: Theatre Collective. HFK has worked with Peter Brook and Marie-Hélène Estienne as an apprentice on Battlefield, as an actor on the world tour of The Valley of Astonishment, and as a translator and co-director in the upcoming Spanish-language premiere of The Suit. Héctor received his BFA in Theatre Performance (Directing) from the University of Michigan. Directing highlights: Sotto Voce, Chinglish, The Motherfucker with the Hat, In the Heights. Upcoming works: The Game, or the perpetual rematch, a stage adaptation of the ancient Mayan epic of The Popol Vuh.
Co-sponsored by: Center for Latin American & Caribbean Studies; LSA Department of American Culture; LSA Latina/o Studies; LSA Native American Studies; LSA Residential College; SMTD Office of Diversity, Equity & Inclusion; SMTD EXCEL; and SMTD Department of Theatre & Drama.
Organizer of CWPS Presents: Makuyeika Colectivo Teatral's ANDARES
The Center for World Performance Studies seeks to create intellectual and physical space for the study of performance. Our aim is to advocate for performance as a mode of research and as a means of public engagement, centering on underrepresented, non-Western, and diasporic voices, bodies, and acts. We connect—both locally and globally—students, faculty, artists, thinkers, and scholars in order to educate each other about Performance Studies and to promote interdisciplinary and intersectional insights and research methodologies.