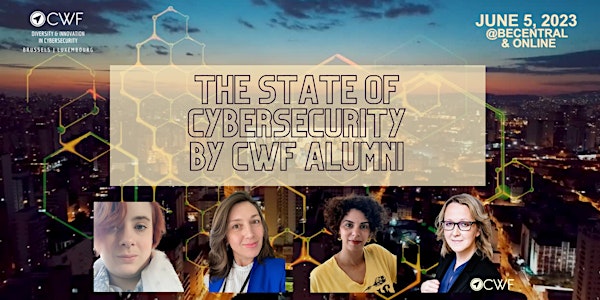 CWF Forum: State of Cybersecurity from CWF Alumni
Cybersecurity Insights from the CyberWayFinder Alumni from different sectors - learn about cyber trends from cybersecurity professionals
Date and time
Monday, June 5 · 6:30 - 9:30pm CEST
Location
BeCentral Cantersteen 10 1000 Bruxelles Belgium
About this event
CyberWayFinder has been active since 2017, and we are very proud of the successes of all our Alumni!
Come and listen to some of them during our CWF Forum (in-person and online) in June when some of them will talk about the state of cybersecurity in the particular sector they work in.
Olga Danilova will be talking about the work she does in the aviation sector, and the security trends she sees from the perspective of her workspace and the domain she works in;
Ghariba Bourhidane will talk about the insurance and financial sector - security trends from the perspective of her work space, challenges and tasks;
Denislava Simeonova will speak about the EU public sector, the trends in security and the challenges of her domain;
Janina Renkes, from the 2021 cohort (during the pandemic) will speak about her career journey, in addition to her experiences in the telecom sector and the public sector - and the security trends she sees in her workspace.
Drinks, refreshments, snacks and sadwiches will be provided - as well as a great learning and networking experience with our community.
JOIN US and sign up and get to know a community of next-gen cybersecurity professionals!
About the organizer
CyberWayFinder
Diversity and Innovation in Cybersecurity.