Description
Finding Your Leadership Style
Join us for an interactive discussion with women leaders about what it takes to be a women leader in design and construction, how to develop more women leaders in the industry, how to overcome barriers during your climb, and how to find your leadership style.

Moderator:

Lisa Dal Gallo
Partner
Hanson Bridgett LLP
Lisa Dal Gallo is a Partner at Hanson Bridgett, LLP specializing in assisting clients in determining the best project delivery method to achieve the teams' goals and add value, developing creative deal structures that encourage use of collaborative and integrated delivery processes, and drafting contracts and bid documents in business English. She has more than 30 years of experience, 22 as a lawyer and almost a decade working in project management and engineering for a major general contractor. Lisa is a LEED® accredited professional, the founder of California Women in Design and Construction ("CWDC"), and serves on task forces for both the AIA and ConsensusDocs, and formerly served on the Steering Committee and Education Committee for the Design Build Institute of America's (DBIA) Western Pacific Region.

Panelists:


Wendy Cohen
Vice President
Kitchell
As a Vice President for Kitchell, Wendy brings over 20 years of experience in planning, development and construction to the company's program and construction management services providing service to owners and project teams. She has worked in all aspects of the construction industry including general contractor, construction manager, consultant and an owner. She is passionate about creating and leading high-performance teams that deliver exceptional outcomes. Prior to joining Kitchell, Wendy held the position of Director of Planning, Development and Construction at Palomar Health responsible managing the development, real estate and construction portfolio of the healthcare system. Wendy was responsible for the execution of the $1.057B master plan which included the new 750,000 SF Palomar Medical Center in Escondido, CA on time and under budget. The success of the project yielded several Engineering News Record "Project of the Year" awards for 2012 including the 2012 National Healthcare Project of the Year and national press.

Jennifer Crawford
Associate Partner
Syska Hennessy Group

Collaborating with some of the industry's most innovative and creative engineers, Jen works with teams to identify what drives clients' businesses. By focusing on the experience from the points of view of users, owners, and clients, this establishes a connection between the engineering and the architecture, and the building to the experience. This approach has led to strategic wins (both large and small) and long-term relationships. Jen has worked in the AEC industry for 25 years, spending 15 of them with Syska Hennessy Group – first as a marketing manager, then as the lead business developer for the western region. She is active in the Design-Build Institute of America, the Society for College and University Planners (SCUP), and as a board member of Women in Construction West. While raising two daughters, she learned the importance of leaning-in at work and at home.



Lari Diaz
Planning Principal
KMD Architects
As a Planning Principal with over 20 years of experience with KMD, Lari's diverse background, passion for problem solving, ability to streamline project communications, and complete project goals ensure quality results for her clients. She has extensive experience in developing and implementing functional space programs in complex health care facilities and campuses. Lari is an invaluable team member and leader, facilitating an integrated and interactive project process.

Mary Teichert
Executive Vice President, Chief Operating Officer
TEICHERT, INC.
Mary Teichert has been with Teichert for over a decade, in the course of which she worked in the Aggregates, Readymix concrete, Construction, and Precast divisions giving her first-hand experience in mining and plant operations, sales, field operations, and estimating. She assumed her current role of Chief Operating Officer in 2013. A construction and materials company founded by Mary's great-great-grandfather Adolph Teichert in 1887, Teichert Inc. holds California State Contractor's License #8. The Company has always had a strong commitment to serving the growth and health of California and its residents. Teichert has built and supplied materials to thousands of miles of California's highways, bridges, dams, levees, and other essential infrastructure elements. Teichert has placed the highest value on safe production for generations, as the company's official safety program was started in 1959 by Henry Teichert – long before the Occupational Safety and Health Administration (OSHA) was established in 1970.
---
Date: Thursday, May 9, 2019
Program: 2:00 p.m. – 4:30 p.m.
Networking Reception: 4:30 p.m. – 6:00 p.m.
Cost: $50
Location:
Hanson Bridgett LLP
425 Market Street, 26th Floor
San Francisco, CA 94105
Sponsor: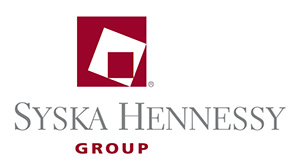 Media Sponsor: