Description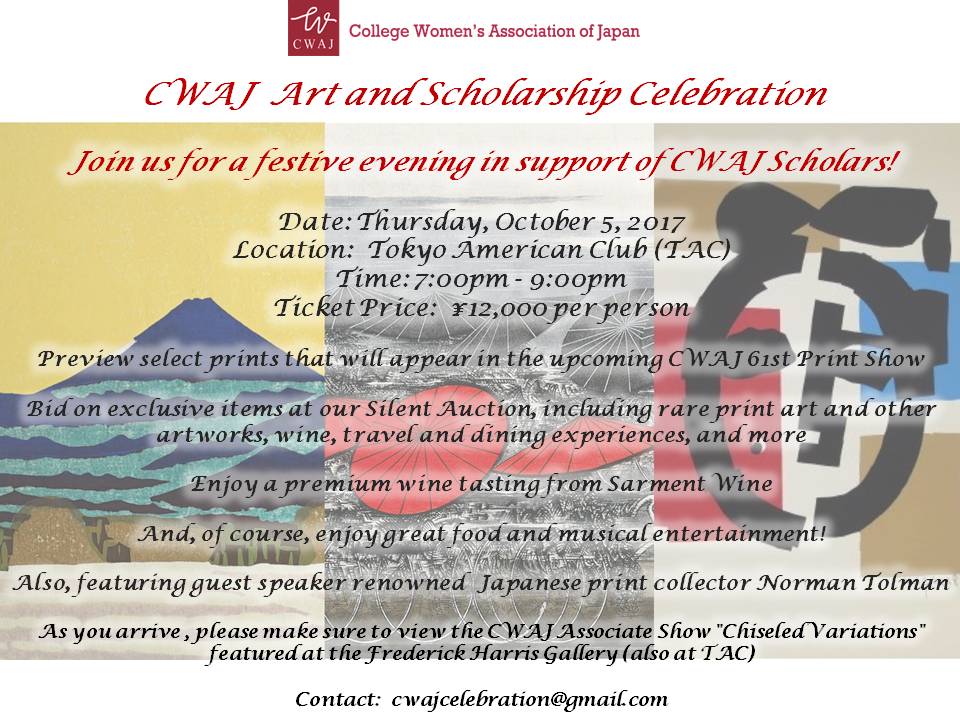 Join us for an exciting evening in support of CWAJ Scholars. The CWAJ Art and Scholarship Celebration will offer various unique and memorable activities, including:
* First look at a select group of renowned prints from the upcoming CWAJ 61st Print Show
* Silent Auction, including rare and imaginative print art and other artworks, wine, travel and dining experiences, and more
* Guest appearance by renowned gallery owner Norman Tolman who will present his newly released book on celebrated print artist Wako Shuji
* Last chance to view as you arrive the CWAJ Associate Show "Chiseled Variations" featured at the Frederick Harris Gallery (also at TAC)
Funds raised will support CWAJ Scholarship and Educational Programs
And, of course, there will also be great musical entertainment and food. We look forward to seeing you there!
This website is for making a reservation to attend. A confirmation e-mail will be sent to you with relevant details to purchase your ticket (ticket price: 12,000 yen). Cancellations must be made by

12 noon

,

Tuesday, October 3, 2017

. Contact cwajcelebration@gmail.com
CWAJ アート&奨学金パーティー
開催日:2017年10月5日 (火)
時間:7:00pm - 9:00pm
場所:東京アメリカンクラブ
参加費:¥12,000
この度CWAJでは、奨学金プログラムの為のファンドレイジング・パーティーを開催することとなりました。思い出に残る楽しいプログラムをご用意しておりますので、皆様お誘いあわせの上、ぜひともご参加ください。
* 第61回CWAJ現代版画展より、数点の版画を先行して展示
* 希少な版画、美術品、ワイン、旅行券、食事券等のサイレントオークション
* 美味しいお食事とライブ演奏
また、当日は、東京アメリカンクラブのフレデリック・ハリスギャラリーにて開催中の特別版画展「Chiseled Variations」もご覧いただけます。
お申し込みはこのサイトからになります。詳細については、予約完了時にお送りする確認メールをご参照ください。ご質問があれば、お気軽にお問い合わせください。