CW Ops is where MSPs, Enterprise Leaders and their Tech & Staffing Suppliers collaborate & network in a unique venue.
About this event
Join us for CW Ops IN-PERSON. CW Ops is three events in one:
SEPT 30: Virtual 1-1s with the top MSPs around the Country (7-1 PT)
OCT 21: Cocktail Mixer with Enterprise Leaders from Vision 2021 (5-7pm PT)
OCT 22: In-person event with MSPs within the region (9-2 pm PT)
That's right. You get 3 events in 1. CW Ops gives you the opportunity to schedule 1-1s virtually, attend an in-person event with MSPs and Internal PMs and join a Cocktail Mixer with Enterprise Leaders, MSPs and other Members.
Any one of these events is of high ROI. When you attend all three, it's literally the trifecta of connection and engagement.
Ready to scale your staffing businesses and on-site CW programs within a high-volume global model? 
Staffing Leaders collaborate with your MSP and Buyer Guides as they prepare you to support the largest contingent workforce programs in the world.
The management of the extended workforce is a multi-dimensional phenomena, which includes: Enterprise Buyers, Strategic Suppliers, Technology, Management Partners and Executive Stakeholders.
Understanding the needs of all parties is critical to the success of any evolving talent program.
Gain perspective by widening your lens and making room for new ideas. Get the space and time to create a grounded vision for your organization driven by peer best practices.
Who Should Attend?
Join an EXCLUSIVE GROUP of 80 MSPs, Internally Managed Program Managers and Suppliers as you collaborate on best practices in a safe, confidential indoor/outdoor setting.
Program (PT)
20-27 September, Request Virtual 1-1s
30 September, 7:00 - 1:00pm PT - Conduct Virtual 1-1s
21 October, 5:00 - 7:00pm PT - Members, Enterprise and MSP Reception
22 October, 8:00 - 2:00pm PT - Live, In-person Event
8:00 Networking Breakfast
9:00 Keynote Panel (20 mins)
9:30 Roundtables (45 mins)
10:15 Light Fare & Break
11:00 Roundtables (45 mins)
12:00 Networking Lunch
1:30 Closing Speaker and Farewell
2:00 Program Concludes
Learn more at www.clubvmsa.com/CWOpsCA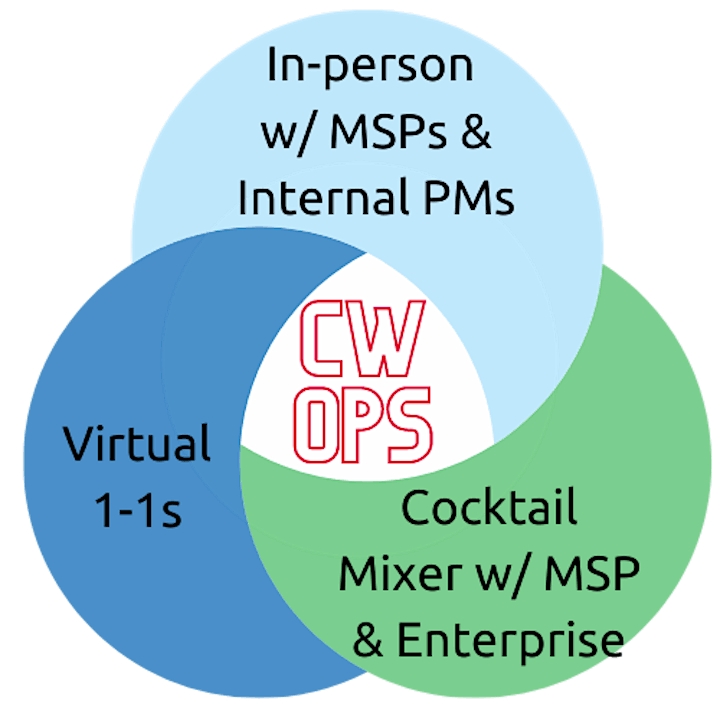 Organizer of CW Ops CA - 3 Events in 1 @ The Ritz-Carlton Half Moon Bay
Getting the most out of this event.
All ticket holders may attend the Monthly Event Prep Call to learn how to best leverage the virtual platform and chat behind the scenes with Buyers and MSPs. Click this link to join the call on the Last Friday of every month at 2:00-2:30 PM ET.
50% off for Club Members with a special promo code.