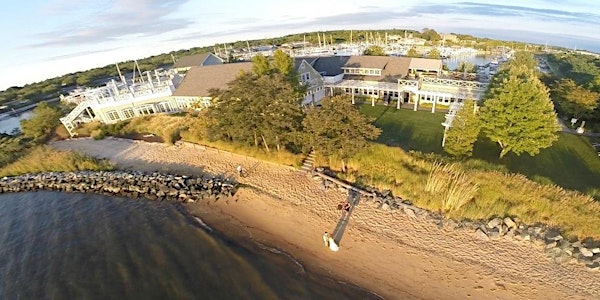 CVRC Spring CE Conference
When and where
Location
Chesapeake Bay Beach Club 500 Marina Club Road Stevensville, MD 21666
Description

Save the date for the 2018 spring CE conference, presented by Chesapeake Veterinary Referral Center.
This year's event will take place at the stunning Chesapeake Bay Beach Club on March 11, 2018. We will offer lectures for technicians and veterinarians.
---
Both conferences are currently sold out and operating on a waitlist.
Please note: there is one ticket issued per person. If you are coming with a group, please register each person individually.
Breakfast and registration begin at 8am.
Lectures begin at 9am.
Breakfast Menu:
House made Lemon Pound Cake
Croissant Blossoms
Mini Banana Muffins, Blueberry Muffins & Chocolate Muffins
Seasonal Fresh Fruit
Chilled Orange & Cranberry Juice
Coffee, tea
Lunch Menu:

Veggie Lovers Wrap
Roast Beef, Mushroom & Swiss Wrap
Turkey Club Wrap
Mixed Greens and Strawberries with Roasted Walnuts, Blackberries, Crumbled Gorgonzola and Vinaigrette
Classic Caesar Salad
Freshly Baked Cookies, Brownies and Blondies
Stay tuned to this page for information about speakers, schedules and menus as we approach the conference date.
Sponsored by Antech Laboratories, Boehringer Ingleheim, Nutramax Laboratories, Aratana, Best Pet Rx Pharmacy, Hills Pet Nutrition and Royal Canin. We are proud to feature Maryland Veterinary Technician Association as a table sponsor.
---
Hannah Evans, DVM - Technician CE Speaker

VNIoC

Top 5 Anesthetic Complications and How to Address Them

Laura Harvey, DVM, DACVIM (Neurology) - Doctor CE Speaker

VNIoC

Geriatric Seizures - When Is It Not a Tumor?

Julia Shih, VMD, DACVIM (Cardiology) - Doctor CE Speaker

CVCA

Syncope: Anybody Got a Drop Beat?

Jason Hutt, DVM - Doctor CE Speaker

Animal Dental Center

The Conscious Oral Exam: Don't Let It Bite You

Jennifer Hyman, VMD, MA, DACVO - Doctor CE Speaker

Eye Care for Animals

Non-Ulcerative Corneal Diseases

John Paola, DVM, DACVIM - Doctor CE Speaker

AVIM&O

Making You a Pro with Proteinuria

Mariah Frank, DVM - Technician CE Speaker

AVIM&O

Diseases of the Blood Not Involving Vampires

Michael Hickey, DVM, DACVIM (Cardiology) - Technician CE Speaker

CVCA

Cardiovascular Diagnostics

Teresa Hall - Technician CE Speaker

Eye Care for Animals

Anatomy and Exam Room Diagnostics

Inshil Kim, MBA, DVM - Technician CE Speaker

Animal Dental Center

Supertechs in Veterinary Dentistry

Beth Faux, RVT - Technician CE Speaker

Pet E.R.

The Who, What, When, Where and Why of Veterinary Transfusion Medicine

DJF

Dr. Jacob Frederick & Dr. Matthew Keats - Doctor CE Speakers

Dr. Jacob Frederick & Dr. Matthew Keats - Doctor CE Speakers

CVSS AVIM&O

Medical and Surgical Approaches to Benign Ureteral Obstruction in Cats